Elegant Qatar Airways Premium Lounge London Heathrow
Qatar Airways Premium Lounge London Heathrow is an upscale lounge offering that is befitting of it's award winning onboard product. Qatar does not have it's own lounge in every destination but given it has up to 7 flights a day out of Heathrow, this is one of their most important markets.
This is a brief look at the Qatar Airways Premium Lounge London Heathrow.
I arrived at terminal 4 about 6.30am for my 8am flight, thus my stay was short. The Lounge is very conveniently located both for entry from Check-in (literally only a few steps after check-in and past fast track security to the left) as well as the gates Qatar departs from.
Access & Location
Access to the lounge is available by invitation only for Qatar Airways First and Business class passengers. A policy that is very much intentional to keep the lounge and the environment within it exclusive.
Therefore no kind of status will be sufficient to gain entry here unless you are flying at the pointy end of Qatar on the right ticket ( unfortunately no entry either if you buy their cheapest Business Class fares either )
The lounge is located in Terminal 4 near gates 1B.
After a shift dedicated check-in and security it was only a few minutes to get to the lounge. As I approached the entrance an attendant was only too eager to greet me and check me in..
Qatar Airways Premium Lounge London Heathrow Space
As you walk in, you might be mistaken for thinking you are entering some kind of spa in the Middle East. The lobby feels like an oasis with Arabic calligraphy found on the walls, carpets down to the mosaics.
Immediately I felt serene in the elegantly designed space. While the lounge itself is not huge, its very functional and divided up into several areas.
After going past the foyer is a relaxed seating area great for groups of travellers or solo leather seats which can be positioned as desired.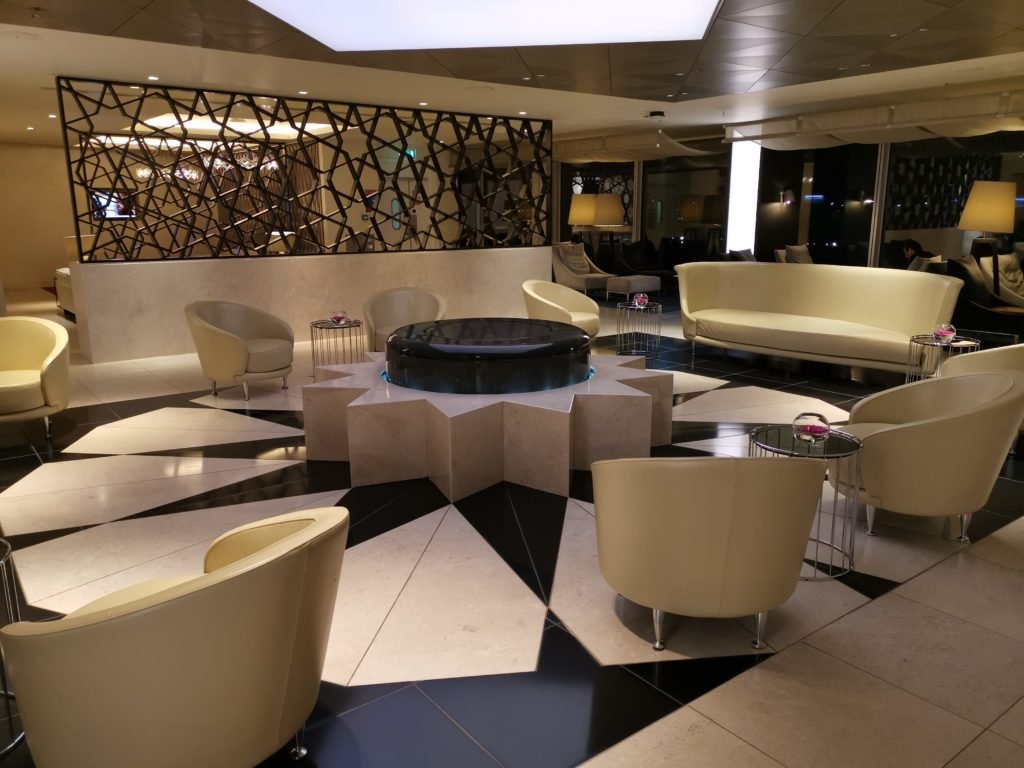 Further seating space are zoned alongside the window for those who like to watch the traffic outside.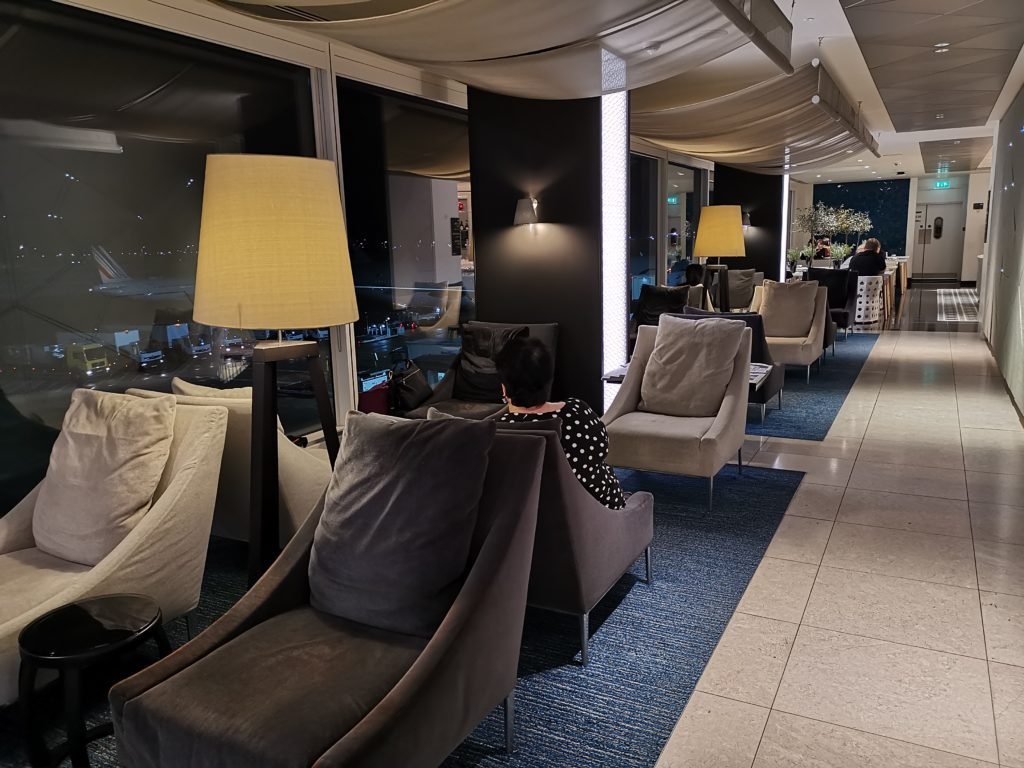 Straight ahead, you will find a small business centre with a few workstations and printers etc, as well as the bathrooms.
This was Qatar's First ever outstation lounge to open way back in 2012. And while not it's flagship lounge, it was kept the quality of the deco and finishing touches to a high standard to it's home lounge
Since it was still very early in the morning there were only a handful of other guests. It's always such a treat being in such a facility and almost having the whole space to yourself.
I cannot imagine this place getting busy other than perhaps for a short period in early afternoon, when 2 Qatar flights depart with only 50 minutes apart.
Food & Drink
To the right, there is a cafe stocked with fresh fruits, smoothies, yogurts, pastries and any hot drinks are served as ordered.
This is a step up from most lounges that would just provide that food on a self service basis.
The lounge also proudly showcases the extensive wine selection Qatar Airways offers it's premium passengers with a whole wall formed from wine fridges!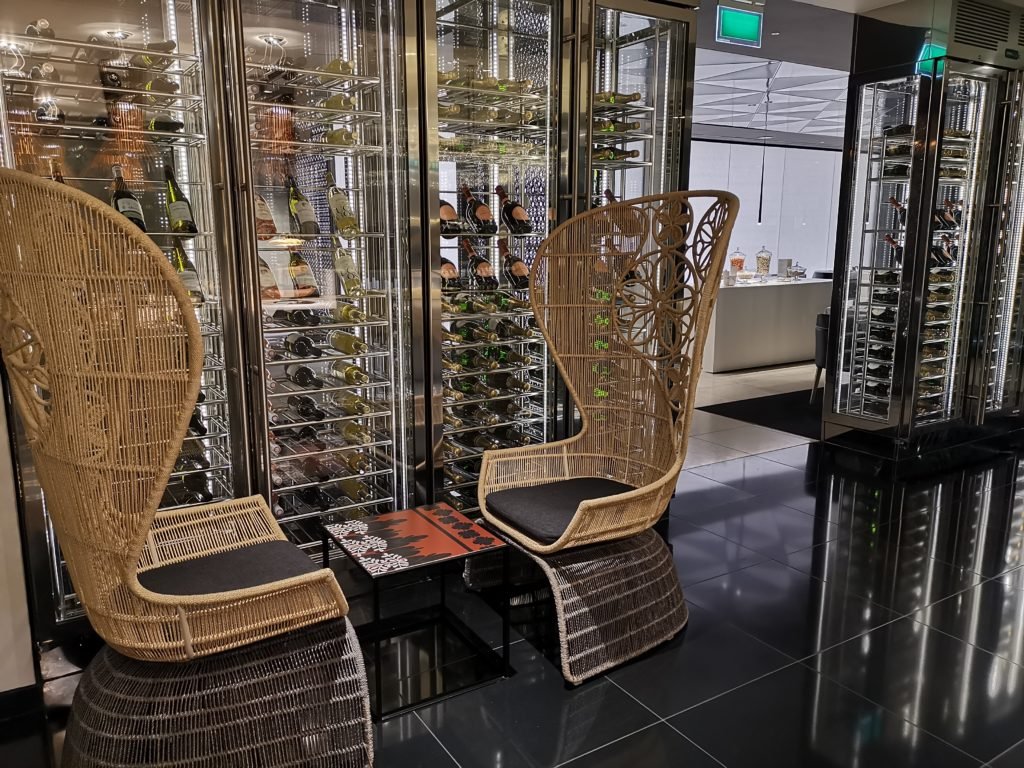 Further down, is the main show, a full service a-la-carte dining restaurant.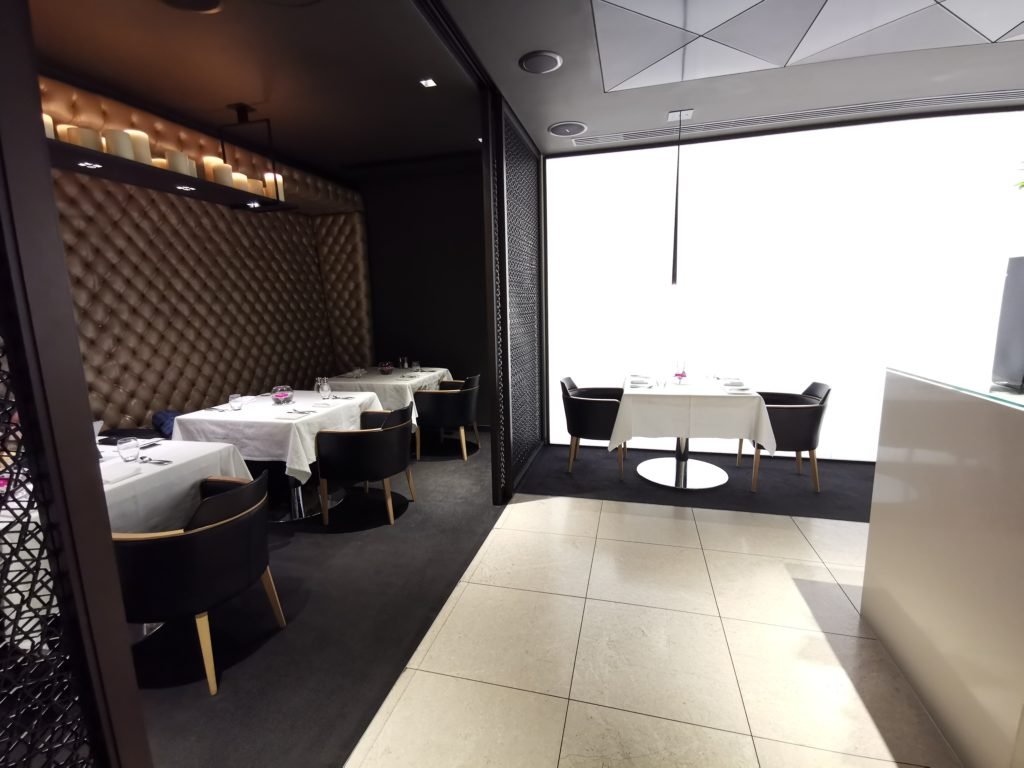 Again I was shown to a seat straight as I walked in. One oddity however, was that I was not offered any menu, nor were there any menus on the tables.
When someone came by a while after, I was told I can order almost anything I like. Given a choice of almost anything, I was rather stuck on weather I should order a full breakfast or have that for my first meal on the flight.
I only had about 45 minutes before boarding. So ordered some scrambled eggs with toast and coffee.
The eggs were nicer than they looked. Coffee was great.
Cocktail Bar
The cocktail bar is the other side of the cafe. I did not try anything given the timing and lack of time. But it looks very smart.
While having a quick scan around, I had a brief chat with the barman who was very friendly and suggested I could just order a mocktail or fresh smoothie. If this was an afternoon flight I sure would have enjoyed a few drinks at the bar.
Bathroom/Shower
As would be expected for any decent business lounge, there are nice showers separate for men and women.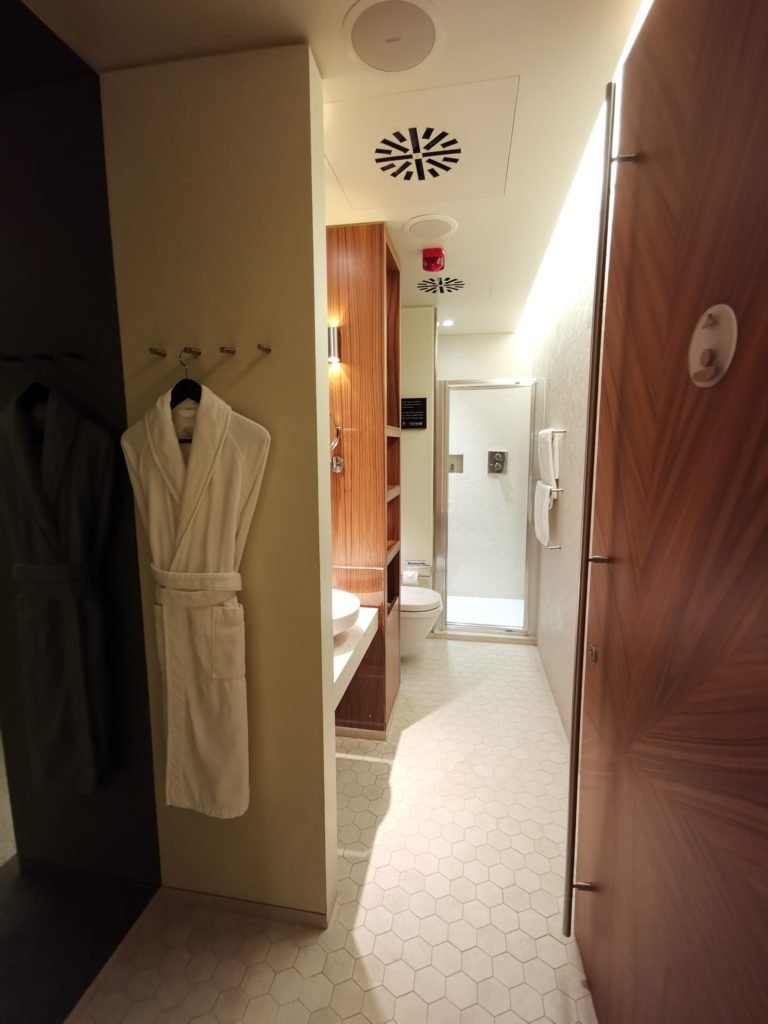 The shower rooms are fully kitted out with luxurious bathrobes, slippers and toiletries.  Since I only had a shower an hour ago, I did not need to use the facilities on this occasion.
Overall thoughts
This is a delightful lounge to pamper yourself before your flight.
What struck me most was just how tranquil this lounge was, just for that as well as the elegant ambience and design, this was more akin to a First Class lounge than a business one.
There service had the hallmark of Qatar excellence. Location within the terminal is brilliant. I also love being able to watch the plane I'm about to board directly from the lounge.
Other than a lack of a-la-carte menu, I cannot think of any flaws. The only thing lacking is any dedicated sleeping space, but this being Heathrow makes sense since there are no 24 hour flights. It's everything you need and more to set you up for a great flight.
Qatar has a good outstation lounge in Bangkok too. Opening times can vary so do check your specific lounge before hand here.
Verdict in numbers
Space

Food & Drink

Staff Service

Amenities