Easy Guide To: British Airways Executive Club & The 4 Tiers
British Airways Executive Club is a reward program for anyone who loves to travel. I have mentioned frequent flier programmes many times now. It is one of many ways to accelerate travel up the pointy end of the plane.
For those of us based in the U.K/Europe this is one of the major programmes that is the easiest to get started with. I've already covered its main currency, Avios and some of its uses.
Why join British Airways Executive Club?
Even if you think you do not
fly
frequently
enough, there can still be worthwhile ways to earn Avios. For one, you don't even have to
fly
to earn Avios.
Secondly
, Avios does not expire as long as you have some activity in a 3 year period. It's super easy to keep pilling up those miles until you reach a certain goal you set.
Avios can
be earned
from shopping and specific Avios credit card spend.
You can also earn from moving energy bills, switching bank accounts, creating ISAs and many many more ways
.
You need to have an account for it to go to.
Previously
, you were able to
just
create an account on avios.com, but that is now
being withdrawn
.
Your only options now are to either join Executive Club,  Iberia Plus or the Aer Lingus programme to credit them to
.
Like most programmes, its free to join, so you have nothing to lose.
Hint:
If you have a major round the world trip coming up, make sure to sign up

just

before your trip begins.

This can

potentially

maximise the 12 month window in which to qualify for the next status level, more details below

!
British Airways Executive Club & The 4 Tiers
British Airways Executive Club has 4 primary tiers of membership. Blue, assigned on joining. Followed by Bronze, Silver and then Gold. A more exclusive sub-group within the Gold level exists – Gold Guest List, but I will leave that for another day.
Tier Points
Another currency of the program is the tier points which you earn only through flying.
Tier points determine which level or membership status you achieve in a particular tier year
. This is the 12 month period from which you join.
The more you
fly
, the more tier points you earn. Furthermore, the higher the class of service you
fly
, the more tier points and Avios points you earn. Earnings and reward charts are all distance based.
BA even have some handy charts and
calculators
to help you work out what certain journeys will credit
. If you care to check in advance.
Otherwise it all happens
automatically
so long as you put your membership number when booking or managing the flight
.
Bronze Status (OneWorld Ruby)
This is the entry elite status. You need 2 British Airways flights and a
minimum
of 300 tier points.
Alternatively
if you hit 25 BA economy flights within one year.
The main benefit here is the 25% extra avios you earn through flights. You have some priority on boarding or on upgrade list for full flights (though only over Blue or non members)
You also have free seat selection from 7 days of your flights.
Silver Status (OneWorld Sapphire)
At this level things actually start to get interesting.
Silver Status or OneWorld Sapphire requires a minimum of 4 BA flights and 600 tier points. Or flying British Airways 50 times in your membership year.
This status grants:
*even when you are flying Economy on BA or another OneWorld carrier.
Business Class check in
Fast track security (where available )
Business Class lounge access to you and an additional guest
Free seat selection at time of booking (yes BA and some carriers still charge you to select a business class seat even!)
2 checked baggage for economy for everyone on your booking with a 32kg per piece allowance, or an additional bag for for other classes of travel on top of your normal allowance.
Reservation Assurance when you must fly for last minute Economy seats  even if the flight is full. Need to book 24 hours prior to departure.
50% extra bonus avios for all BA/AA/Iberia/JAL  flights.
Gold Status (OneWorld Emarald)
This level maps onto the top tier OneWorld Status. Opening up access to luxury worldwide benefits. You enjoy all the Silver benefits or better:
Check in via the exclusive First Wing in Heathrow T5
Access to First Class lounges on departure
Arrival Lounge access on landing back at Heathrow
Complementary use of Elemis Travel Spas, when flying long haul from Heathrow or JFK.
Exclusive priority access to seats 1A/1K when travelling First Class
No booking or Service fees for priority reward bookings
100% extra bonus avios for all BA/AA/Iberia/JAL  flights.
Transfer avios for free to another account
Earn Avios & Tier Points by Flying Any OneWorld Carrier
As well as earning via British Airways, you can also do so via Finnair, Iberia, Qatar, American, Cathay Pacific, Japan Airlines, Malaysian Airlines, Qantas, Jordanian, Royal Air Moroc, Fiji Airlines,  S7 & SriLankan Airlines.
However, any bonus avios you would earn from BA status, comes only when flying BA or select OneWorld operators. These include Japan Airlines, Iberia and American.
Want A Fast Way To Earn status?
That all depends on how you fly. Earlier I mentioned that you accrue more points for flying a higher cabin or higher fare class within each cabin.
These are the standard earnings:
Economy
| Fare class | Avios awarded | Minimum Avios | Tier Points |
| --- | --- | --- | --- |
| Lowest (G, O, Q) | 25% of miles flown | 125 | 25% |
| Low (K, L, M, N, S, V1) |  50% of miles flown | 250 | 50% |
| Flexible (Y, B, H) | 100% of miles flown | 500 | 100% |
Premium Economy
| Fare class | Avios awarded | Minimum Avios | Tier Points |
| --- | --- | --- | --- |
| Lowest (E, T) | 100% of miles flown | 500 | 100% |
| Flexible (W) | 150% of miles flown | 750 | 100% |
Business Class
| Fare class | Avios awarded | Minimum Avios | Tier Points |
| --- | --- | --- | --- |
| Lowest (R, I) | 150% of miles flown | 750 | 100% |
| Flexible (J, C, D) | 250% of miles flown | 1250 | 100% |
First Class
| Fare class | Avios awarded | Minimum Avios | Tier Points |
| --- | --- | --- | --- |
| Lowest (A) | 250% of miles flown | 1250 | 100% |
| Flexible (F) | 300% of miles flown | 1500 | 100% |
As you can see, even within economy there is so much variation
Lets look at an example. Take a classic London to Hong Kong:
Just flying standard economy, you would need to fly 9 round-trips a year to hit Silver status. Alternatively for the lowest Business Class tickets, you would need 2 and half round trip to do the same, almost a quarter less!
To achieve Gold on the same route, it would be 21 and a half round trips in Economy or just 5 and half round trips in Business Class.
Best Ways to Earn Silver Status
Since British Airways earnings and award charts are distance based. Some destinations are far enough to be split up into 2 sectors. That's where other OneWorld partners come in.
Take London to Hong Kong route discussed above. Instead of flying British Airways direct, consider other options. You can chose to fly with Finnair via Helsinki or Qatar Airways via Doha. Now the earning calculations completely change: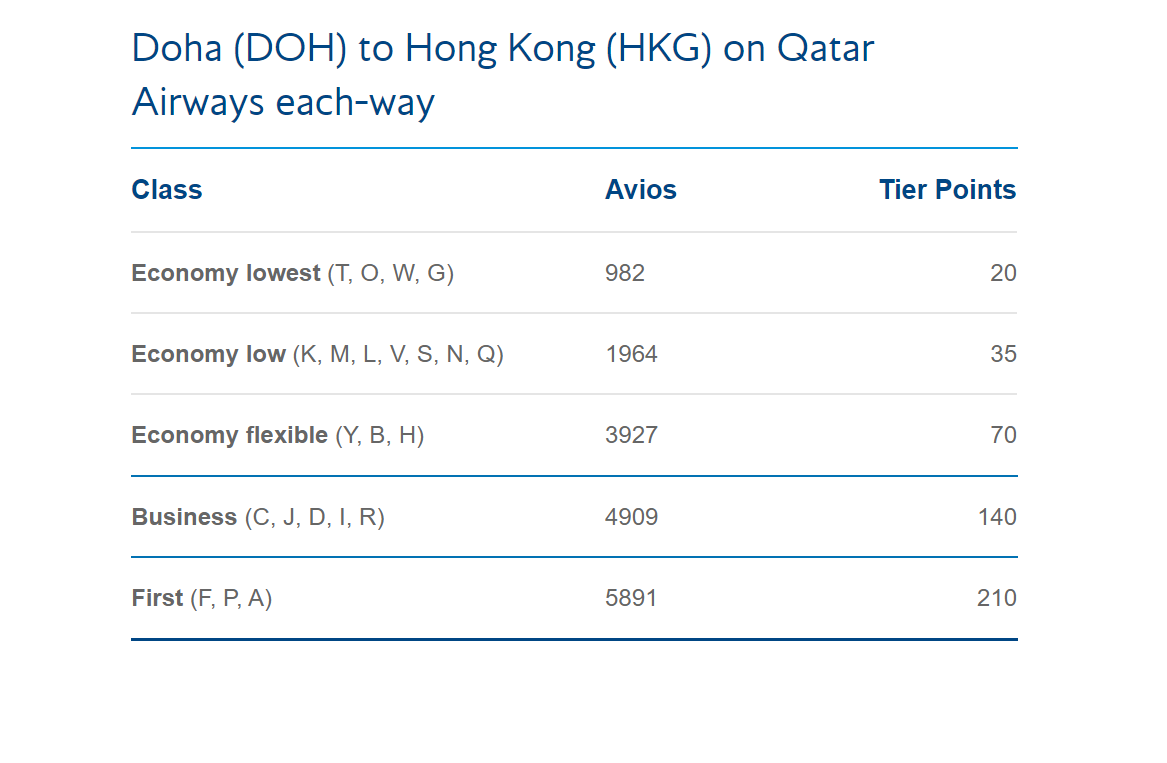 Now your Tier points double for the same route! So you get 560 Tier Points just from one round trip in Business Class.
You should be able to select BA coded LHR-DOH Qatar flights quite easily. So all that is needed is just 2 more BA flights and make up for the 40 remaining tier points.
You can do this with a weekend trip to Amsterdam. Flying Business one way or the cheapest economy the other. Or a return flexible economy.
If you can manage to snatch a good deal, all this can be done for under £1500 pounds for a very agreeable package of benefits.
The Finnair options for this route would usually net 440 Tier points.
Combine Avios with Iberia Plus
Another great benefit of the Executive Club, all members can transfer Avios seamlessly between Iberia. There is a "Combine My Avios" function and you can do so any time, so long as both your accounts are over 90 days old.
There are many cases where this makes sense. Specifically some routes out of Europe where Iberia charge less in tax and surcharges, as well as lower Avios amounts for some sectors! A prime example is being able to fly Iberia Business Class for just 34,000 avios between Madrid and East Coast!
Thus I'd recommend joining Iberia Plus too, if such a situation might arise for you.
Household Accounts
British Airways allows you to create a household account with upto 6 people that live with you. This makes it even more useful for families to pool Avios points.
BA Avios Award Chart
As stated, BA award charts are distance based. There is also the off-peak and peak rates for each destination band.
Points To be Made presents this chart in a neat table, so I will not re-create this here
OneWorld Multi-carrier Awards
In addition to awards booked on its own metal. BA presents an alternative cost for more complex multi-city award booking utilizing several OneWorld carriers. These can work out fantastic value.
Avios & Cash Bookings
This can be done in two ways. When you are searching and booking a regular cash flight via the British Airways website, on payment stage, you can reduce your total by exchanging some avios for cash.
Secondly, you can also choose to combine an award ticket with a cash payment portion, which would reduce the total avios required. This latter option can often be better value.
Award Ticket Changes & Cancellations
Change and cancellation fees are possible up to 24 hours prior to departure. There is a flat £35 fee per person. The fee varies somewhat between regions. In general this is fairly generous.
Are There Any Downsides?
Unfortunately yes, as with any program that is too popular. BA has plenty of Silver & Gold members. Therefore all said benefits above, will feel less exclusive perhaps. Compared to other Premium carriers. More top tier members mean your value as a Gold member gets diluted. You will simply not have the same chances of flight upgrade, as is a treasured benefit of other programmes.
With respect to actually booking reward travel, I do not like that British Airways prices a journey per sector. So if you need to book a journey from Boston to Paris or Edinburgh to Los Angles, they add up the sums of the individual flights, i.e Edinburgh to London and London to Los Angles. This makes this programme more expensive, when most other programmes would work out the distance between origin and destination.
Having said that, BA at least applies this concept consistently, so you still earn more from multi-sector cash flights.
Switch To Revenue Based Model
July 2023 UPDATE
Like many other airlines that have moved to this direction, including partner Iberia, British Airways is now switching to a revenue based model from October 2023.
Crucially, the Tier points you earn remain un-changes but the avios you earn does on the basis of your spend, rather than a straightforward fare class.
New structure works on per £ spent as follows:
Blue status members will receive 6 Avios.
Bronze status members will receive 7 Avios.
Silver status members will receive 8 Avios.
Gold status members will receive 9 Avios.
Unfortunately, it's not quite as simple as this, as how much you will earn can seem opaque. The spend in £ (or equivalent ) is understood to include the notoriously bad surcharges BA adds to all tickets, but excluding government/airport taxes etc.
This could be a net negative change for BA GOLD and SILVER member as they lose the more generous 100/50% bonuses. What is not clear is if the total cost minus the surcharges and taxes is the fare that is used? Or is it possible the fare is a different amount of that entirely?
Any cash upgrades or additional ancillary costs will earn at the above rates too.
Furthermore, the new changes will only apply to BA ticketed/marketing flights, so partner airline flights credited will earn same as before. That is a slight relief  !
Overall Thoughts
BA may not have the best programme or most valuable points out there. But its one where it's easy to accumulate Avios and even the Tier Points needed for elite status. The distance based chart makes it easier to keep track of progress and have a rough idea of what you can realistically be aiming for in your individual case.
Personally I would not go out of my way to chase or achieve a certain status. I fly premium most the time anyway so any Airline status for me is of less significance.
But if I were, I think Silver is a reasonable one to aim for. If you can attain Gold in a reasonable way then kudos to you! Some people go to extreme lengths to achieve or retain a Gold Status by doing mileage runs. Essentially flying for the sake of flying, but that's a topic for a different day!