Impressive Al Mourjan Business Class Lounge Doha
This review will look at the facilities of Qatar Airways primary business class Al Mourjan lounge at their Hamad International Airport (HIA) hub.
HIA itself is a recent and ambitious development which has finally resulted in an airport that tallies up with standards of Qatar Airways. Both Qatar Airways and its hub airport enjoy a 5* rating by Skytrax.
Al Mourjan Business Class Lounge Entry
Access to this lounge is complementary for Qatar First & Business class passengers. Top tier oneWorld elites do not get automatic access, unless they are flying in Business. Unike many lounges around the world, this lounge is open 24 hours
Qatar Airways Economy passengers can pay 450 Riyals to enter. There is a link to purchase access in advance with your booking details here.
As you go up a long escalator towards the lounge, you are greeted at a large foyer, where you are checked through.
It feels like an exclusive oasis of calm. So much so you can almost forget you are at at an airport! I imagine the large space helps avoid any sense of crowds when the lounge is at peak use.
Space Galore
To provide some perspective, this lounge is over 10,000 square meter! As you walk in, there is a large shallow water pool right in front as well as a grand staircase to your immediate right.
This is no ordinary business class lounge, its vast but still stylish and elegant. Helped by the design of individual spaces within it. The high ceilings, designer furniture and marble finishes give off a very sleek and modern feel but there are touches of intricate traditional Arabic detailing also giving off a traditional sense of where you are.
While there are maps scattered around the place, it would be useful if there were one on the immediate entrance, so you can orient yourself.
Time to explore around!
Given the sheer size of the lounge, there are areas that feel quite open and flows all the way across the room. That is until they get very full! Which can happen!
In my various visits, almost all the seating options I tried were very comfortable, though some are naturally more private and quieter than others. You have easy access to power sockets and good WiFi throughout the spaces.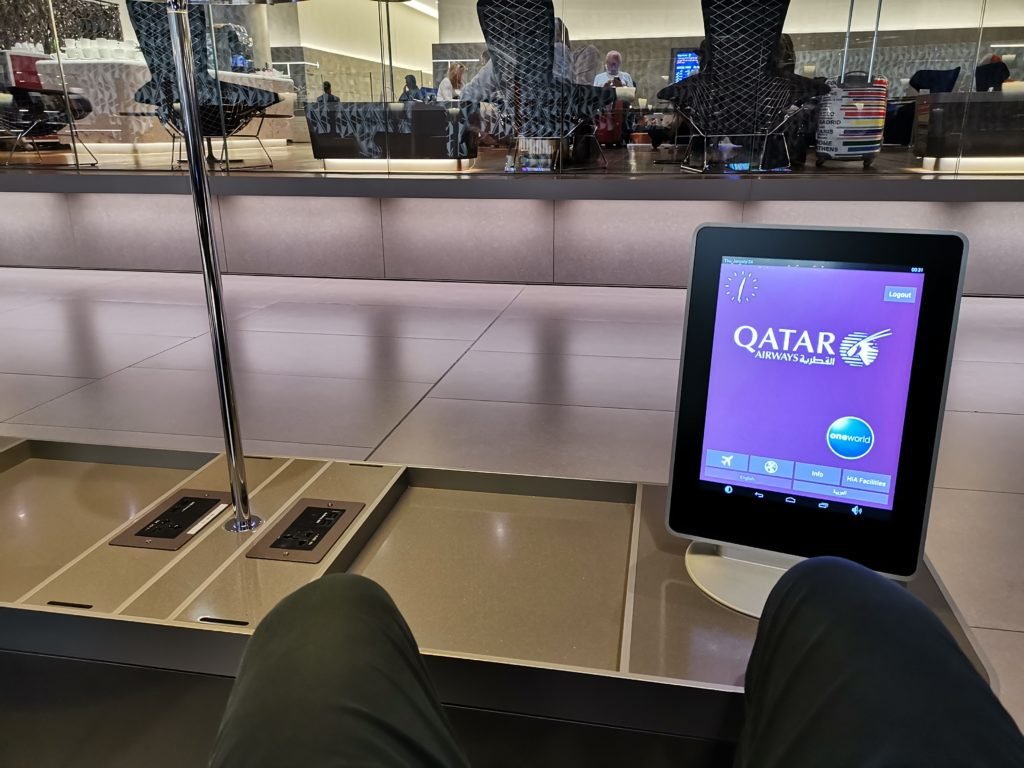 Shower rooms
After a little wander, I decided to grab a shower. There were no queues at all and I was quickly shown in by a very friendly Bengali attendant who laid out floor towels and checked if I needed any additional amenities.  I felt spoilt already!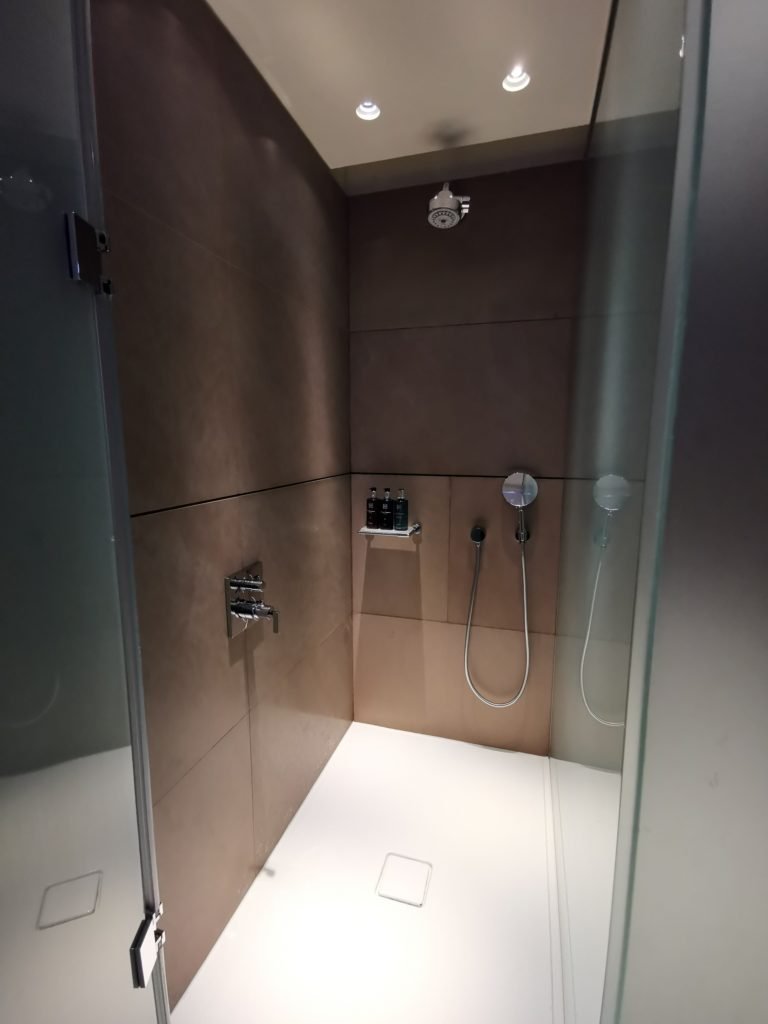 These showers are very much up there with 5* hotel standards..
The water pressure was amazing with an array of settings to control the water flow. I liked the shower gel and shampoo too.
Once I dried up with the super fluffy towels, it was time to continue the tour.
Al Mourjan Business Class Lounge Restaurant/Food
There are 2 dining options in this lounge. A restaurant upstairs leading up from the grand staircase (you an also get there via an elevator nearby ) and another at the other end of the lounge.
I went upstairs, which is fairly large though the seats are all rather densely layed out.
A fairly extensive choice of buffet food options as well as desserts are on offer.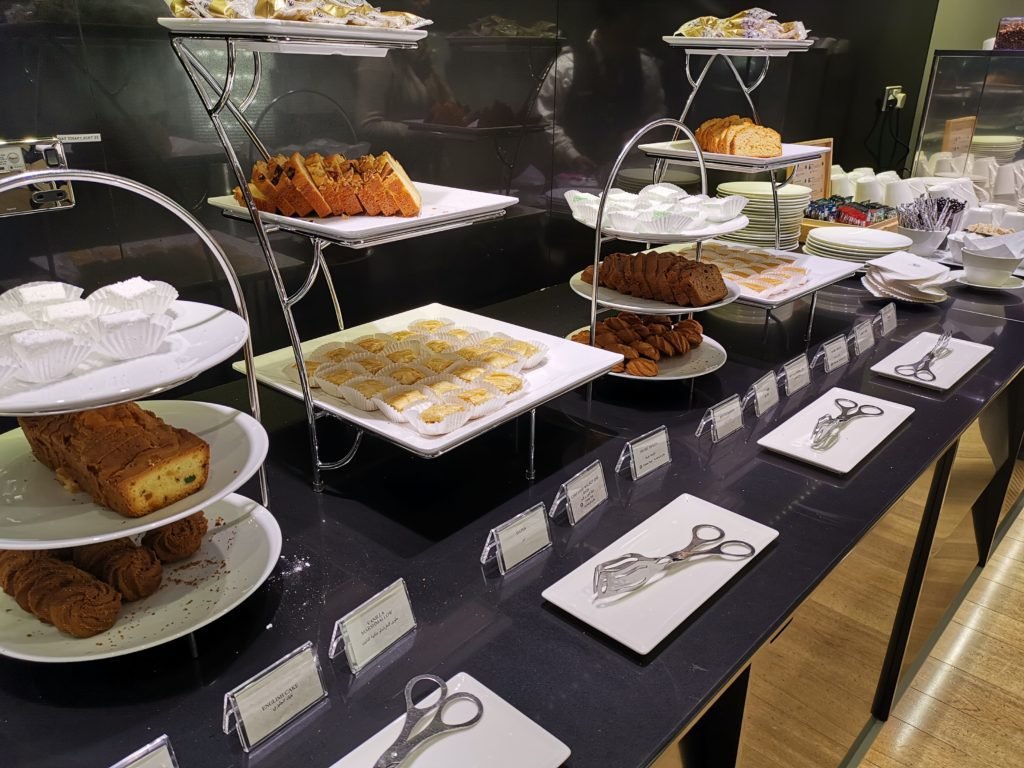 Service was limited with drinks brought to you on order, otherwise it's mostly geared towards help yourself.
I decided to try a yellow chicken curry, with veg and fluffy rice and peas. Which was fantastic, great flavour and perfectly tender chicken.
Games rooms
As you walk down to the other end of lounge, you will find a large games room past the business centre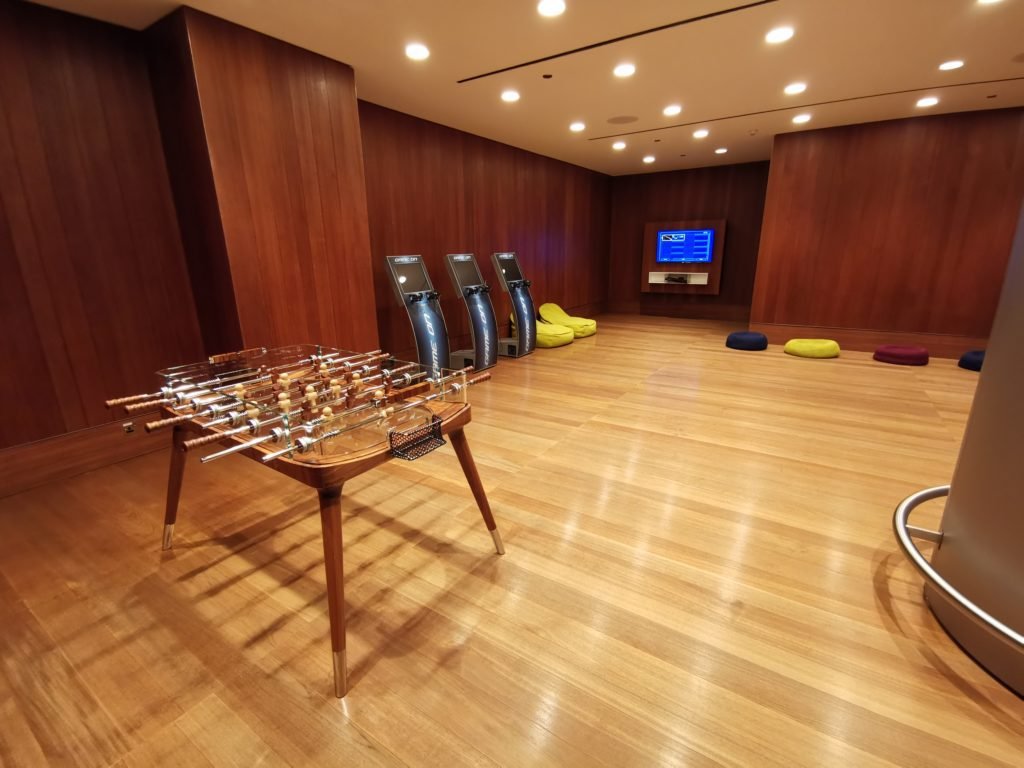 opposite side conveniently also has a kids play area.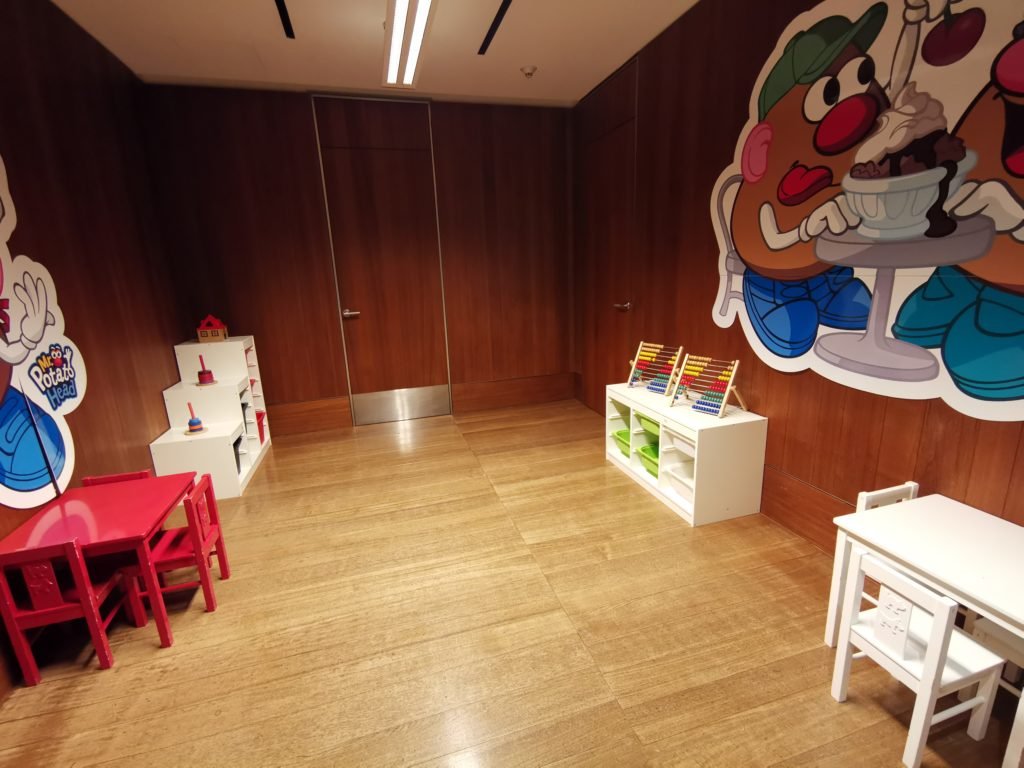 Family living rooms
Further along, you will find quite a number of semi private living areas designed for families to gather around.
These rooms are rather cosy with large TVs and reading magazines.
Refreshment facilities
There were several drinks stations, some with light bites spread across all the various seating areas.
The lavatories were well appointed, with attendants on hand to help with any requests.
Once again I was rather surprised when I was asked if I needed anything, in the bathroom! I decided to brush my teeth and asked for some toothbrushes, which came up promptly.
Quite Rest areas
After a wander around the living areas, I noticed what looked like yet more living areas, but it turned out this was the sleep zone. You have to book a room in the entrance reception.
They did not have any free at the time but I had 20 minutes to check one out.
While they were not actual beds, they were comfortable enough to get a few hours of kip. The room came equipped with cloths hanging and storage for your carry-on as well as PJs and towels.
Additional amenities
There are various areas in which one can work including the fully kitted business centre itself. A smoking room is available for those needed to do so.
Final thoughts
This will be the one of many visits to this lounge. On this occasion I had a shortish 2 hour layover before my flight to Penang. It's a lounge where I will be more than happy to spend a long layover.  For the most part, the space and design is great.  In certain aspects it can feel somewhat clinical, though that change hour to hour.
Next time to I will certainly get to use the rest rooms for an 8 hour overnight connection. For a long layover, I would say this could be more of a treat to break up your journey.
Verdict in numbers
Location & Entrance

Space & Ambience

Seating options

Food & Drink

Service

Amenities (Showers, Wifi, Quite space, Work space, Spas etc)