Best use of Avios & Award Tickets
British Airways/Iberia Avios  is one of the most popular and easy to earn air miles for many people. This has been an area (miles & points in general) I've personally not paid a great deal of attention to. Until recently. While Avios may not be the most sought after mileage currency out there, there are a lot of ways you can get great value out of it. British Airways has a distance based award pricing, where the longer routes fall into higher rate award brackets. Then there is also peak and off-peak pricing to consider.
Update 2023: You can now use your Avios for Qatar award flights too !
First and foremost..
What is an Avios worth?
This is a very imprecise science here, as that largely depends on how you acquired those avios, whether through flying, hotels, shopping, special promotions, credit sign up bonuses etc. I will cover this in a separate post, it really calls for it!
For now, my standard working assumption would be that 1 avios is worth roughly 1 pence. There are some cases where you can get over 3p for your avios, so read on 🙂
Furthermore, beyond the monetary value, avios "award" bookings provide far more flexibility to a ticket than most cash fares. You can change/cancel flights for a small fee and get a full refund provided 24 hour notice given.
Below are a breakdown of what I would consider the best ways to spend them.
Less than 20k
You have limited options here and your absolute best way to use those points would be to go for European/Short haul Reward Flight Savers which charge a flat £35 fee return or 17.50 one-way ( this covers taxes, fees and carrier charges) plus the avios amount.
For example, a flight upto
650 miles = 4000 avios off-peak
, or
6500 avios for flights up to 1150 miles
. You can work out the rate directly with the
reward flight calculator
.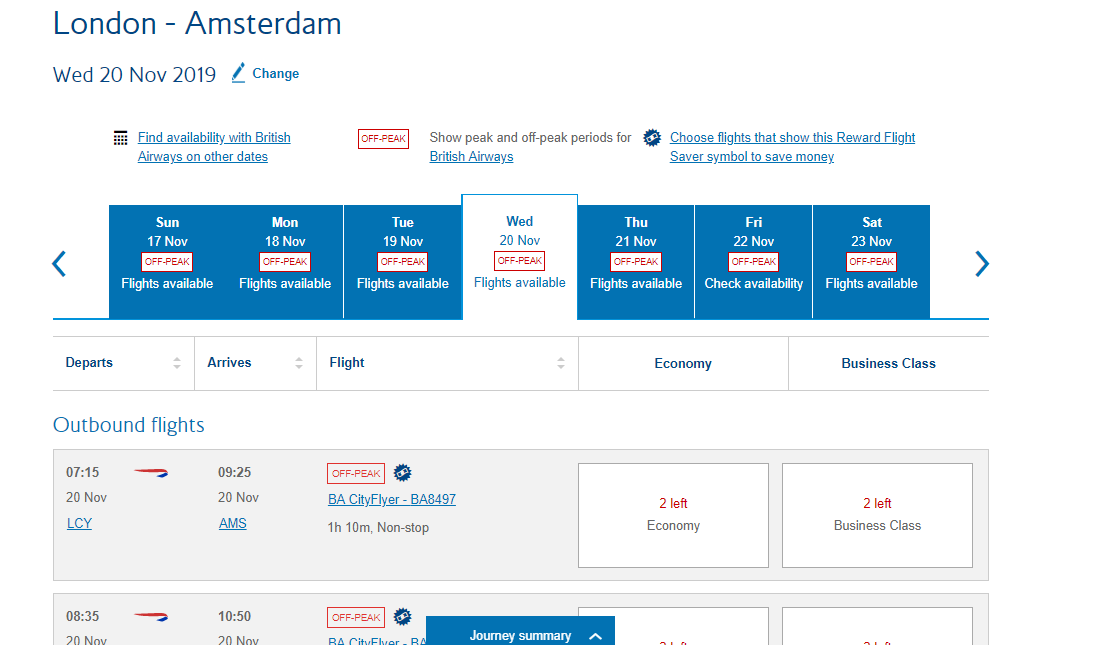 Such reward flights can be a godsend especially for last minute flights or peak holiday prices where even a short flight can run into hundreds of pounds! In the above case, even more so, since typically cash fares from London City airport are almost always more expensive than other London airports!
You can also use them internally within USA (American), Japan (Japan Airlines), Asia(Cathay Pacific or Malaysian) Southern Africa (Comair)
Word of warning, whatever you do, please please do NOT use your avios to pay for things like seat choices/meals or duty free, you will almost always get very bad value for your avios. By and large this applies to all airlines and airmiles, and I've made those mistakes plenty of times without even thinking about it.
Between 20 to 60k
Things start to get more interesting now. Off course you can still use them for above cases but you can start to be more inspirational.
Fancy business class? There's a trick here which I consider to be perhaps one of the cheapest ways to fly business class.
What you can do is book a premium economy flight wherever you are going (especially if you can grab a deal on sale ) and then upgrade your flight to Business Class. All premium economy flights with BA are upgrade-able, most economy tickets are not.
For around 25k you can upgrade most USA/Middle East/India flights one-way. In most cases this works out cheaper than redeeming a business class ticket outright.
From 50k, you can fly to New York or most of east coast USA/Middle East/Central Asia/in Club World one way, outright. But watch out for those taxes and surcharges, the taxes for New York would be £447.70 per person (one-way), ouch!!
Dubai would be slightly less at £364.24 per person (one-way).
Unfortunately the UK has one of the highest departure taxes in the world 🙁
Want to try to avoid some of those excessive taxes? Check the other direction! Coming from Dubai to London the taxes go down to £203.92 per person (one-way). This all depends on country of departure, and USA also quite high taxes so you wont save much there. All this off course applies if you were happy to fly out in Economy and return in Business for example, or you could just get a cheap one way out and return home in Luxury.
Based in Europe? You can book with partner airlines like American, Iberia or Finnair there direct with the tax savings to boot 🙂
* Keep in mind though, you would need to have award availability in that class you want to upgrade to. Here is a tool that would let you
check that
.
Between 60 to 150k
Within these ranges, you can consider some of the above options both ways. Maybe more than one trip even 🙂
If you are flying further out like West Coast or South East Asia, you can do all of these in business class one way. Hong Kong? 75k avios. Again taxes are high going out, but if you were just booking a one way back from Hong Kong to London, the taxes are just £95.80 per person (one-way). Not bad eh?
Fancy trying out First Class for 68k? Yep this is off-peak one-way for destinations up to 4000 miles. You can score a First redemption for less than that, but I'd say anything less than 3500 miles is just not worth flying First Class. You simply wont have time to enjoy it or fully appreciate it. Its one thing if you happen to be travelling First or Business class on a regular basis. But for those once in a while treats, you really want to enjoy it to the max right?
2023 addition: You can book London/Europe – Australia for 90k Avios in Qatar Airways Business Class, in the comfort of the amazing QSuites
Another way to fly First class using same concept above is to book Business class return in cash, and upgrade the sector you want to First 🙂 This again could work out better value.
200k plus Avios
Now we're talking! This gives you enough for a First class return to most far flug locations.
Here you can even think about doing round the world trips in business class luxury for 200k? or make it 300k for First class! You can even do this once in a lifetime trip with multiple airlines. This can require some effort to book though! But it sure is worth the while.
Use 2-4-1 Vouchers
Travelling with a partner with limited avios? Enter 2-4-1 vouchers to the rescue!
If you have like the BA branded Amex, 2-4-1 companion voucher is earned once you hit £20,000 spent on the card for the standard card, or £10,000 on the Premium version of the card. Once you get the voucher, you have 2 years to plan and take that dream trip!
Some award sweet-spots
Miami – Caribbean Islands for 7,500 Eco or 15,000 avios Business with American
Miami – Quito/Bogota for 11,000 avios with American
A side trip to Hawaii from West Coast for 12,500 avios
Ireland – US East Coast for 13,000 avios No Fuel Surcharges (Aer Lingus)
Off-peak Madrid – New York/Chicago for just 34,000 avios in Business Class ( Iberia )
Off-peak Madrid – Miami for just 34,000 avios in Business Class ( Iberia )
Santiago – Lima for just 22,000 avios in Business Class ( LATAM )
Melbourne – Perth for just 22,000 avios in Business Class ( Qantas )
Things to note
One thing to bear in mind, airlines routinely devalue their air miles. Which is something that has put me off in the past. But one thing I have found is how reasonable they are at BA compared to other airlines, where out of nowhere your airlines can almost double the amount of miles for a booking. Therefore I would always advise, if you have a flight redemption in mind and have the avios already, book it sooner rather than later to make sure you get current rates 🙂
BA have recently introduced a variable/flexible prices for short haul reward saver flights. It works on a scale where you can either reduce this down to just 50p and pay more in avios or pay more in cash and less in avios, see below..
3. When booking flights in cash, BA always offer money off for a certain amount of avios. This can either represent anything from an ok value, to most cases a shockingly bad value per avios. I'd therefore generally recommend not opting for this, unless you are very avios rich and cash poor.
4. One down side to BA, unlike some programs; unless you are using the round the world pricing, each sector is priced individually. So if you live Manchester for example, a ticket would be priced separately for Manchester – London, and London – your final destination.
5. Always, always check cash prices for the routes you are about to book, you just never know when the stars are aligning for you with an insane deal!
6. You can move your avios very easily between British Airways and Iberia via "Combine my avios"
Hope you have found this guide useful. I will update with any changes as they happen. Next time I will cover more about the British Airways Executive program and the benefits to frequent flyers.