Stellar: Cathay Pacific First Class Review To Hong Kong
This is my second Cathay Pacific First Class Review. Despite my less than stellar experience on the outbound First class flight, I was in good spirits and optimistic about my return Cathay Pacific First Class to Hong Kong.
For one this was the first day of return leg to HKG fully featuring the new soft product enhancements. Secondly, it was a whole new crew, some of which are New York based, thus perhaps not as affected by the situation at home. Promising start!
Flights Details
Route: New York JFK – Hong Kong
Flight no: CX845
Date: 16.12.2019
Departure time: 00:45
Aircraft: 777-300ER (Tail B-KPO)
Seat: Suite 2K ( First Class )
Cabin Layout: 2 rows in 1-1-1 Config
Cathay Pacific First Class Check in
I arrived in JFK just past 7pm in the evening, a full 5 hours before flight boarding. I was actually catching a train from D.C,  as I was not so keen on spending too much time in NYC. This seemed a safe buffer in case of train delays!
Cathay fly from terminal 8, which was fairly busy. The check in area was right at the end after you enter from the AirTran.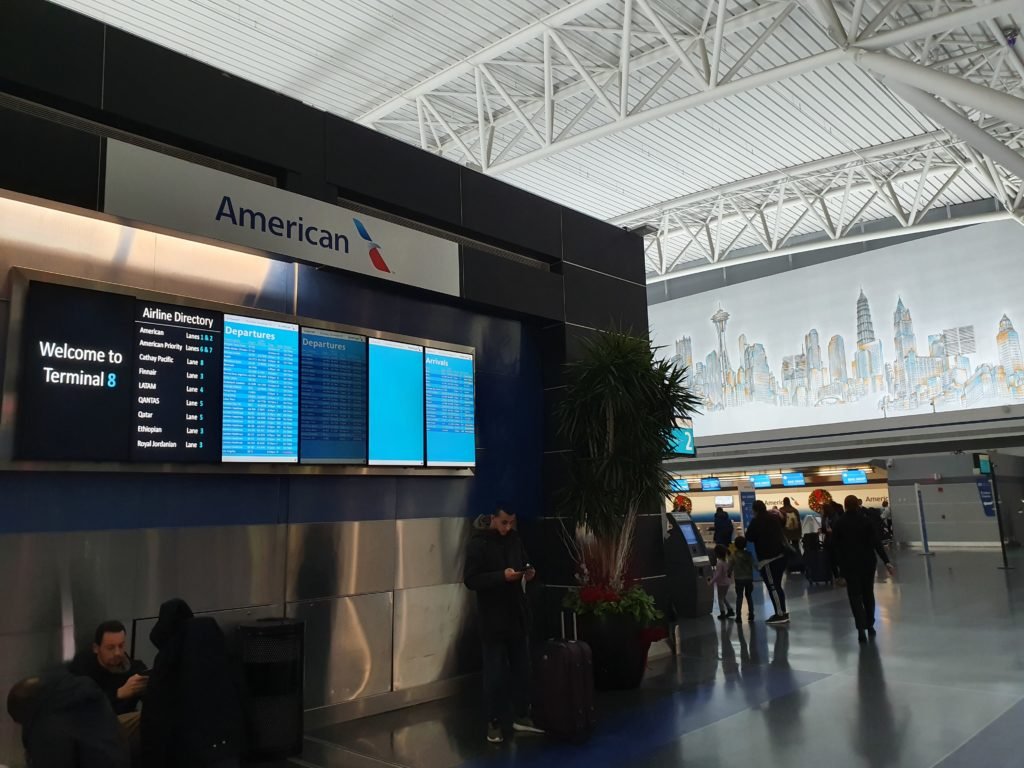 I was worried check-in may not even be open, but it seems Cathay has dedicated check in desks in JFK and keep them open in between their multiple daily flights.
Well it was all fairly empty. I proceeded straight to the First Class Counters, checked my bags and got boarding passes printed and lounge invitations in hand in less than a minute!
Just as I was leaving I asked one of the Cathay staff (who looked like he would normally be manning the queue ) if there was a separate fast track security, but he seemed to think that was only the case if I had Global Entry.
Well this was not true. There was in fact a separate security lane for all First Class passengers. Thank god!
Lounge
As a Cathay First Class passenger, you are invited to the
American Airlines Flagship
and Flagship
First Dining Lounge
, since Cathay does not not have it's own lounge in JFK, they have an agreement with American for their most exclusive lounge.
I managed to nap there for about an hour as I was really tired from going out in D.C the night before with little sleep.
Boarding Cathay Pacific First Class Review
Despite attempting to board early so I can take pictures of an empty whole First Class cabin, once again it did not happen.
Seems everyone was boarding early for this flight..
The First Class boarding lane had a dozen odd people. Which means half of them must have been Oneworld Emerald members.
This time, all boarding was done via door 2, where I was greeted and escorted to my suite 2k…
I have discussed this product at length in my previous Cathay First review. But it's worth saying again, this is First Class that is a huge upgrade from Business!
I chose this K side to see if there was any difference in atmosphere and service level. There is no difference in the seats otherwise.
As noted previously, I immediately sensed a more upbeat and positive vibe from the crew compared to my outbound.
After the initial greeting, the crew welcomed me back with genuine warms. Looking after me today was Jennifer and Alison.
The first part of the new soft product was in motion..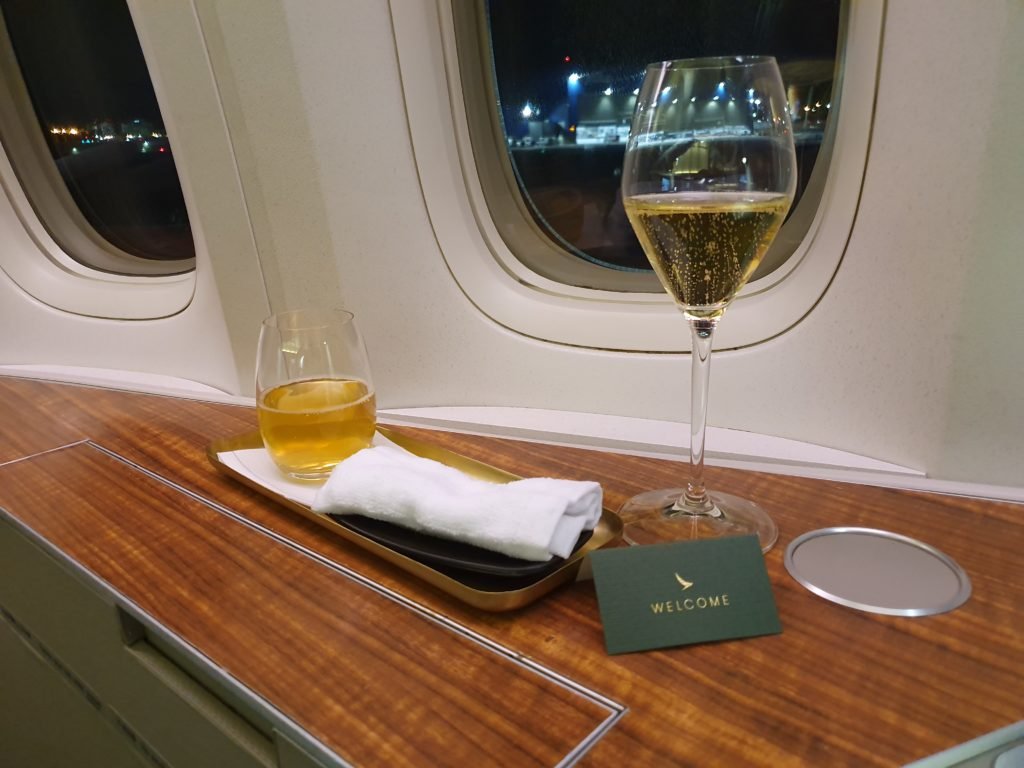 There was the welcome tray with the Jing tea, hot towels and a hand written welcome note by the crew.
And the Krug started flowing too 🙂
The crew mentioned that they have loaded pre prepared special meals for me on this long flight but I was still welcome to look through and order anything from the standard First Class menu too!
Sure enough, as I looked through the menu, I liked the sound of the default menu just as well. For the the purposes of review I decided to skip my pre-loaded meals and order from the menu.
Oh and I had no less than 3 top ups of Krug before take-off. Then my meal order was taken.
As before the amenity kit was already waiting in the seat and the PJ set was brought over after I was seated.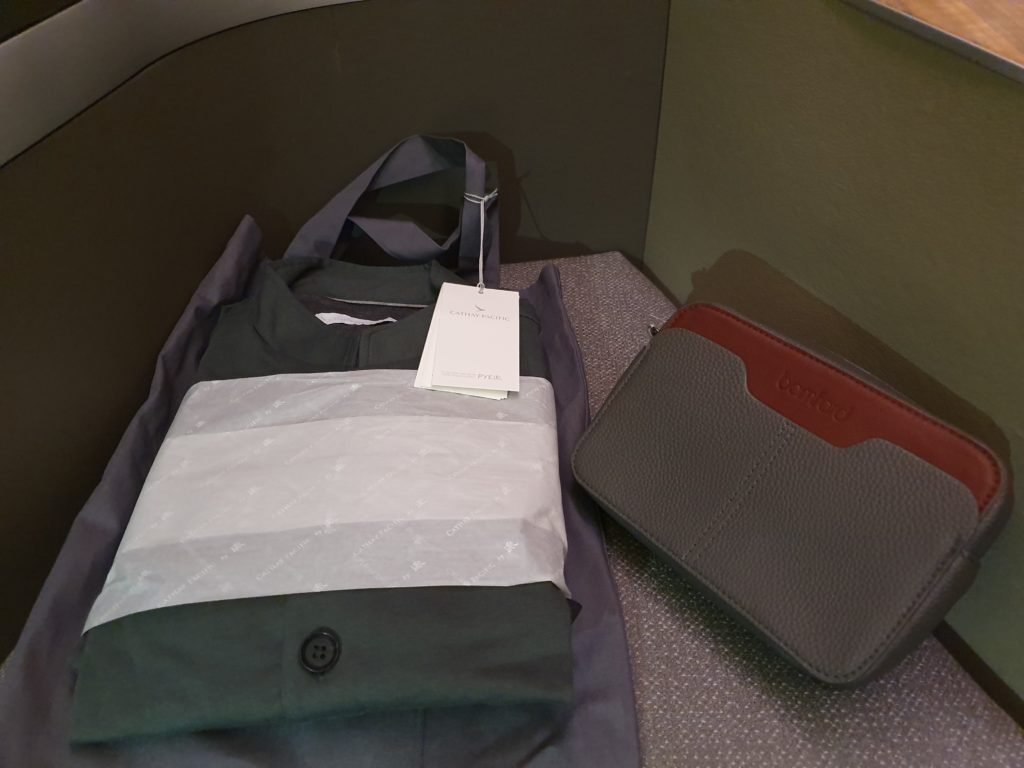 As this was a late night departure, the crew offered to pre-make the bedding by placing the mattress on the seat so that after meal service they can turn down the bed quicker.
Takeoff
We departed the gate just past 1am local time. While taxiing the Australian pilot shared some pre-flight information. Flight time of 14 hours 50 minutes, initial cruising altitude of 29,000 feet, some gusts within the first hour etc
The late night departure meant I was already fairly tired and ready to sleep. I had a nap earlier in the lounge so that I'd stay awake for a meal on-board before sleeping properly, but still felt tired.
Perhaps it was the Krug that made me more sleepy!
Enhanced Cathay Pacific First Class Service
Given the late night departure, the crew certainly wanted to maximise everyone's rest time so as requested the dinner service began about 15 minutes after take-off.
Starting with more drinks, with warm nuts.
I love a Cathay Delight! A much welcome break from the Krug 🙂
Meanwhile, I was already began watching Home Alone, it's December, you just got to!
The meal service started in earnest the cabin.
First up the caviar, in a very shiny new gold plating by Robert Welsch. This time the table was indeed set with care and attention!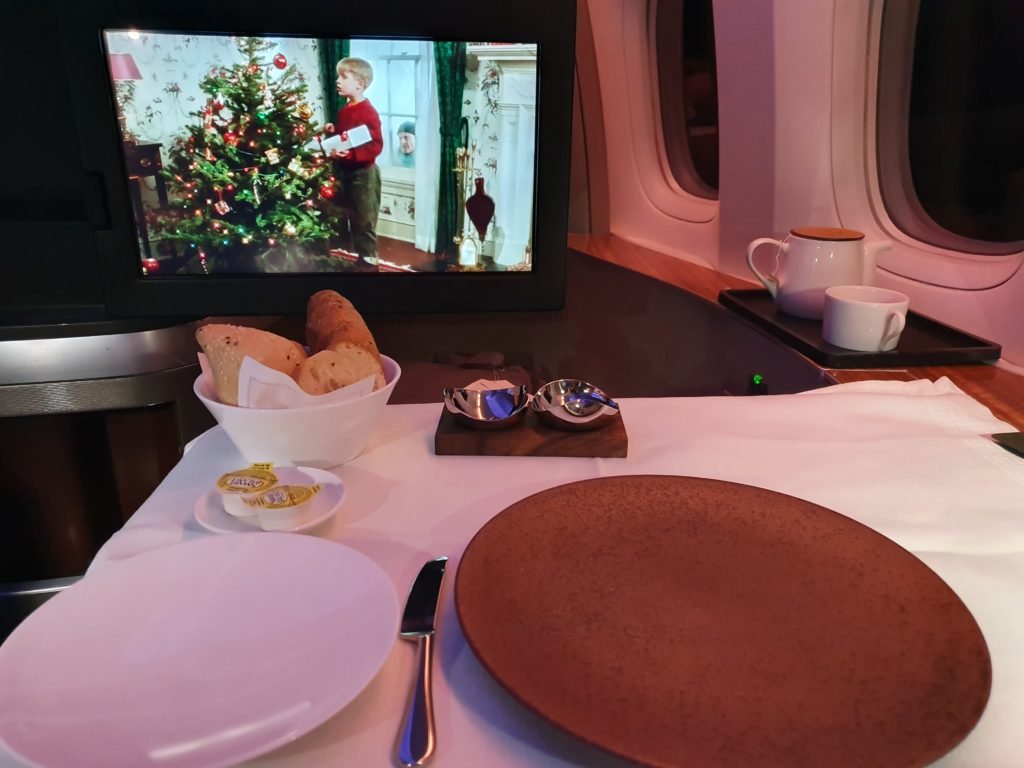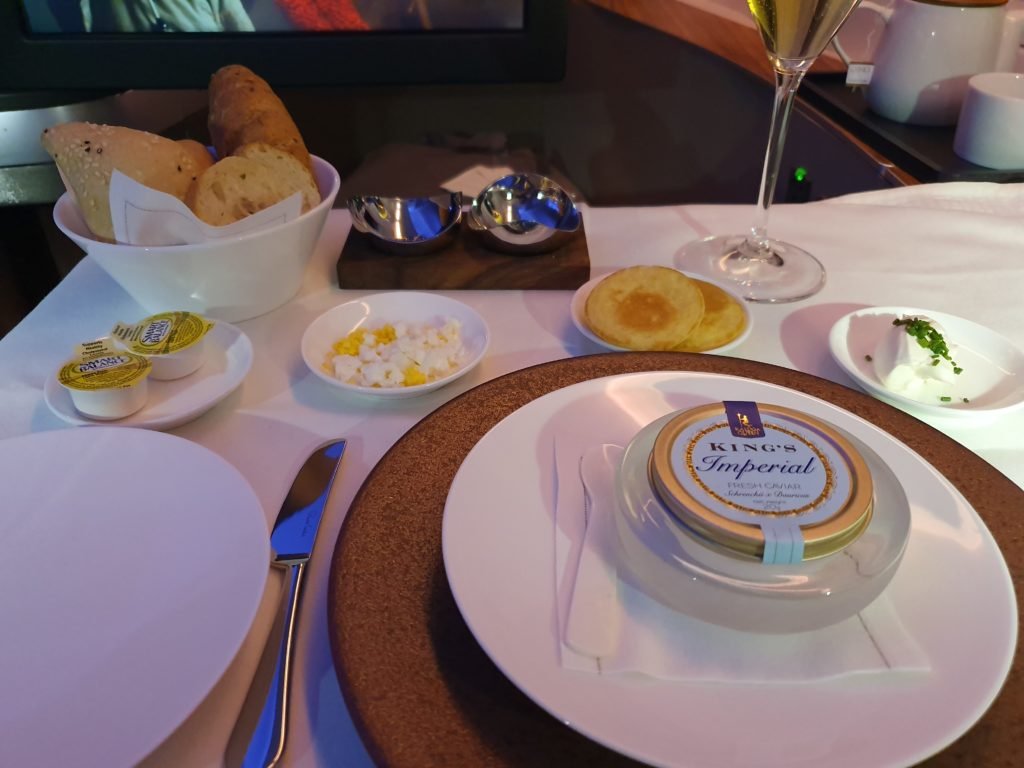 Think I could get used to the new Caviar as it didn't taste as salty as first time.
Following this the starter of Quinoa and Beetroot salad with whipped feta yogurt and lemon chicken was served..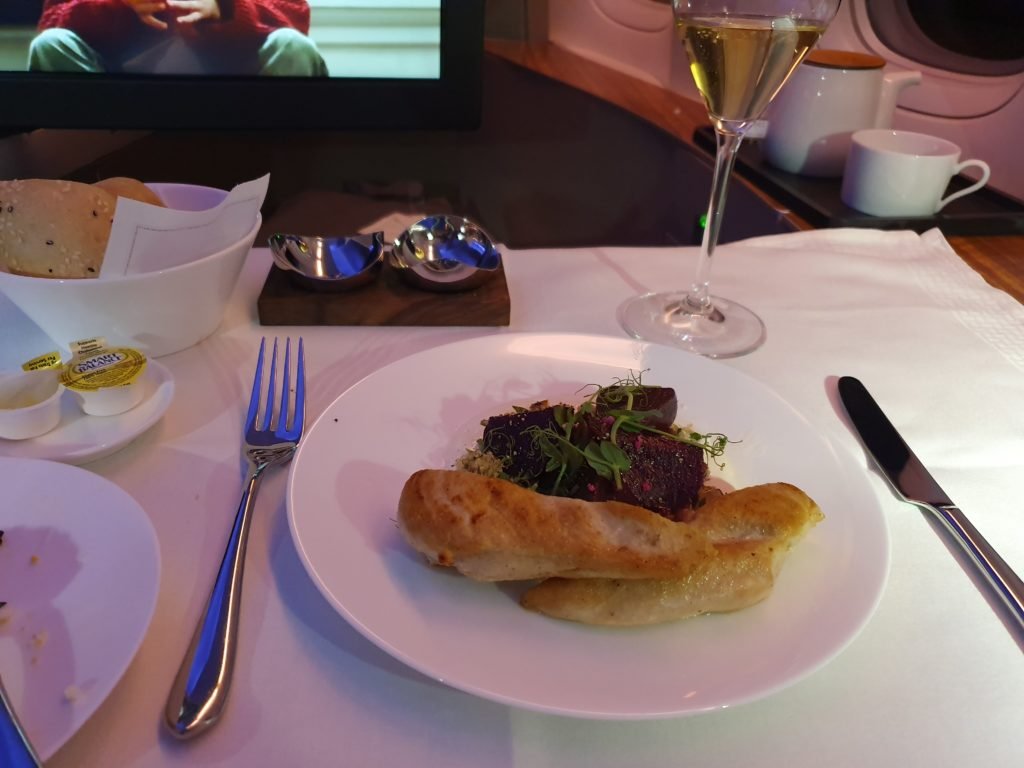 As a starter, it was a fairly substantial dish. Then it dawned on me the chicken was an additional add on that I selected! When in Rome!!
Then came the main, which again was excellent. The celeriac mash was flawlessly smooth and complimented well by the spiced lentils. It all felt quite light.
After the main, I was pretty much full, but went for the cheese course for review purposes. Essentially had a little nibble of it.
 I like blue cheese in my burgers. On its own, its super strong and definitely needed the sweet pickle 🙂
Note, this time I was offered a dessert wine from Portugal, which I also just had a tiny bit of.
Finally, I was still looking forward to dessert, the New York Blueberry Ricotta pancake.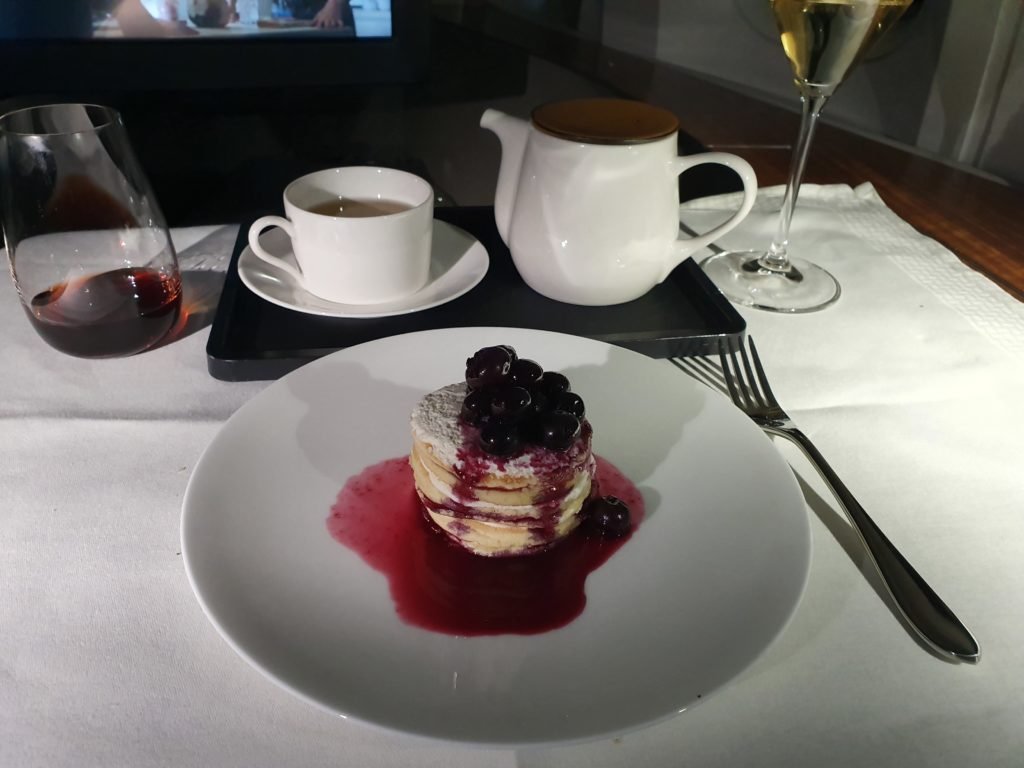 It looked fantastic but perhaps a bit on the large side, and also rather dry. I ate about 1/3rd of it. Not sure it's something I will order again after such a full meal anyway.
After each course, the plates were all cleared away promptly.
About 2 hours post departure, I was ready for bed. I headed to the bathroom to change into my PJs while the crew made my bed…
So, I already experienced part of the new bedding on the outbound flight to JFK, but the additional new  blanket by Bamford completed the whole bedding experience.
Again, it felt as Luxurious as you would have in any 5* hotel.
I fell asleep rather quickly.
Unfortunately, perhaps due to some turbulence I was already awake again 3.5 hours later with over 6 hours left to go. I snoozed for a while longer.
Since I wasn't really sleeping, this time I decided to order the chicken quesadilla from the anytime menu, which I was informed would take 15 minutes to prepare…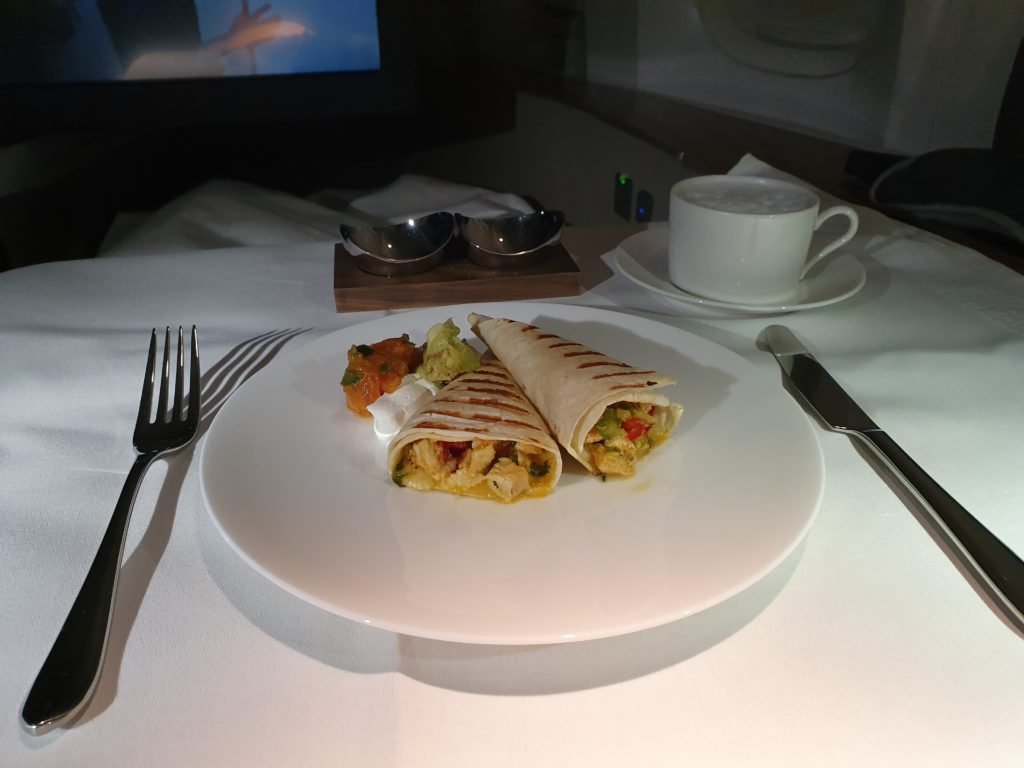 The quesadilla arrived quite nice and crispy. It was the perfect light midnight snack.
I watched another film and stayed lounging in bed mode until breakfast.
Pre-landing Breakfast Service
The breakfast service began more than 2 hours prior to landing. I was happy to eat as late as possible, since we were only landing around 5am local time in Hong Kong.
Alison took my preferences for breakfast about 1:45 minutes before. However, the pace seemed to have really slowed after that. All 5 other First Class passengers were having pretty full on meals, which kept both First crew busy. The first class purser also seemed to keep going back and forth between the business class cabin.
By the time my table was set by Jennifer, it was on 55 min left for the flight, and she apologised for the delay. In all honesty it suited me perfectly, the only thing I was concerned about was the service may be rushed now.
I ordered from the "Wellness/Light options" menu. Starting with seasonal fresh fruits and coffee and croissants…
Then came the homemade granola served with a thick layer of Greek yogurt underneath.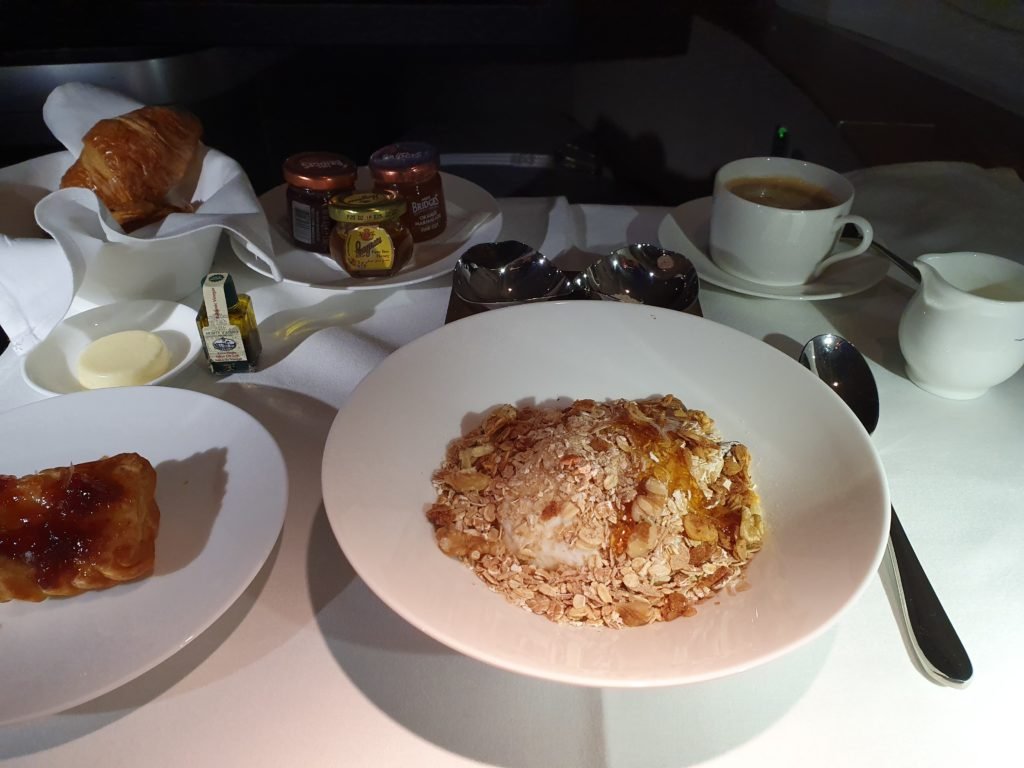 Finally the "main" avocado omelette arrived just 35 minutes to go before landing…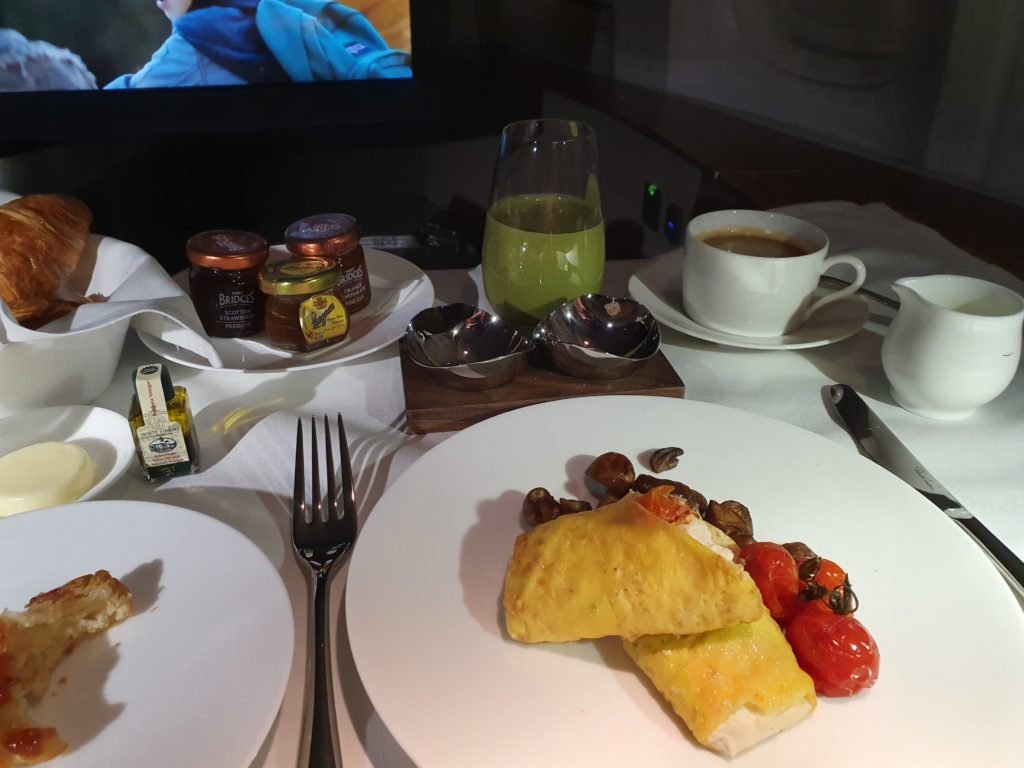 I ordered the new green vegetable smoothie, which was initially forgotten about, until I asked for it again.
I should state, I was in no way rushed to finish my breakfast, even though the captain instructed the crew to prepare for landing while I was still eating.
About 15 minutes prior to landing, I was finished. And then the crew promptly cleared everything from my table. A pre-landing hot towel was offered and I was asked if I wanted another bottle of water.
It was still dark in Kong Kong when we landed, and we only taxied for a few minutes before we arrived at our gate.
After we arrived at our gate, I was still gathering my stuff and packing, which Alison picked up on and offered to help me, while still apologising for the rushed breakfast service.
The purser previously came by to thank me for flying with Cathay, and Jennifer reiterated that message and wished to see me on a Cathay Flight again. While I was putting away my second set of Cathay PJs, she bought over another bag to put my slippers in.
Suddenly the 15 hour flight felt like it was over in a blur.
Overall thoughts
This was such a fantastic experience from top to bottom, that I still wished I had a couple more hours to draw out the breakfast service! The hard product and new soft enhancements really elevated the entire experience to a luxury you can only find in First Class.
The crew this time were remarkable and every bit as professional and polished as you may come to expect from Cathay Pacific. They were genuinely engaged in the service and almost flawlessly delivered to an exacting standard. The slight delay in the breakfast service was almost a non-issue for me. Since it was my choice to start the service as late as possible anyway.
I watched the crew with the other passengers, and momentarily forgot I was actually there! That in itself was the best commercial of the airline I suppose.
Whatever is in store for the future of the airline, I hope it retains the charm and quality that was on display on this flight, that even after 15 hour overnighter, crossing 13 time zones, I felt refreshed, pampered and lingering for more of it.
I cannot wait for my next Cathay Pacific First Class Flight!
UPDATE: After almost 2 years Cathay is offering First Class to many USA/Europe route again
Verdict in numbers
Check in & Ground Experience

Seat & Bed

Quality of Food & Beverage

Staff Service

Amenities