American Flagship First Dining JFK
My Cathay Pacific First Class return to Hong Kong came with an Invitation to the American Flagship First Dining JFK. After a brief time in the Flagship Lounge itself, I proceeded to the Flagship First Dining room, which is within  the same compounds.
Access for American Flagship First Dining
You automatically have access if you are flying American Flagship First on long haul international flights or transcontinental US flights such as JFK-LAX/SFO.
Alternatively, a OneWorld carrier First Class like in this instance.
When you enter, they kinda check you in/cross off a list it seems.
The Space
Initially there was only 2 other passengers in the lounge at around 7pm.
I was asked if I wanted a table but I decided to have a couple of drinks at the bar first.
As I was about to finish my second drink, I asked the waiters to get me a table. At that point, the dining area was somewhat more busy, with about 40% of tables occupied.
I still had a choice of seats and sat overlooking the taxiways, which I am very glad I did, as I saw my
aircraft on its inbound service from Hong Kong.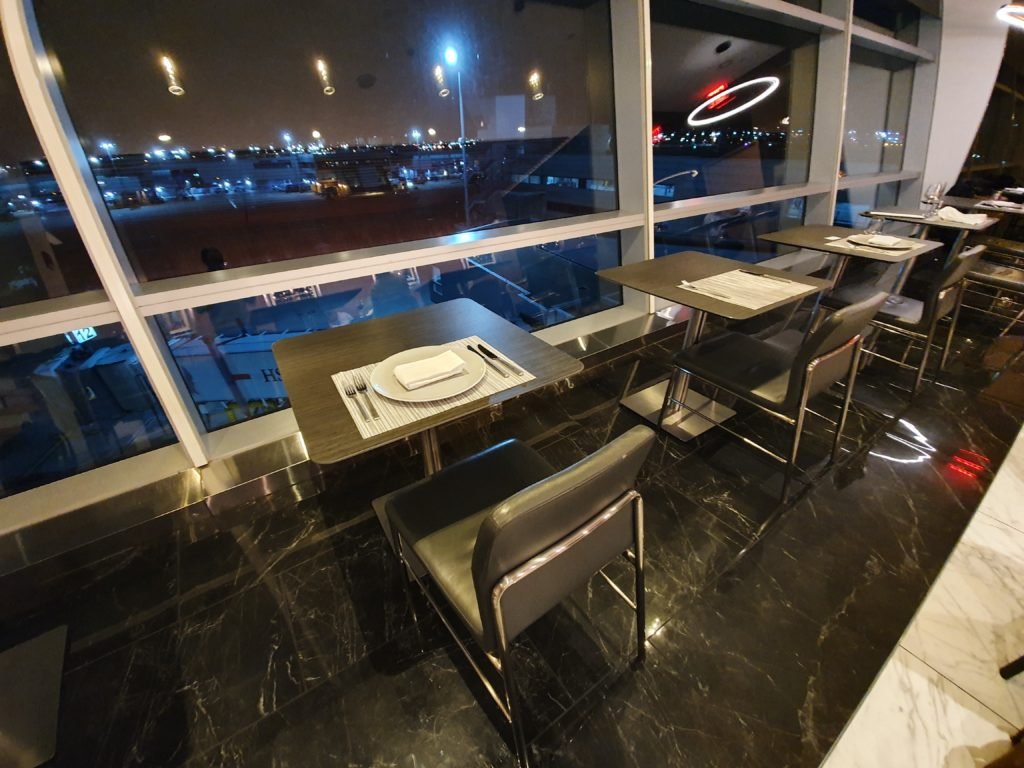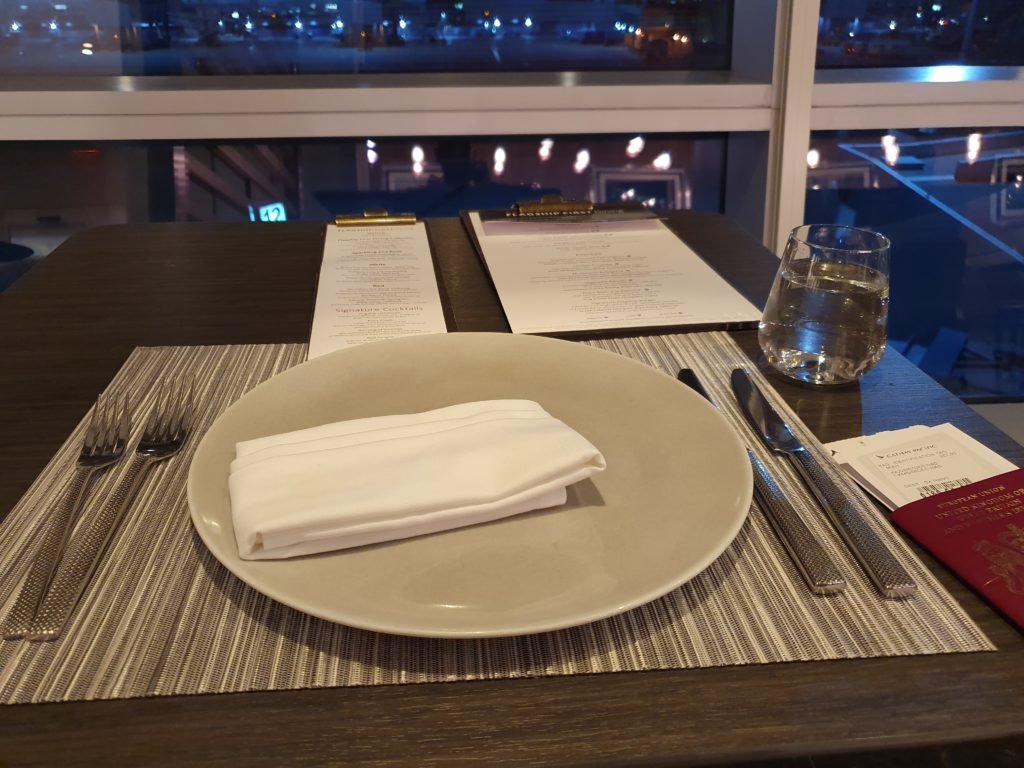 I was offered the menu and offered my choice of water, which was poured for me.
After a few minutes I ordered the Grilled Roman-style Artichokes to start and the "Black Bass a la Plancha".  After which the lady serving me decided to take the menu without even asking me.
The starter came within 10 minutes,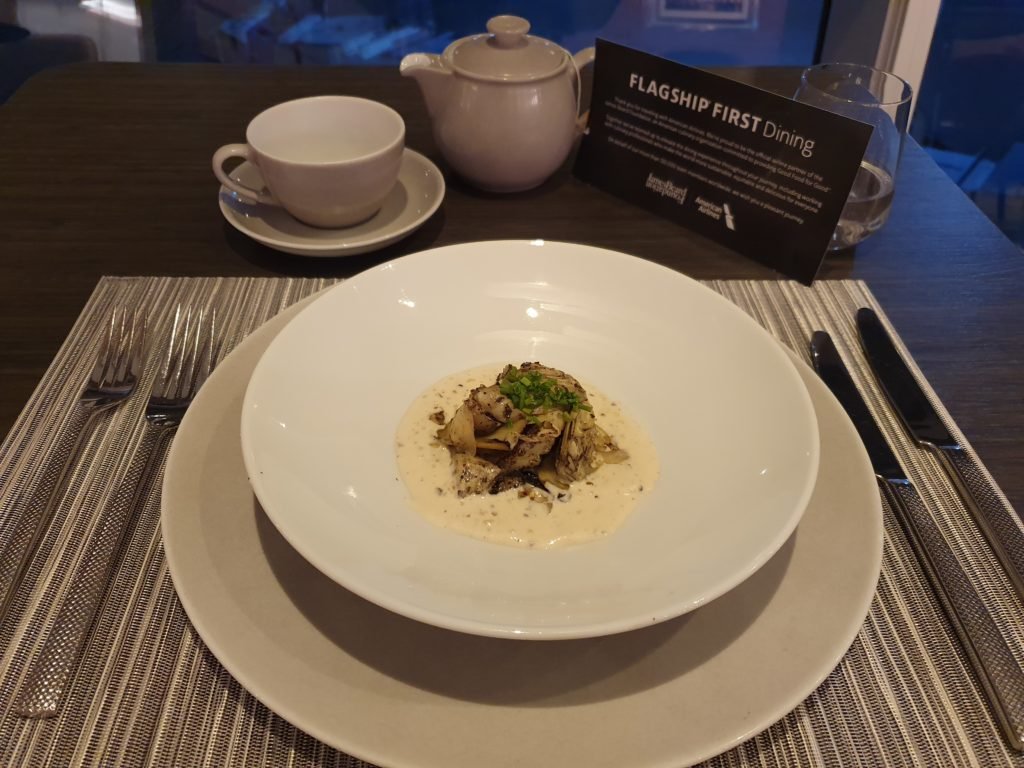 It was lovely, more like an amuse bouche than a starter. This followed by the "main"?, not long after.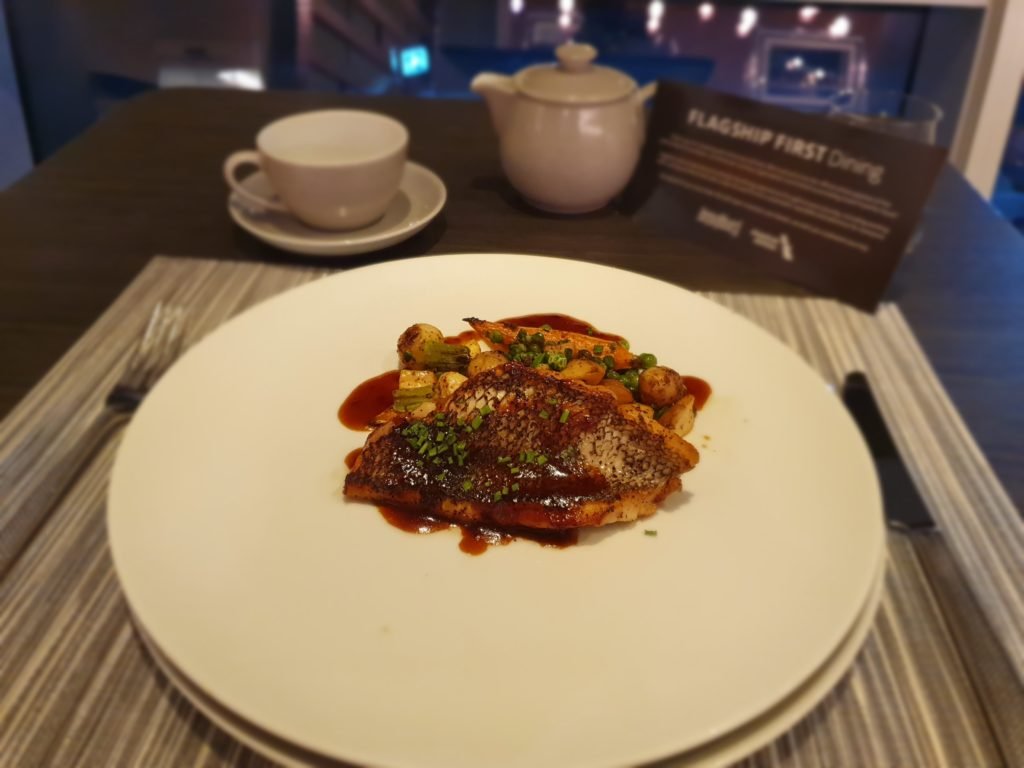 Now the "entrees" was meant to be served with the Krug which I clarified I would have, but that was all forgotten about, until I specifically asked for it again a while later.
Which became a pattern soon after. No tops ups came unless asked.
I later decided I was still a little hungry and the actual flight still being 3 hours away, I wanted to order something else off the menu.
It took about 20 minutes before I got someones attention to grab me a menu again and then knowing I might have to wait a while for them to take my order, I decided to order some of the crab cakes.
That arrived another good 20 minutes later,
It was actually quite good. I enjoyed it, and still felt like I would be good to have a meal 4 hours later 🙂
Other facilities
Other than food and beverage, there really is not much else to review for this lounge.
Even when nature called to relieve ones bladder, you had to go out to the main lounge to use one of the restrooms there.
Overall thoughts
I came with very little expectation of this place, and I have to say I was generally impressed with the quality of the food and beverage (chef inspired dishes in partnership with the James Beard Foundation ) and that they serve Krug champagne here.
The staff were polite and friendly but neither proactive nor the most enthusiastic. To be fair, they had a full house of people to serve and there was only 3 of them, that I could see anyway. The space was clearly understaffed for the demand, and thus meant the service had suffered. Was this on par with a First Class experience? No. Potential to be? Yes.