First Rate: WestJet 787 Business Class: Calgary to London
Westjet announced a significant transformation plan back in mid 2018. This would usher in their first ever long haul Business Class alongside the brand new Boeing 787-900 deliveries. The promo & branding was striking and luxurious. I was intrigued.
Long haul services started mid 2019 as planned, and since had been on my radar. I managed to book a one way Business Class ticket from Portland to London for $986 dollars. Sweet deal for the brand new WestJet 787 Business Class!
In an unexpected twist, this flight went tech (technical fault) after being airborne! That was a first for me and certainly not an event for the faint-hearted!
Flight Details
Route: Calgary – London Gatwick
Flight No: WS1
Date: 14.02.2020
Departure time: 7.45pm
Standard Flight Duration: 8:35 minutes overnight
Aircraft: 787-900 (Tail C-GUDO)
Seat: 1A, Business Class
Cabin Config: 1-2-1 in 4 rows
Check In
First leg of the journey was with Alaska Airlines from Portland, Oregon. I arrived at the airport 2 hours before the late morning flight. I used the Alaska First Class check-in counters. There was just two other passengers before me, and two premium counters.
Once at at the desk, the friendly agent was unable to check-in, apparently I did not have appropriate travel authorisations!? This was unforeseen, I have travelled to Canada several times without visas/prior authorisations.
Normally, I would still verify visa requirements in advance, as Australia /New Zealand have recently introduced advanced ESTA style authorisations now. Since I was just transiting, it did not occur to me at all. 15 minutes passed between me and the check-in agent attempting to figure out the right application page/website.
Upon finding the right forms, I encountered issues in being able to complete it. The application required entry of my profession, yet nothing remotely resembled that in their pre-selected list of occupations. This begged the question, do they not have techies in Canada? I selected something "Marketing" related!
Carrying on, I eventually checked in when their systems updated with the authorisation. I had my boarding pass to Calgary, but had to pick up London sector in Calgary!
Not much time left to check out the Alaska lounge in Portland :/
Calgary Transit
With a 3 and half hour transit in Calgary, I followed through to international connections after landing. There I enquired with some security staff who pointed me to WestJet transfer desks.
A few words were exchanged between security staff and WestJet agents, and I was handed my boarding pass onto London!
Lounge in Calgary
Westjet is currently building their own hub lounge in Calgary. In the meantime, my boarding pass included an invitation to use the Aspire Lounge, which is currently used by several other airlines.
Boarding
I headed to my boarding gate 55 minutes before departure, where an orderly queue was starting to form. The boarding area looked more like a security/passport control zone…
With no one else in Business Class lanes, I proceeded ahead to inquire the possibility of boarding a few minutes early. This was so I could take a few pictures of the beautiful Business Class cabin empty.
Meanwhile, last minute upgrades were available for just $549 canadian dollars, which I thought was reasonable. Later, I found out this was for upgrading from Economy to Premium Economy!
Boarding started with passengers who required special assistance and those with children. This took some time. It was another 20 minutes later that Business Class was called for boarding. Despite being told someone would call me over first, I was not. So now almost the entire business class cabin were right behind me, ready to board.
We walked thorough a rather long corridor/boarding bridge to get to aircraft door. A crew member greeted and insisted I board via the second aisle on the left. One of the many wheelchair passengers was in business class, 2 rows behind me, momentarily blocking the aisle on my side.
WestJet 787 Business Class Cabin
WestJet has chosen to install the Super Diamond Herringbone style seats in 1-2-1 configuration. The Super Diamond is a popular business class seat deployed by airlines such as British Airways, China Airlines and Qatar Airlines. Each utilising various degrees of customisation on top.
I had about two seconds to take some pictures of the cabin, without getting the disabled passenger or others in my pictures.
The cabin has been designed by British based Priestmangoode. Taking inspiration from Canadian landscapes, the decor and accents exude a sense of a very premium product. In the flesh it looked as sleek and stylish as any marketing brochures.
Sadly, the low lighting and the speed which I had to take the photos, they do not do the cabin justice.
As stated, WestJet Business Class has 4 rows of Business Class with 16 seats in total. This enables for a very intimate and exclusive feel.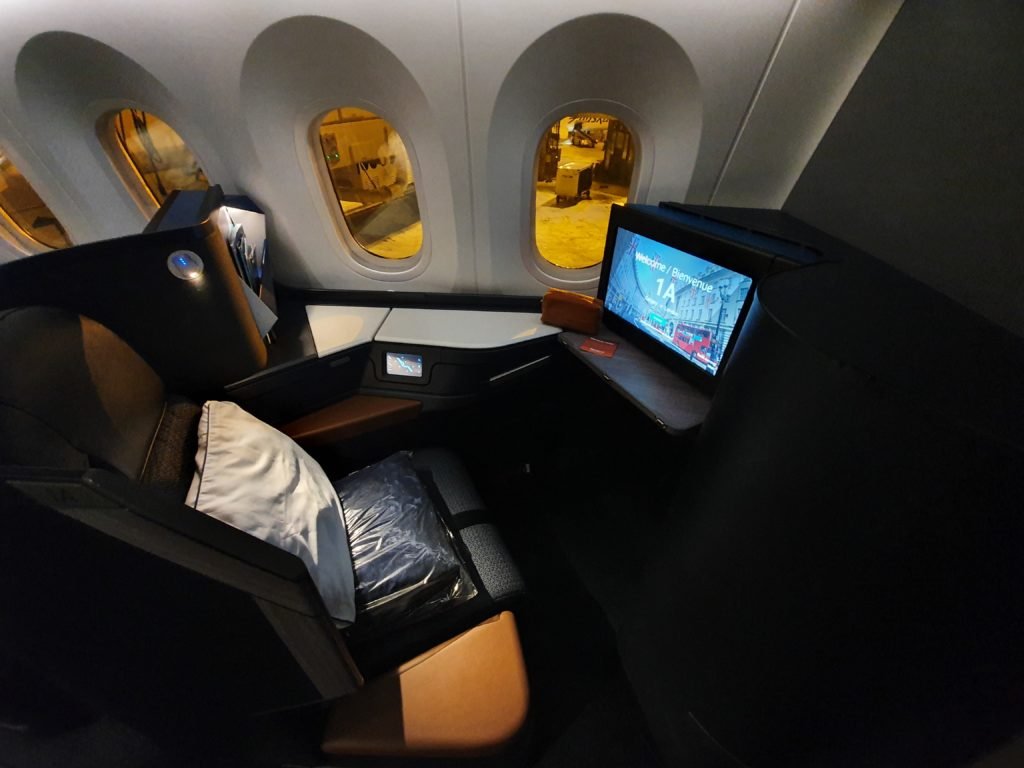 Already placed in each seat, was the amenity kits, pillows and blankets.
At shoulder level to the right, you have the sleek literature shelve.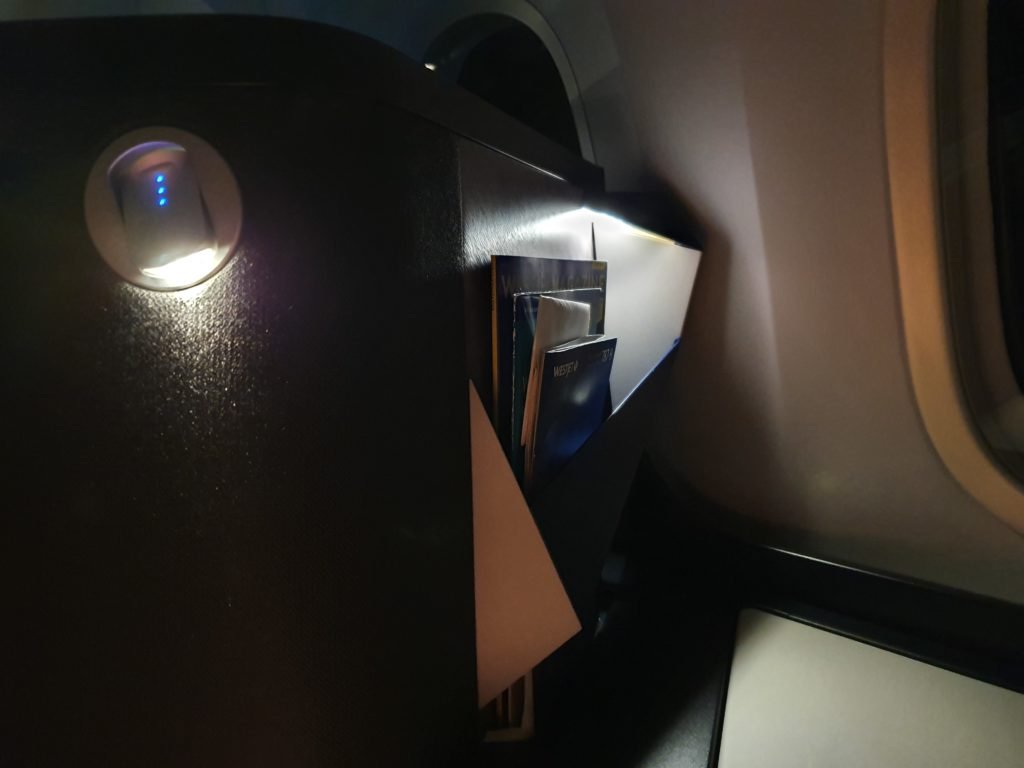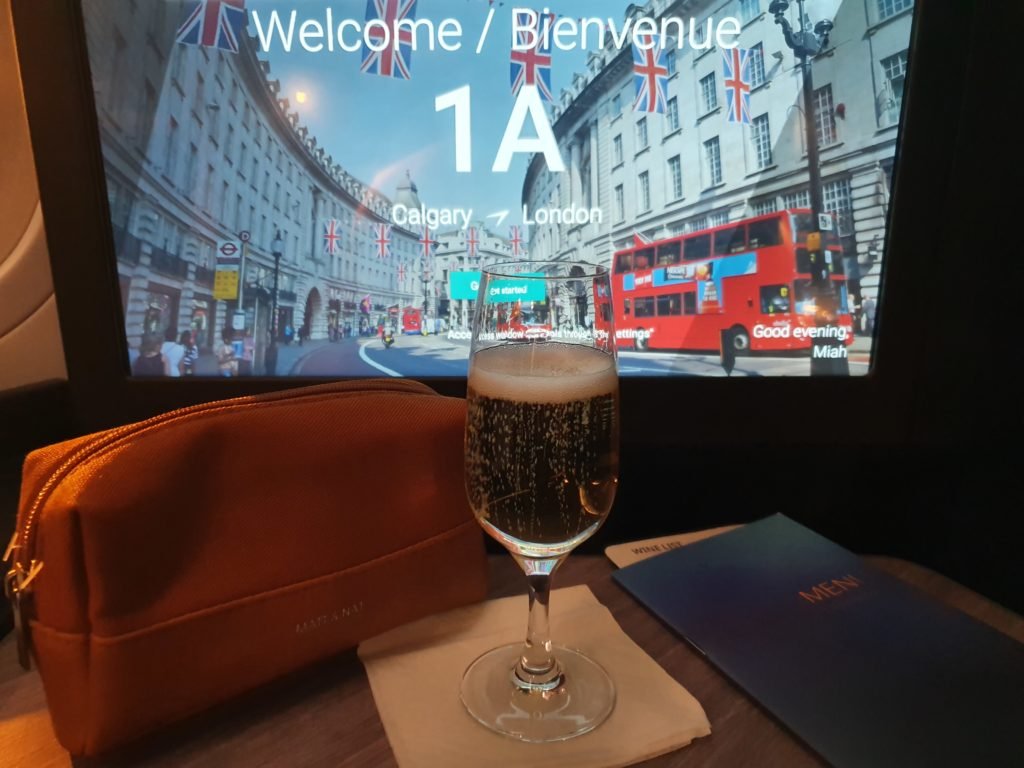 Another novelty, this was the first time I have seen my name programmed into a seat IFE! More airlines should do this, as it kills off any prospect of others sneaking into a seat. At the same time, it helps the crew if they do not have iPads on them at the time! Nice touch!
The storage compartment to the right at elbow level reveals the noise cancelling headphones and a bottle of water.
Business Class passengers also get a complimentary internet voucher of 50MB.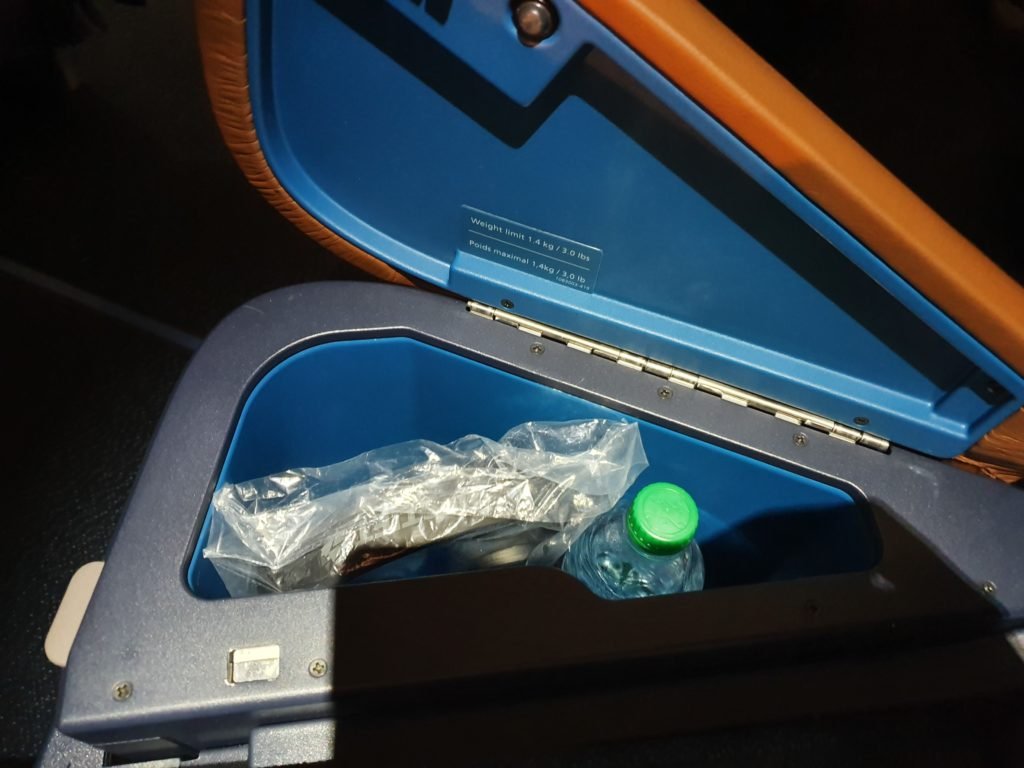 A smaller storage comportment by the side contains a mirror and perfect space for storing your wallets/passports etc.
At the knee level there is an additional storage space.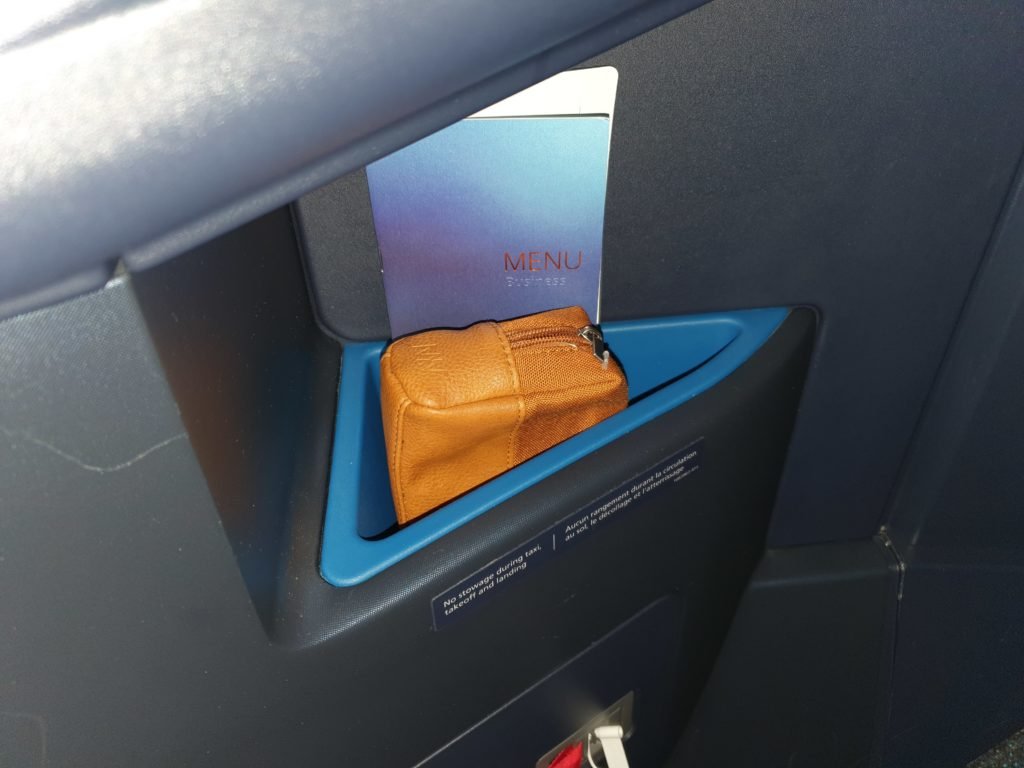 The larger compartment contains the video handset/IFE controller, as well as power sockets.
Finally, the feet rest, when in recline or bed mode had ample room.
Westjet Business Class IFE
In flight entertainment comes in a 18″ touchscreen screen monitor that was crisp and super responsive. There was a relatively large selection of movies, documentaries and music options, as well as games.
The handset can also be used independently of the main screen.
Departure
During boarding, the captain made the usual introductions and relay of flight path information. There was a little delay in kick-back, we left the gate at 20:10.
The climb out was smooth.
All was not what it seemed however. 10 minutes of being airborne, we were circling on a sharp left bank turn. The pilots announced they were having problems with the landing gear/door indicator.
There were a couple of attempts to redeploy the landing gear and retract again. The manoeuvres were clearly audible from the cabin. In the meantime, the pilots were also in contact with the control centre. We circled over Calgary for 40 minutes, then given the green light to carry onto London.
After climbing back up, something was not right still. The aircraft was vibrating in a noticeable way. The captain came back on to announce have to turn back to Calgary after all. There was a few ohs and ahhs, but I found everyone to be relatively calm with this situation.
Before we could land, we had to circle some more to burn fuel. At this moment, it was unclear if we would be put onto another plane, current plane be fixed, or we have to be put up in a hotel for the night.
Landing Back in Calgary
We safely touched down back in Calgary at 10pm. The landing was normal. Out the window some fire brigades were visible in the distance. It was unclear if they were on standby for this flight or performing some other exercise.
At the gate, the boarding bridge was being prepared, coming slowly towards us in full view. Some passengers started gathering their belongings, but the doors were not released for a while yet. In my mind I was wondering if WestJet would put us into an old 767 aircraft, which only has premium economy. Yikes!
Then the crew asked us all to remain on the aircraft while the engineering team were already deployed to inspect aircraft. It was a good opportunity  to talk to all 3 business class crew at that point. I asked specifically about the 767, which only one of them worked on. To allay my fears, I was assured the premium cabin on the 767 was still comfortable. The expectation was we might still be able to fly out on the dreamliner.
Sure enough, about 15 minutes later, the pilot announced the problem was solved and we would carry on with the same aircraft. What a relief!  The pilots did not go into much detail about how the issues were resolved. I subsequently found this news report, which also lacked any further details.
Second Take-Off
After the all clear, our aircraft had to be re-fuelled and de-iced. I was rather impressed with the speed at which the various teams were deployed into action here.
A mere 50 minutes after touchdown, we pushed back from the gate and took off again at 11pm.
WestJet 787 Business Class Service
Very soon after second take-off the cabin service manager, Rachel came by to personally apologise for the delay again. Then my meal preferences were taken.
WestJet provide true dine on demand. I was asked if I wanted to eat now or have a light bite, sleep and then eat later or both. I opted to have dinner as soon as possible so I can get some sleep after.
Post take-off drink was served with truffle popcorn. This was a classy touch, a welcome differentiation from nuts served on all other airlines.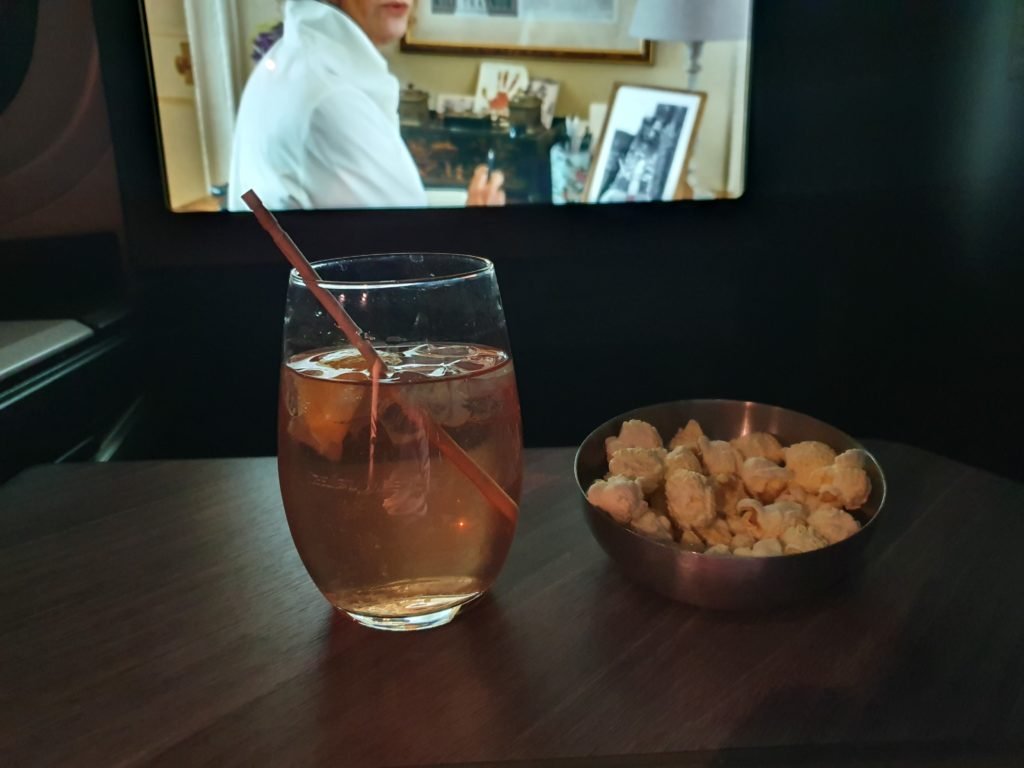 One of the other crew member then came by to set the table for the meal.
I enjoyed watching them carefully place each items from a tray onto the table. This never gets old!
Within minutes, the Shrimp Gochujang arrived.
This was fantastic and really got the taste buds all fired up!
For the main, I went with something more traditional. The Alberta beef short rib..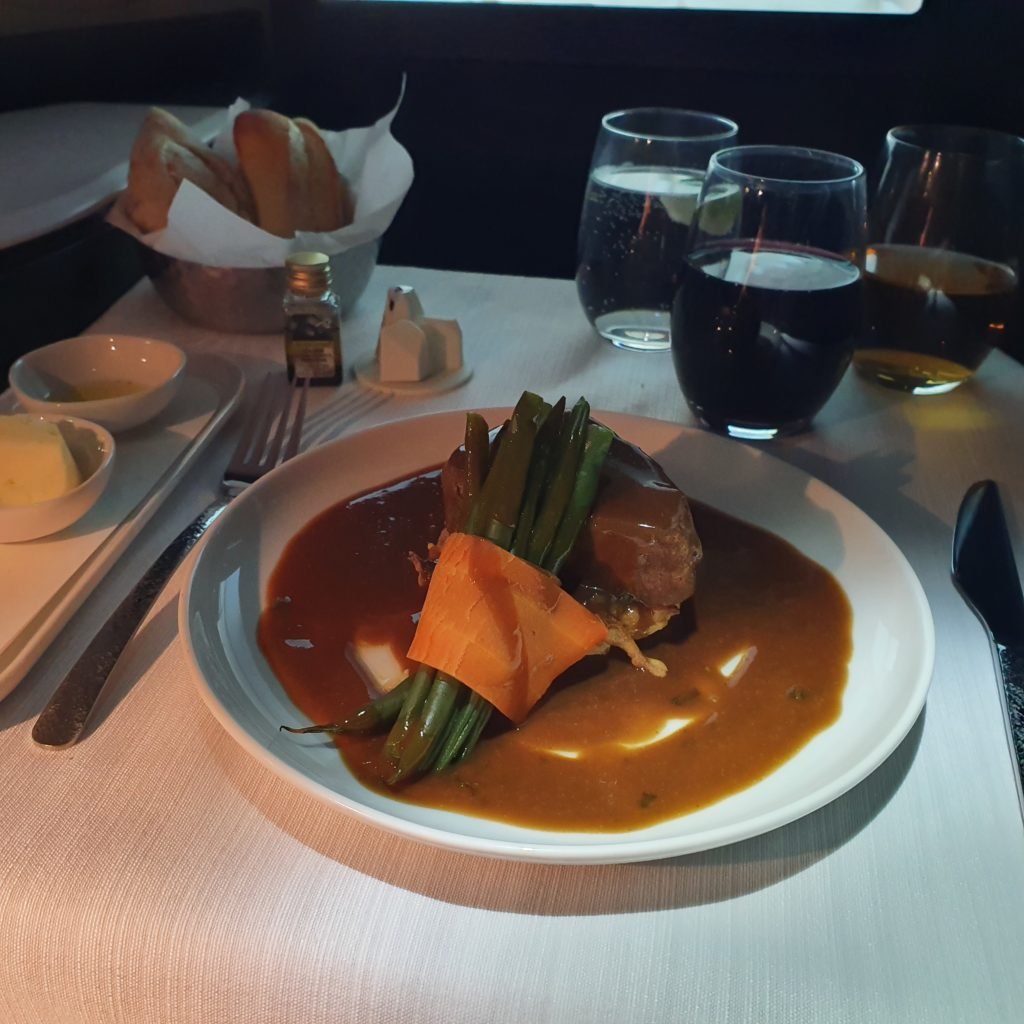 This was equally good, if somewhat on the dry side. I felt like it had to be washed down with wine almost every other bite 🙂
The crew walked by to check in if everything was ok. There so much beef, I finished only half of my plate.
For dessert, I chose the apple tarte tatin. This did not disappoint!
As far as desserts go, this was also quite large! I ordered some hot chocolate to go with it and really appreciated that it was served in a proper mug.
Some 30 minutes after dinner and plates were long cleared, I got up to brush my teeth. I didn't find any toothpaste in the amenity kit, so I requested some, which was bought to me rather promptly.
WestJet Business Class Bathroom
WestJet dreamliners have just one lavatory for Business Class, in the front of plane. Between 16 passengers perhaps it's not too bad. I did not have to wait to use it.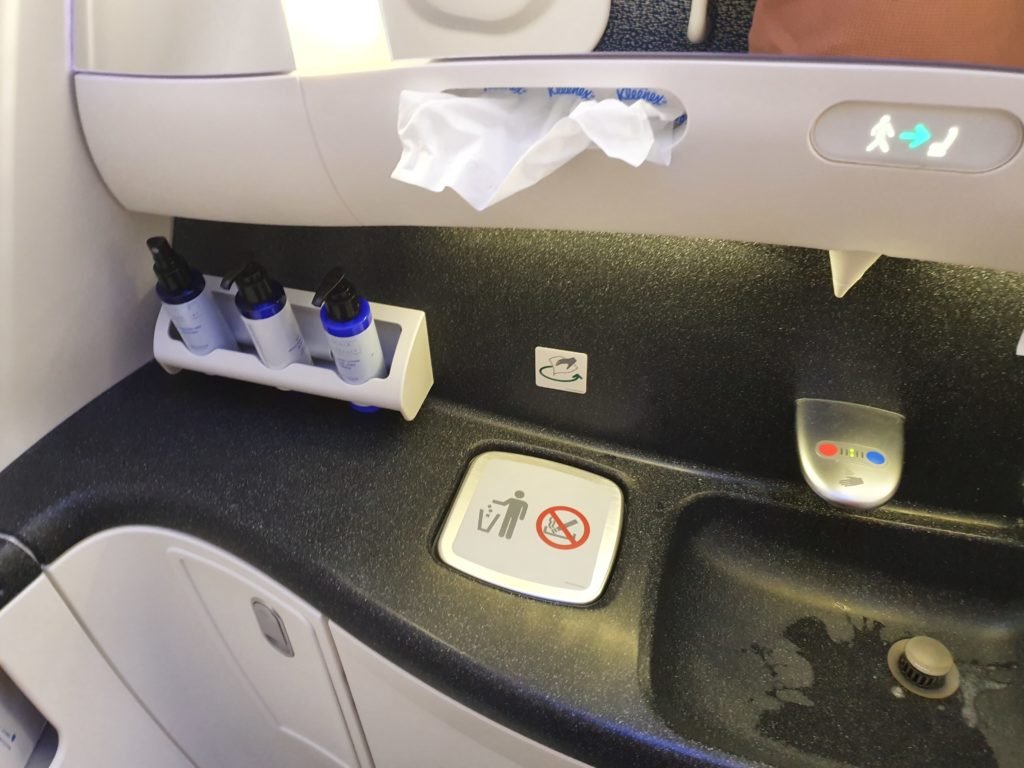 The lavatory was quite spacious and kitted out with further territories.
The disabled passenger sitting behind me had to be helped in by two crew member, once during the meal service and just before landing. It seemed like they really struggled with that, as it took some time.
WestJet Business Class Turndown
After brushing my teeth, I came back to find my bed already made! I did not even ask for it, but Rachel quickly popped by to ask if I needed additional pillows or blankets.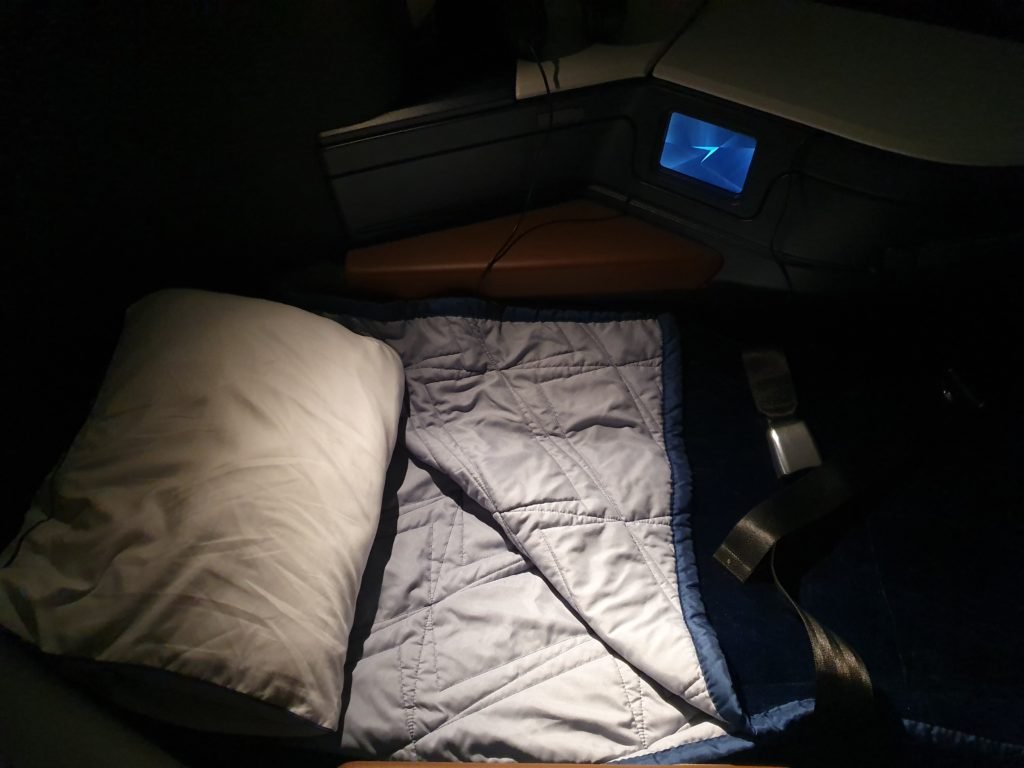 The pillows were just fine for me, as I prefer them on the lighter side. The blanket duvet felt very soft in the inside with velvet touch on the outside, just like Qatar's. I found the size to be more than adequate too.
It all very cosy as I tucked in, and the cabin temperature was just at that perfect level where you can really snuggle up the duvet all the way. I felt asleep soon after while still listening to some background music.
A solid 2 hours of sleep later, I was awake due to some fairy bumpy turbulence. I was in and out of shallow sleep thereafter when I did notice a noticeable gap between the two part of the seat. A proper mattress pad really would have helped here.
WestJet Business Class Breakfast
I requested to be woken up as late as possible for breakfast. About an hour to landing, I was naturally awake already. The crew asked if I slept ok, and if I wanted my breakfast now..
I ate my breakfast while we were flying over the Irish sea.
Breakfast was over around 30 minutes to landing, and each passenger were given some chocolate.
Overall Thoughts
My experience with WestJet was simply above and beyond what I expected.
The physical product is superb, with the bed surface being the only minor issue. This off course can be easily rectified with a provisions of a good mattress pad, or failing that, just an additional blanket to cover over.  Where they excelled further, was the soft product. The staff were absolutely delightful. I could not fault the service in any way.
Ben from OMMAT wrote about his initial experience when WestJet had just launched this service. I am glad to report, the issue with service timing may have indeed just been an initial teething problem. On the whole, I can echo his sentiments. This was one of the best business class experiences I have had, perhaps on the same level as my best Qatar or Singapore Airline flights. That's saying something!
Even with all the flying I do, a flight goes tech while airborne was a first for me! The incident in itself was unnerving. But even more rare an occasion, that I did not mind the 3 hours delay at all. On the contrary, I got to fly the beautiful cabin for longer.
Verdict in Numbers
Seat and Features

Bed & Bedding

Onboard Amenities

Food & Beverage

Ground Service

Staff Service

IFE & Connectivity