Fabulous: Virgin Clubhouse Heathrow
Virgin Clubhouse Heathrow has has always been a big draw among the many joys of flying Virgin Upper Class. This is more than just a lounge, it is a destination in itself! You are pampered from the moment you enter and always leave wishing it wasn't time to board yet!
The Clubhouse had been closed for over a year due to Covid. Virgin Atlantic was temporarily using Terminal 2 and the Plaza Premium lounge there.
Since July this year, it has reopened and I booked a very last minute trip to Barbados after that news! I hate booking premium flights and not being able to use the standout facilities of that carrier, so was pleased I could start my journey here before my Upper Class flight on the new A350 suites. 
So how is the Virgin Clubhouse in Heathrow looking now?
Access & Location
You are eligible to use the Clubhouse if you are flying Virgin Upper Class, Delta One or Virgin Gold status and flying either carriers on the day. Since Virgin is now part of SkyTeam, the most elite SkyTeam frequent flyers may have access only when flying on specific long haul routes in Premium Economy or above.
If you arrive via the Upper Class Wing, you will be entering through the private security there and that would lead you into the lounge.
Otherwise, if you are using the main terminal for check-in, you just have to get the lift up and follow the signs for the lounge. There is a stairway leading you further up into the lounge..
Even though I was bummed about not using the Wing on this instance, the stairs up itself feels exciting and befitting of the experience you are about to indulge in!
A friendly staff member noticed me arriving and come out to welcome me in with. She gave a quick orientation of the lounge and iterated there are many staff inside to look after me, whatever I need..
Virgin Clubhouse Heathrow is open from 6am – 10.30pm daily.
Virgin Clubhouse Heathrow The Space
After the "reception" of sorts, you are quickly graced by a large open plan space. As lounges go, this one is quite a big.
Though the lounge has glass windows running all across it, the space is so large it doesn't feel as flooded with natural light as you might expect. But that is perhaps a good thing as you then have lighting to set the mood…
The problem with such a huge expanse of space is, you almost don't know where to look or sit. Despite the size it felt warm..
And boy is it so VIRGIN. It looks elegant and stylish yet not stuffy.
Within a matter of minutes I interacted with 2 other staff who offered to give me a tour and asked me what I would like to do, and how things work etc. It all felt pro-active and laid back simultaneously.
There were a fewer number of people than perhaps usual, which is probably a welcome benefit as a passenger.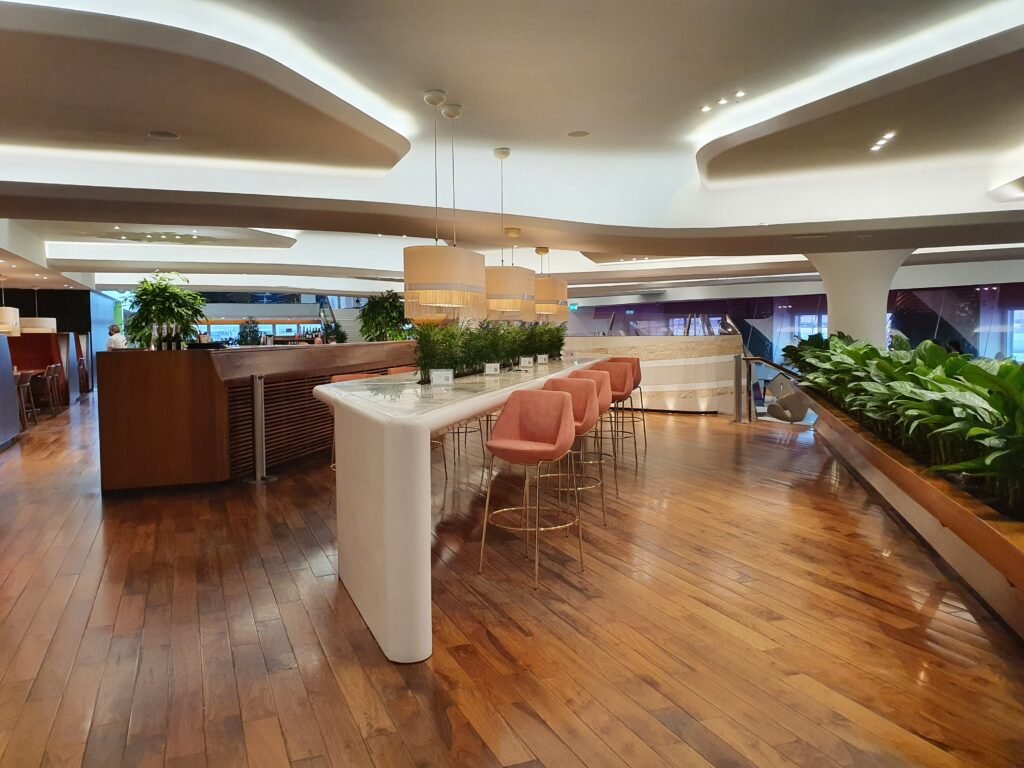 There are several areas where you can choose to relax depending on your mood and preference
By the windows however, you have more intimate closed rooms too. A little tranquillity is never far off.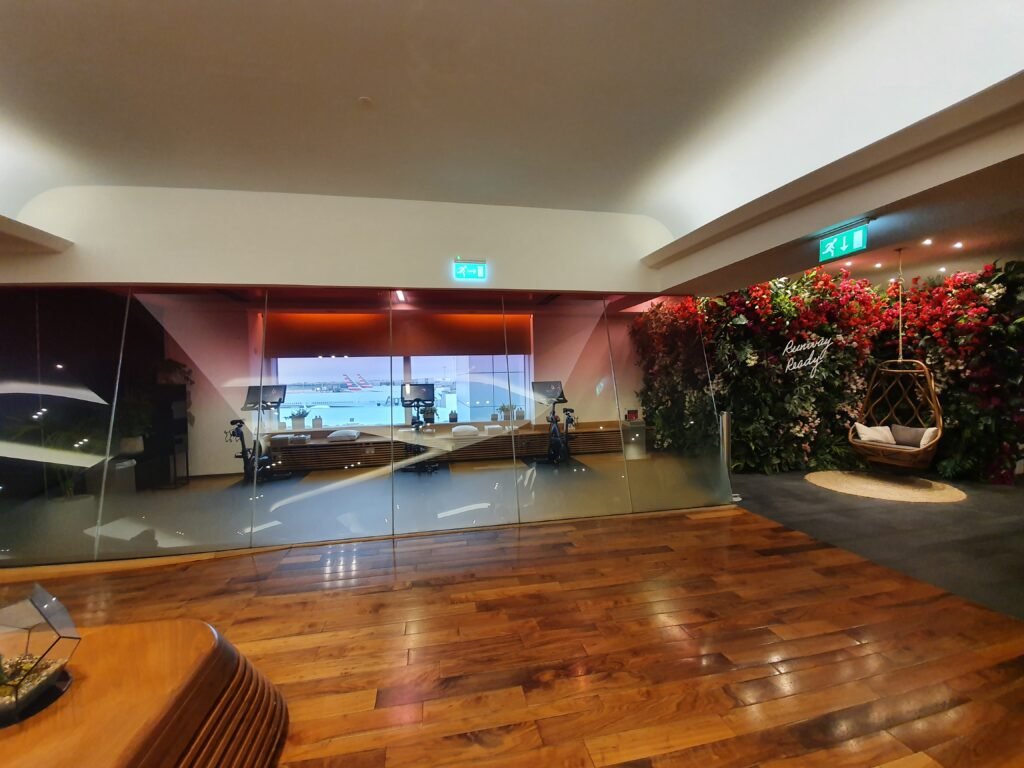 Since this was a morning visit, first order of business for me was to have breakfast!
A La Carte Dining Whatever The Time
One area where Virgin Clubhouses have always excelled over BA's Galley lounges and most other Business Lounges for that matter is a la carte dining.
While the lounge does have a dedicated formal dining areas such as this Brasserie with waiter service..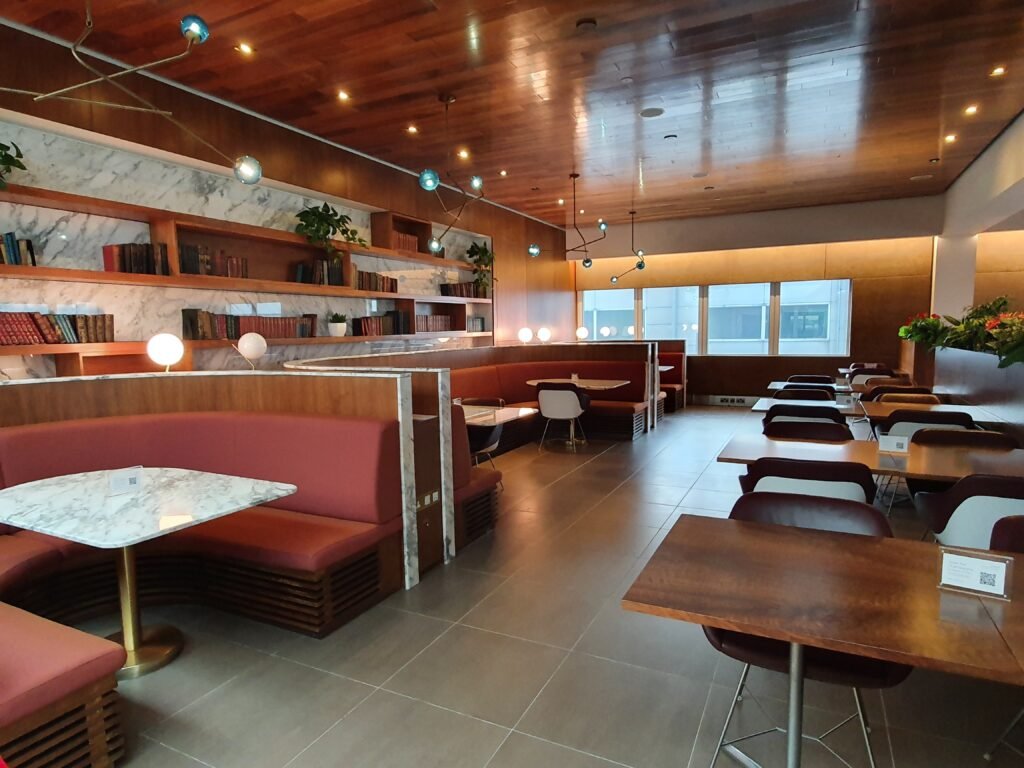 Or more private booths that are perfect for families or groups of friends..
You can actually sit wherever you please and have service via the a barcode scanner pulling up the days menu with designated table number.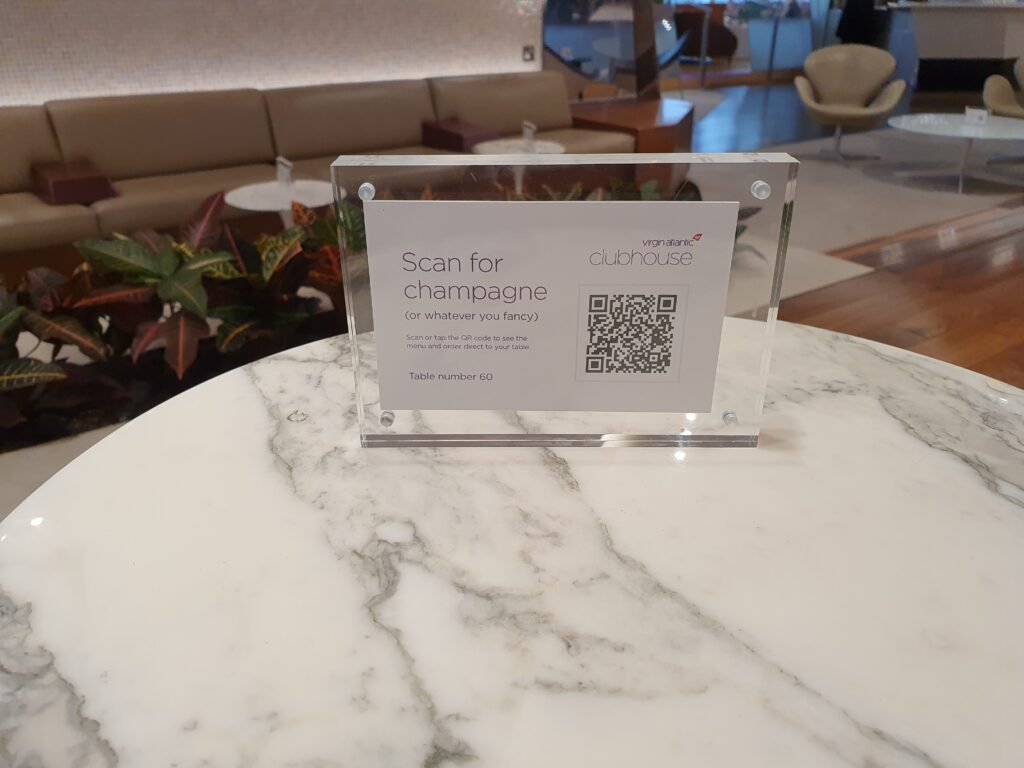 I sat in a couple of different places, and this system worked very efficiently.
After scanning the barcode, it launches the webapp on your phone, from which you can order food & drink as well as other items like newspapers or even book a shower!
For my morning visit, the food options were all centred around breakfast. There was an extensive choice of options, including about 4/5 different types of eggs.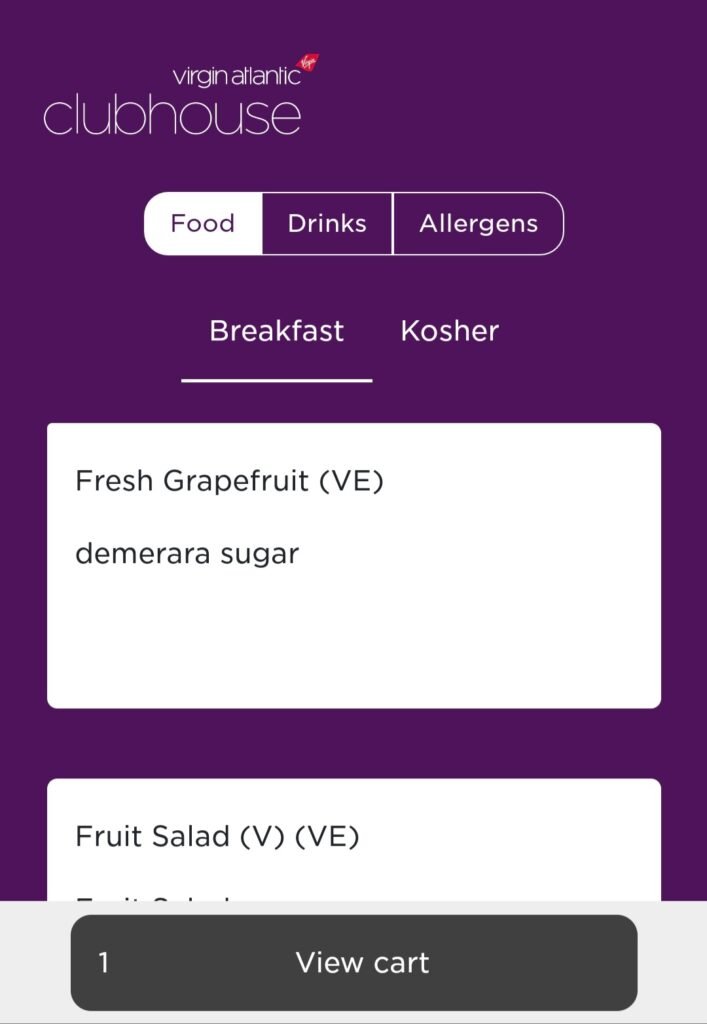 Unfortunately there was no quick way for me to capture the entire menu as that would have entailed many screenshots of me scrolling. You can find a current lunch/dinner menu here
Before I had much of a chance to wonder, my breakfast arrived..
The Egg Royale arrived in about 15 minutes after ordering. It was superb. This was served with a side of grapefruit and fresh smoothie.
After my breakfast I continued to explore around the lounge..
Other More Intimate Spaces
There are several areas that are tucked in corners or divided up behind the glass with views out and if you're anything like me, you will always look for a good spot with views!
All these spaces have a very living room type vibes. Though no ordinary living room gives you views out to these gorgeous planes adorned with the Virgin livery!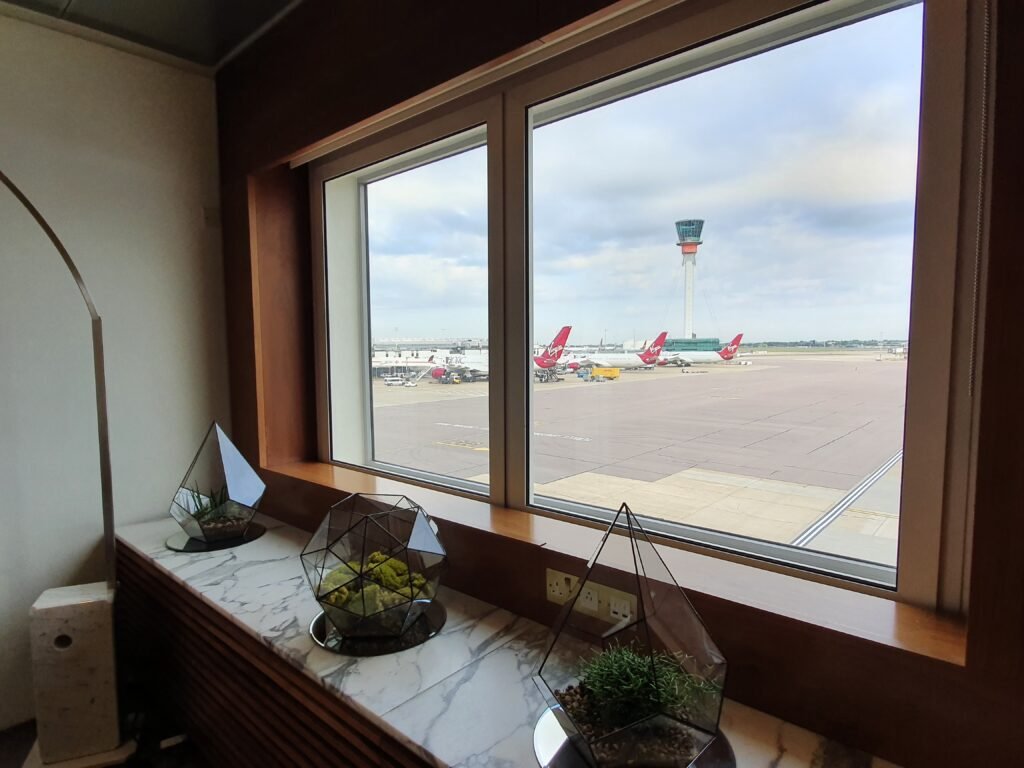 Clubhouse Retreat
While the other spaces are nice enough to relax in a quieter environment, Virgin now also provides a much more dedicated individual booth like spaces where you can have a nap.
Virgin Clubhouse Heathrow Pelotons!
Perhaps one of the most unique feature of the Virgin Clubhouse in Heathrow now is the recently added workout room complete with 3 Pelotons! A workout with a view, and boy what a view it provides indeed!
You can very clearly see the control tower right in front of you.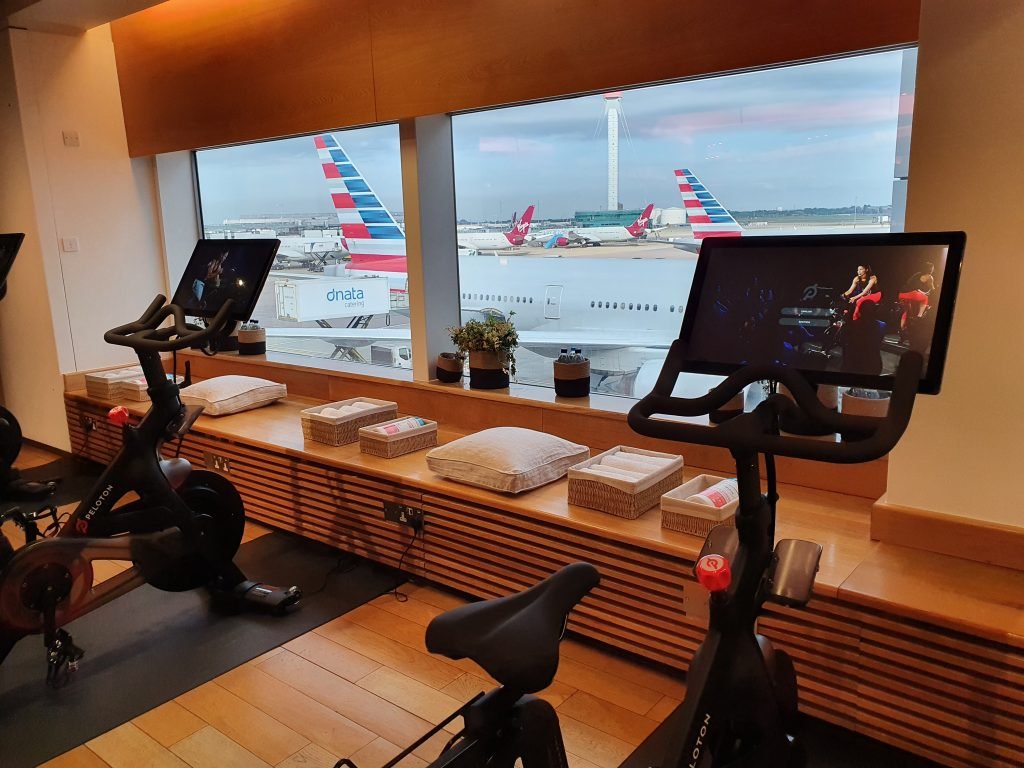 Unfortunately my visit on this occasion was not long enough to have a workout here. But next time, I will be sure to come earlier just for a novelty of a pre-flight workout!
Virgin Clubhouse Heathrow Pool Table
If all the food, drinking, plane spotting was not enough for you. This lounge also features a pool table in quite a spacious mezzanine level floor..
The amount of space dedicated to this pool table was surprising! You can really enjoy a game with a few friends and not knock anyone out. Which is more than can be said for most London pubs with a pool table !
It just reiterates, when Virgin does something, it does it well!
Garden Terrace
Last but not least, there is also a Garden terrace for an even better view of the airport activity
You have to take the stairs up from the pool room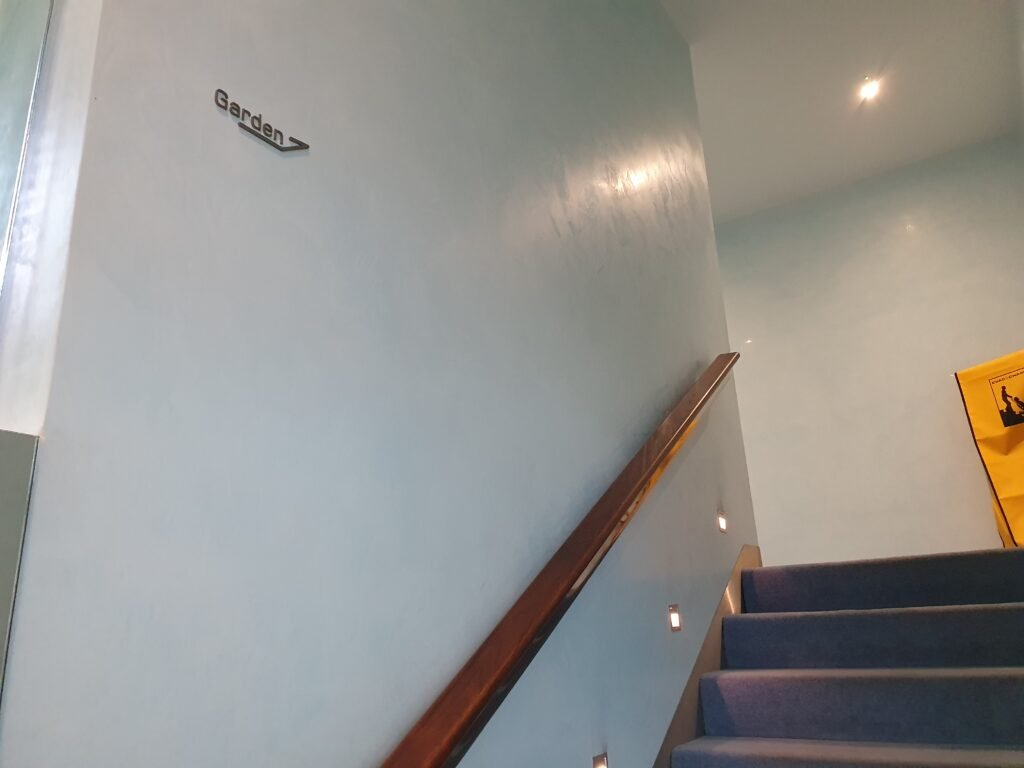 and you are greeted to this space with astroturf and some garden furniture
The chairs did not look very comfortable so I did not sit in it. In terms of kitting things out, this might be the weakest link of the whole Clubhouse here. London is no stranger to bad weather, so even any moderate gusts will make this space unappealing to be out exposed to the elements.
Overall Thoughts
Unlike my last visit before I started this blog, I didn't have much time on this occasion to fully enjoy it. I am happy to report that the lounge is still a huge standout in Heathrow and credit to Virgin for still maintaining it as such wonderful space.
This is definitely one of my top 5 favourite lounges (a list that includes First Class lounges!). It is just so Virgin. Stylish but fun. The service was impeccable and food and drinks on offer were outstanding. What more could you ask for here? I cannot wait to visit this lounge again!
I have also been to the Clubhouse in New York and Johannesburg which I will review soon. You can see a list of all Virgin Clubhouses here.