Amazing: The Pier First Class Lounge: Hong Kong
When it comes to First Class experiences, the lounge can be a bucket list destination on it's own! The Pier First Class Lounge by Cathay Pacific is renowned as one such place.
A place of tranquil bliss the lounge features The Retreat, an inhouse spa with complementary treatments to pamper you before your flight, an a la carte dining restaurant, the Bar with exquisite selection of cocktails and champagne and private Cabanas with views directly to the tarmac. What more could you need?
Access & Location
I was booked on Cathay Pacific First Class to Tokyo for the infamous Cherry Blossom season with a short stopover in Hong Kong.
To be granted access, you have to be flying Cathay Pacific First Class, another OneWorld carrier First class or be a Marco Polo Club Diamond member or the equivalent Oneworld Emerald status . 
After getting into the airport, I wasted no time making my way to the lounge. Which can involve a fair bit of brisk walking. The lounge is located near gate 63/65.
Once there, take the elevator down and immediately you can sense the opulence and oasis awaiting you. There were several staff by the entrance to check guests through.
A couple were just ahead of me, when I had about a few seconds to take a picture..
This turned out to be a rather funny moment, that I only realised as I am writing this! I don't recall any guys even standing there!
My boarding cards and lounge invitation cards were scanned and I was in! Time for a quick tour around to get my bearings.
The Pier First Class Lounge Layout
After the reception you are led into beautiful large hallway from which the lounge separates into various parts..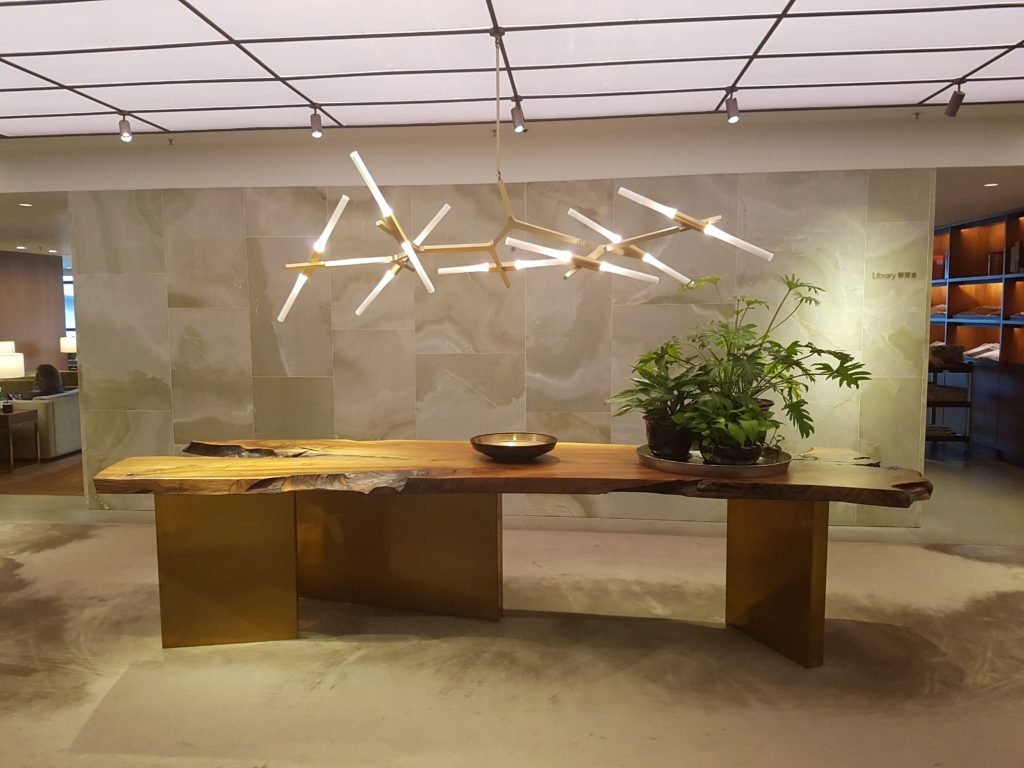 While you are on a lower floor with no lighting above the corridor is well lit with large frosted panes created a skylights affect, appearing as softened as natural light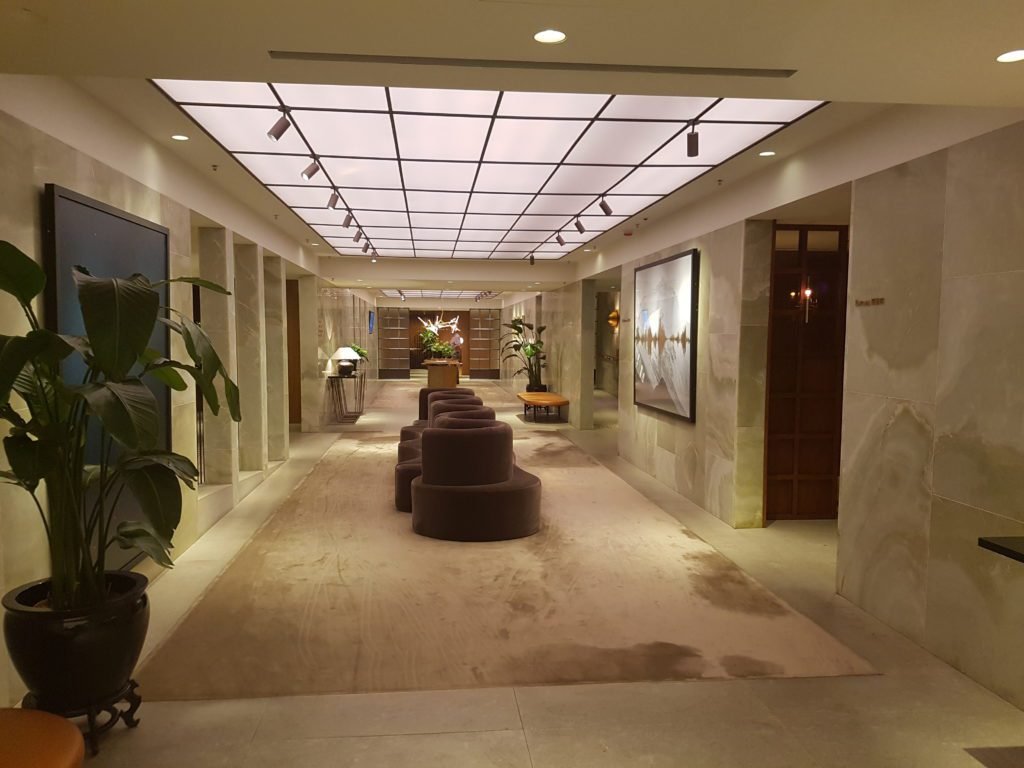 Just off the bat, this has got to be the best design of a lounge space I have seen. The muted colour palette of soft greys and browns come together effortlessly with plus furnishings.
There are gold plated signs all around the hall to direct you to the facilities you are interested in. On the top end you have the bar..
Most of the spaces provide partial separation with the use of walnut wooden panels.
The same walnut used in form of stacked shelves leading you to the main seating space..
You have a choice of luxurious seating options from high leather chairs to sink your head into to more couch style seating..
The lounge has been in operation for a number of years so some of the furnishing do show slight wear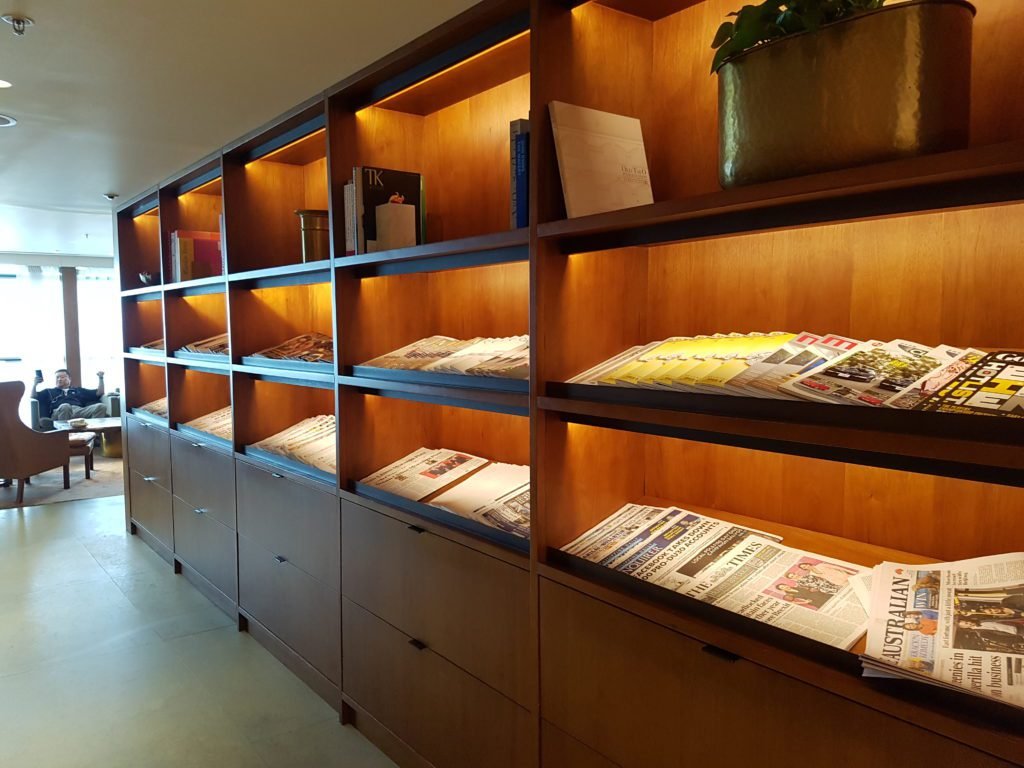 Should you require a place to work, The Bureau is at your disposal. With six secluded work suites equipped with iMac computers creating a home office environment…
Pier First Class Bureau
High speed Wi-Fi, offered throughout the lounge, allows you to stay connected at all times.
In keeping with the rest of the lounge, the washrooms are appointed to a high standard..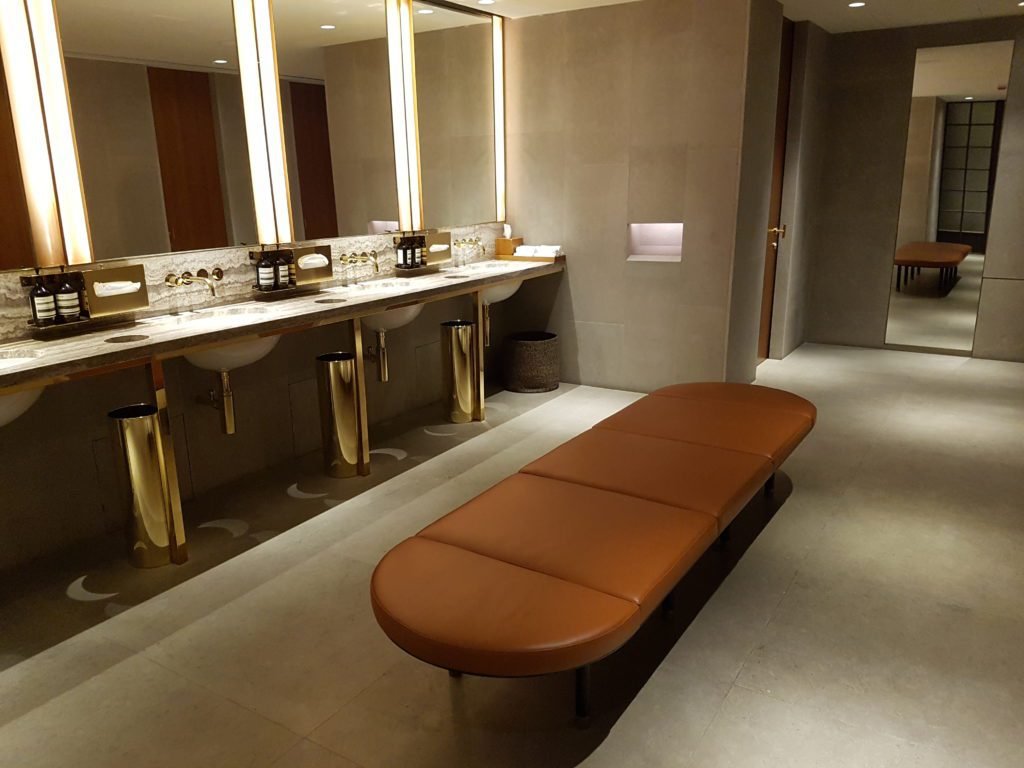 After a few hours I felt like I was in a spa retreat holiday away from a holiday! 
How To Spend Your Time Here?
When each and every aspect of a lounge is this enticing, it requires a certain amount of organising to make the most of your time here.
I had intentionally planned a long layover so I can really experience the lounge fully. Knowing there were private sleeping rooms here in advance, I had a late night, thinking I could have a nap here.
First order of business was to book a massage,  arrange a day room, have a shower and catch up on some sleep.
I headed to the Retreat, where I was greeted by two friendly ladies at the reception. There were a few massage options, but I didn't get a chance to take a picture of it.
I opted for the Neck & Shoulder massage, which is always a safe bet in those situations. There was a half hour slot 20 minutes later, giving me enough time to take a shower.
At the reception I was informed that there were quite a few days rooms that were free so I did not need to book.
Both the receptions spoke English well enough, but it wasn't clear if I should go back to reception for massage, if someone will come get me, or what, so when I asked, they handed me a buzzer.
Pier First Shower Rooms
There are several shower rooms available so I did not have to wait, unlike my experience with both Emirates First and BA First lounge experiences recently.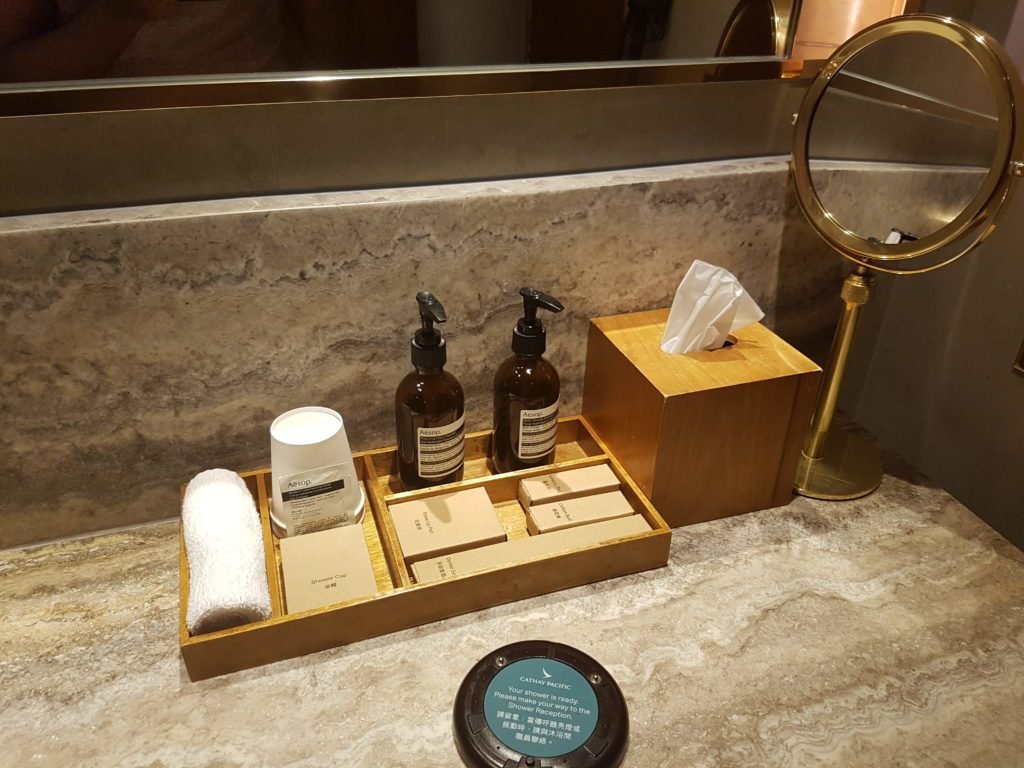 Each shower room was what you would expect in a luxury hotel, spacious, bright with marble finishes and stocked with fluffy towels and Aesop toiletries.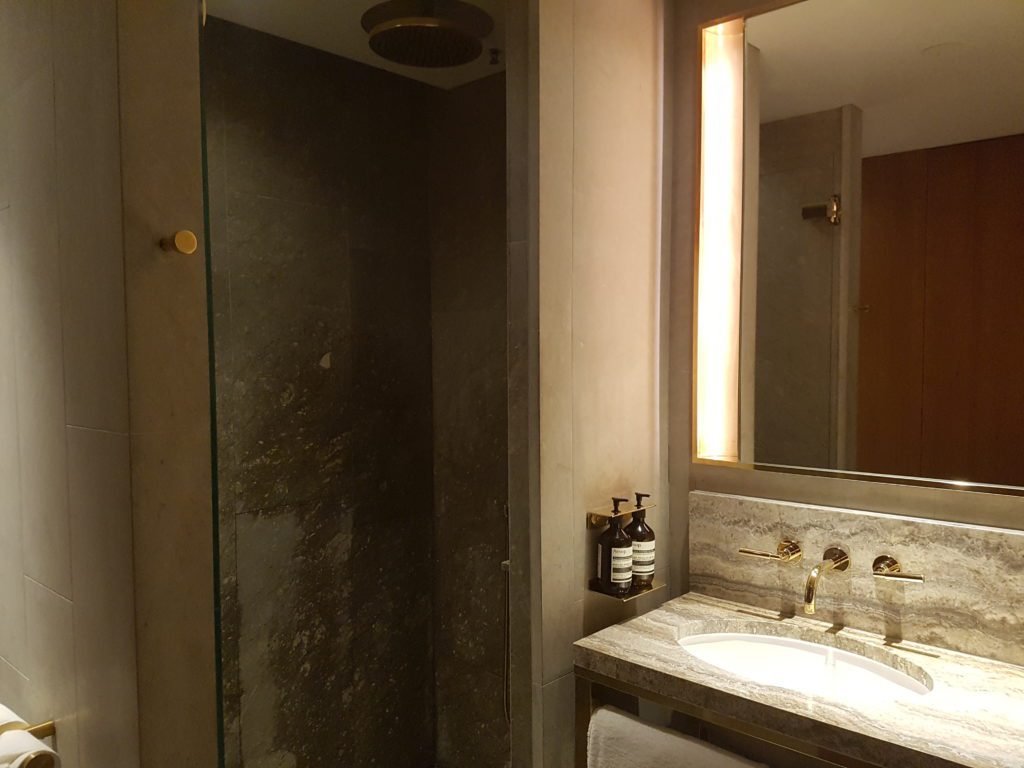 The rain shower provided good pressure coming out feeling revived and refreshed.
I had about 5 minutes to spare before the massage.
The Massage
Almost bang on time, the masseuse picked me up from reception where I just got back to after the shower. I was directly into the massage room just on the right.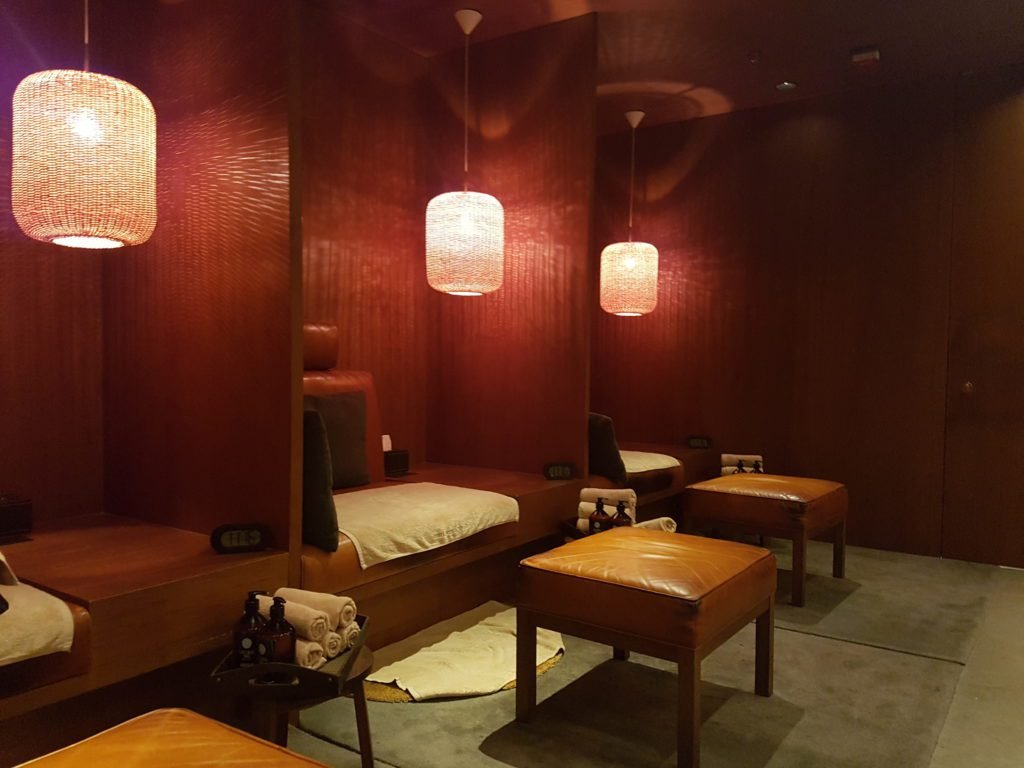 The massage room here is open plan and not individual rooms however. Ordinarily I'm not sure I'd be keen on getting a massage with strangers beside me, as sometimes people make weird noises, but luckily I was the only guest at that time.
Again, not sure if this was a language barrier, or something else, there was very little verbal interaction, briefing about the massage etc she went straight into it
This was a clothed massage where I was seated upright. What was lacking was any forward support when she applied pressure. I felt like I was making some effort to stay upright!
The massage was great otherwise, and I really felt lighter!
The Retreat Day Room
After the massage, I felt suitably relaxed to take a nap, so I asked which day rooms were free at the reception, and the lovely lady escorted me to one.
There are 8 private day suites in total here..
All the day rooms are adjacent to each other, with heavy curtains giving privacy and creating a corridor which essentially looked and felt like an extension of the spa.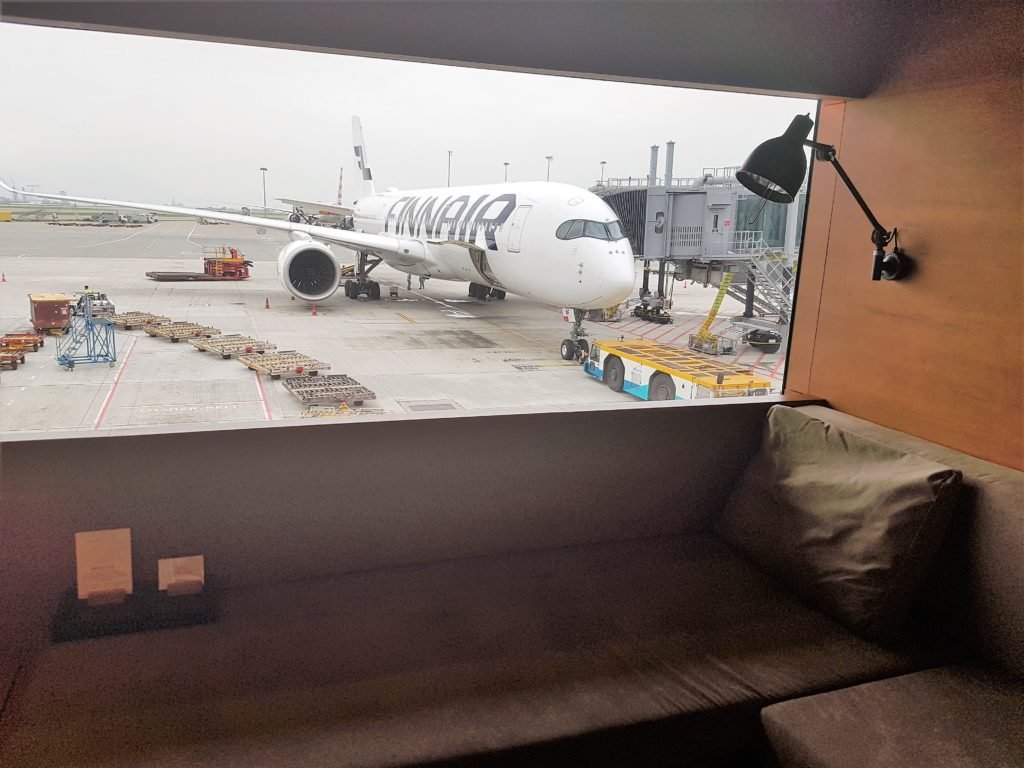 Each room consists of a fairly large L shaped sofa, with a cushion, reading light as well as a bigger light, ample storage for luggage, and power points.
The highlight of it is by far the full width windows with a view out into the taxi way. If you are lucky you can get really up close with some of your favourite aircraft.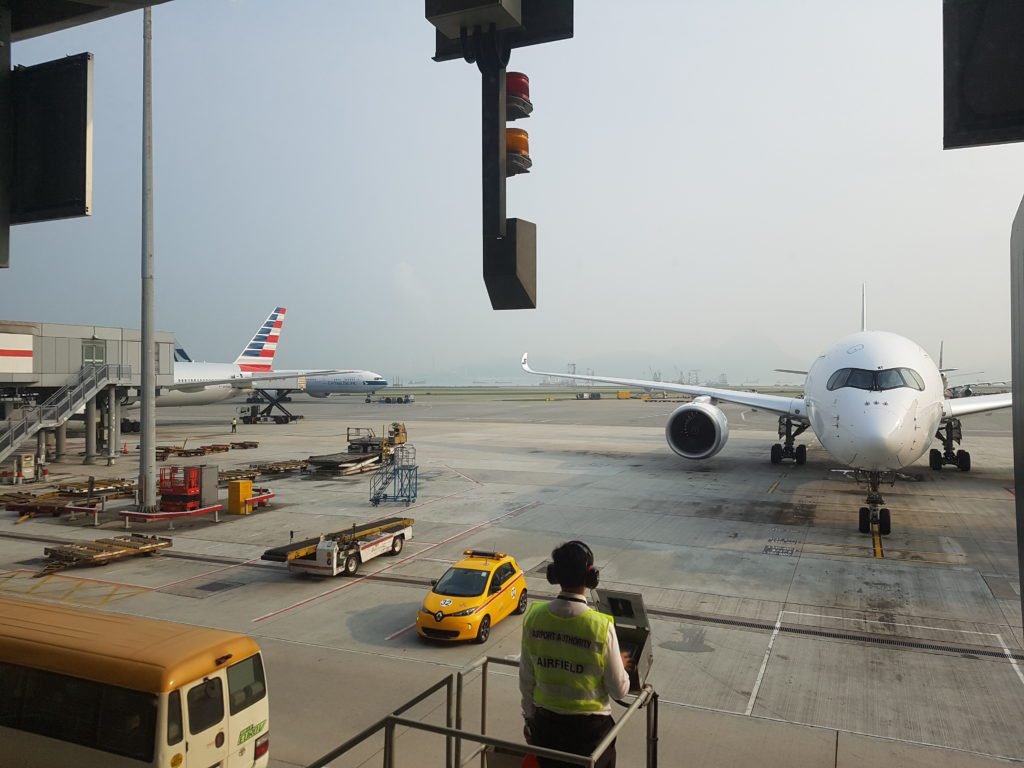 I gazed out the window for a while, before I took a much needed nap. Oh and I requested a blanket and additional pillow to really get comfortable.
There is a shutter to bring roll the blinds down, to shut out the light and views.
The Dining Room
After my nap, I was hungry and ready to have some food. I was thinking breakfast, but they had already switched over to lunch menu by then.
The Dining Room provides seasonal à la carte menu, featuring the classic dishes, signature noodles, with many Asian and international choices and specialty desserts
The restaurant was fairly large and seemed most people in the lounge were actually here, even then I would say it was less than half full.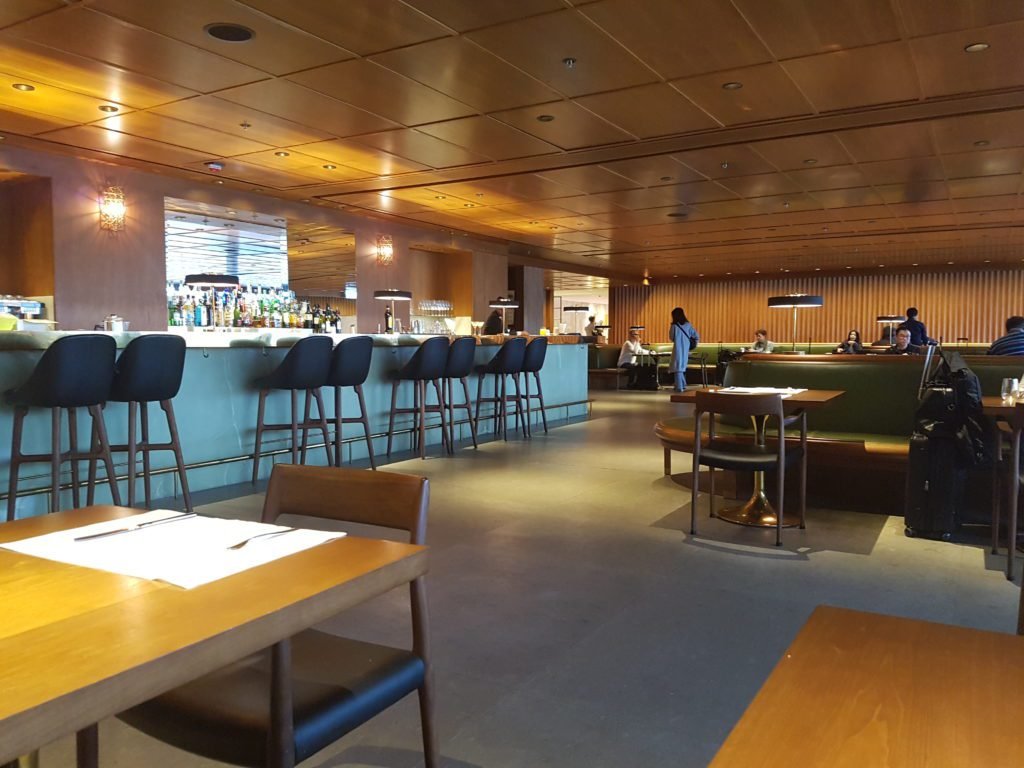 Much like a fine dining establishment, I was escorted to a seat and given a menu and asked what I'd like to drink first.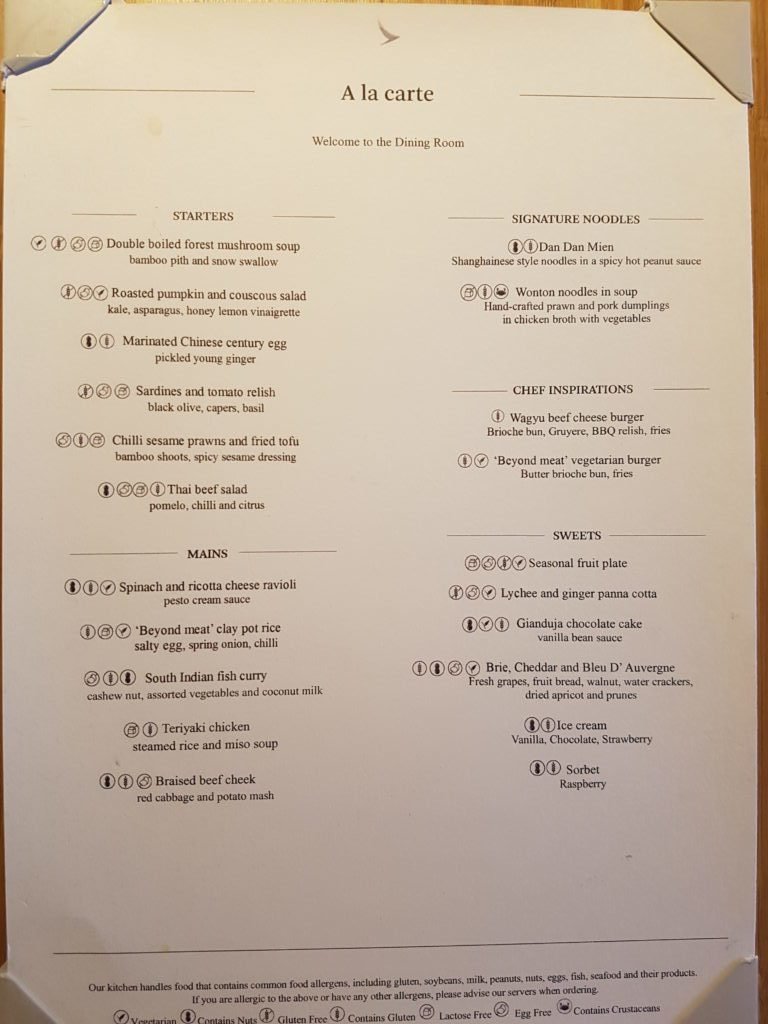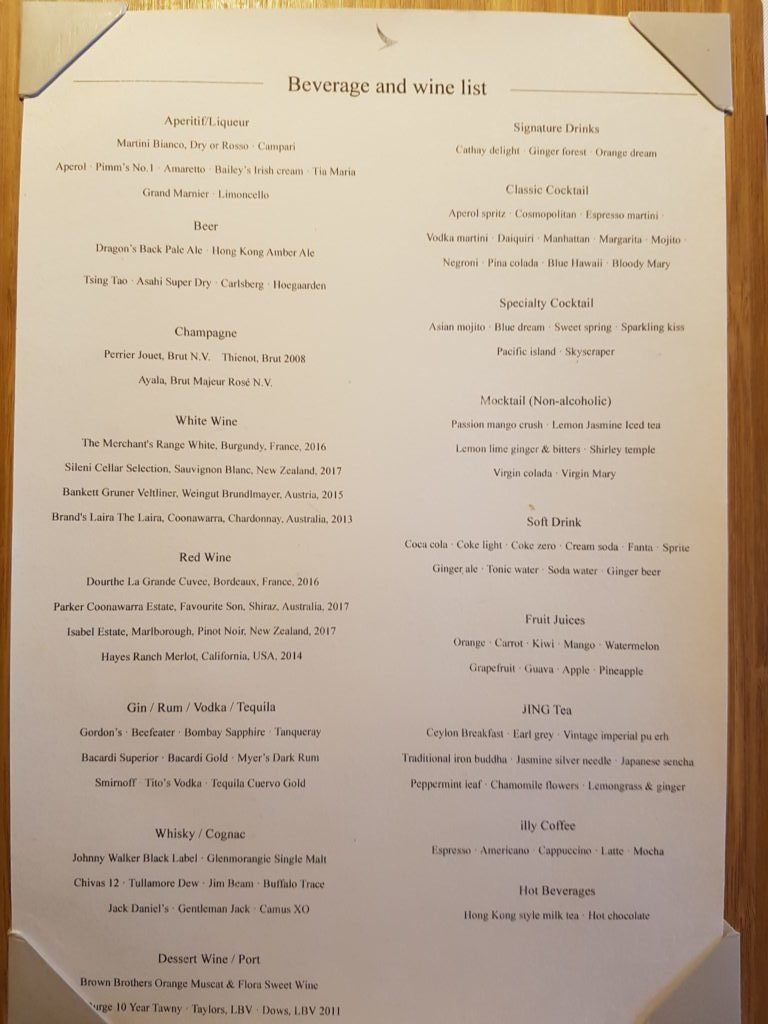 That particular day, I didn't fancy anything spicy and I don't eat pork.
Have to admit, I wasn't blown away by the main meal choices. I was after all in a super exclusive First Class lounge that has been consistently rated amongst the best in the world.
I ordered the Thai beef salad as a starter and braised beef cheek for main.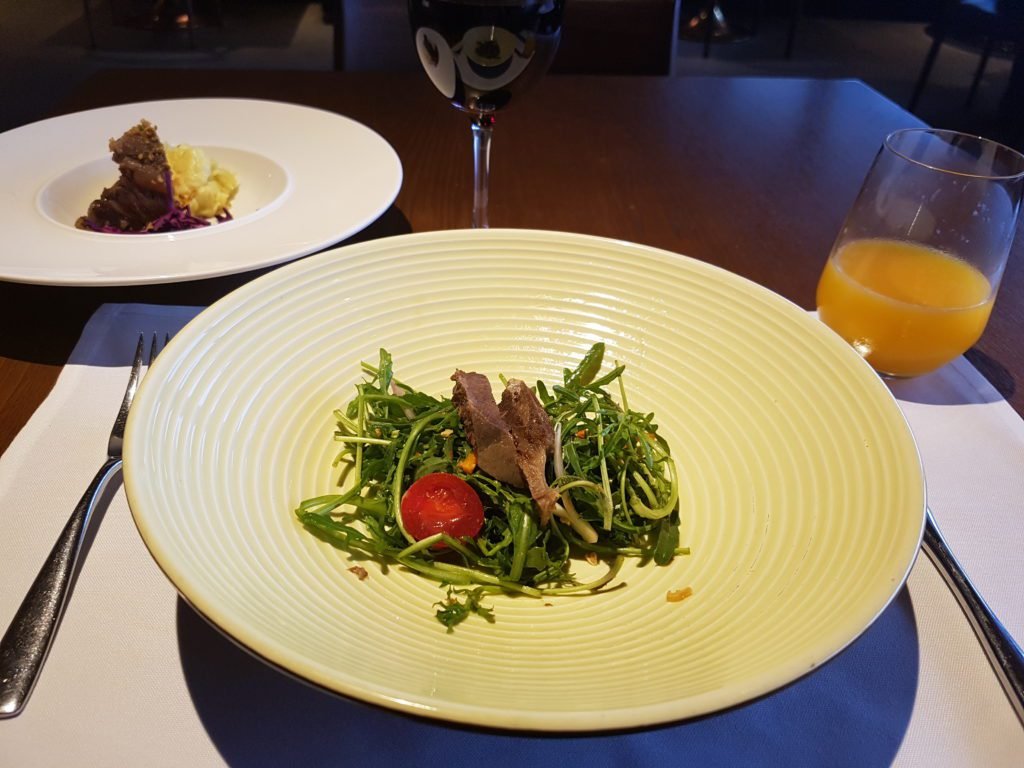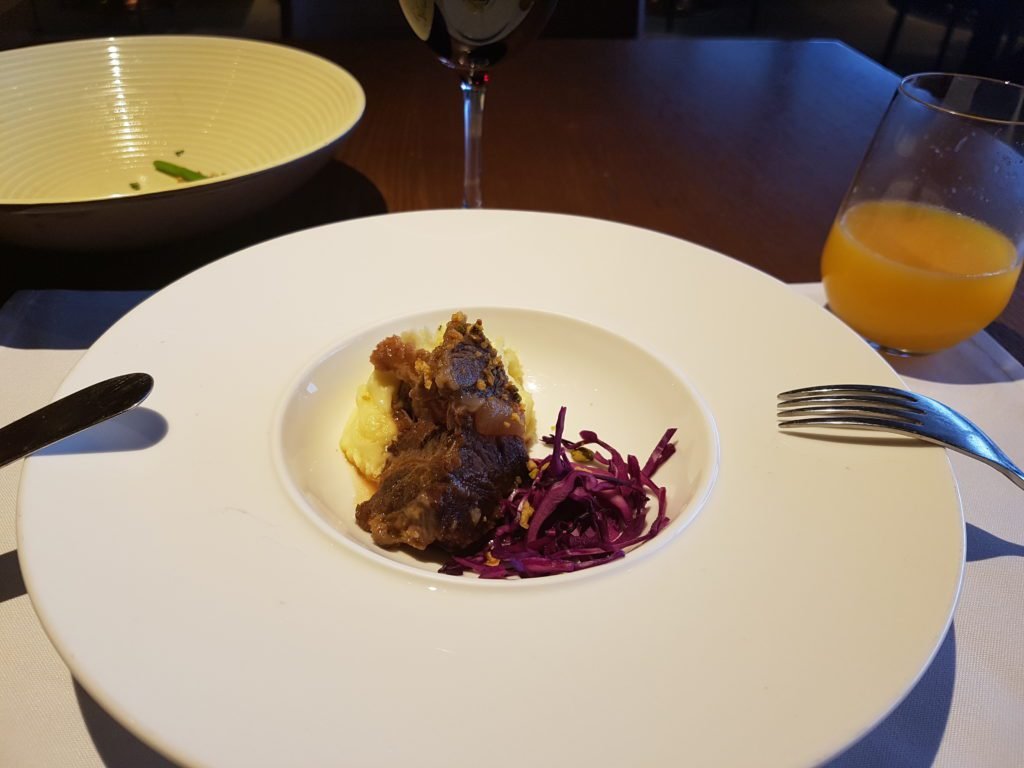 Looking back at the menu just now, I am wondering why I did not order the sesame prawns & fried tofu… it sounds delicious!
The salad was fine. Braised beef cheek was tender and mash and cabbage well done. Overall was a fantastic dish.
I finished off the meal with a raspberry sorbet.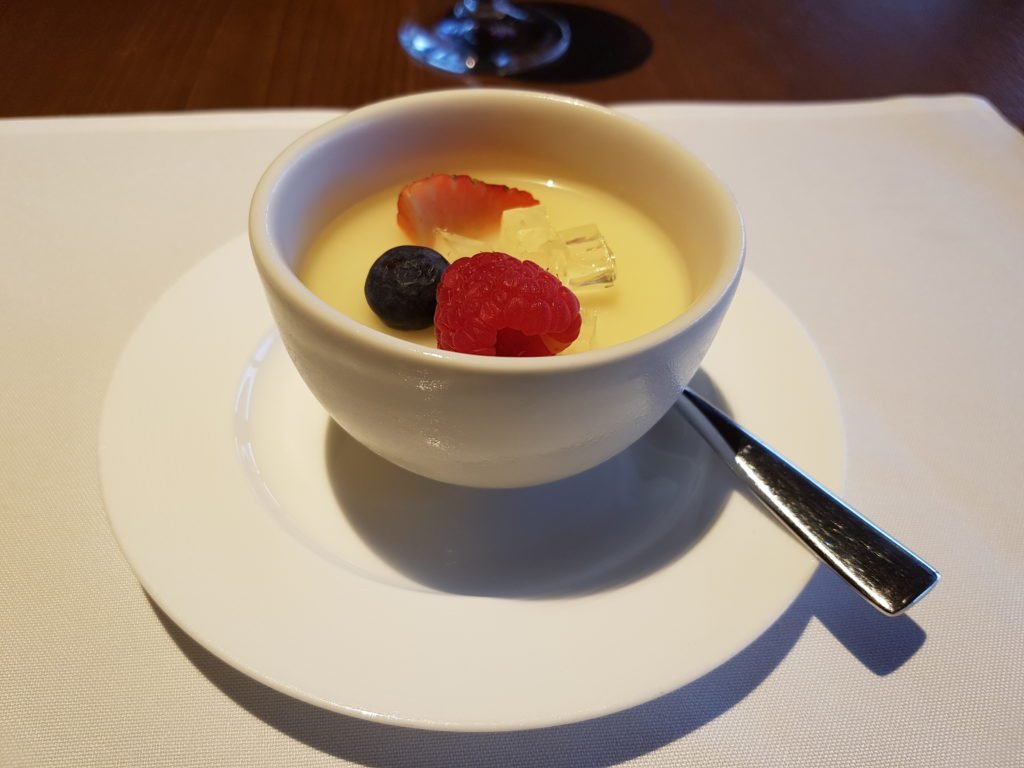 Bar and Self Service food
After lunch, I had a drink in the bar and just relaxed by the windows.
Should you wish to enjoy a less formal meal, they have the Pantry with a good selection of fresh dishes for you to enjoy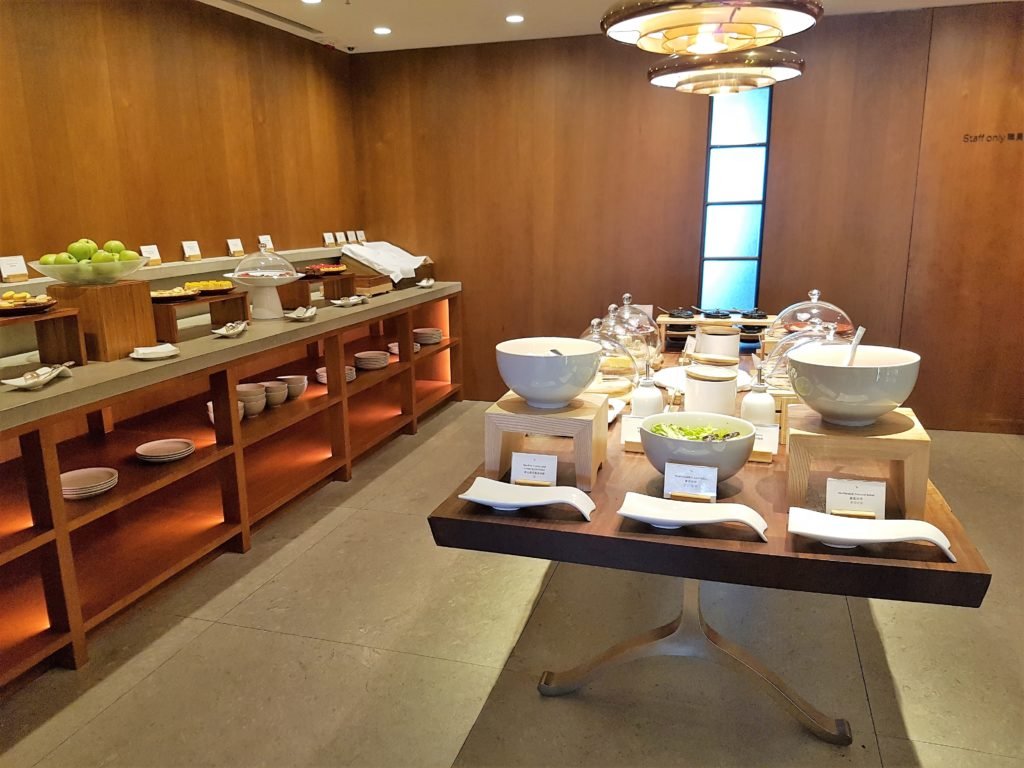 And you have an extensive selection of beverages with fresh juices, sodas to beers..
Overall thoughts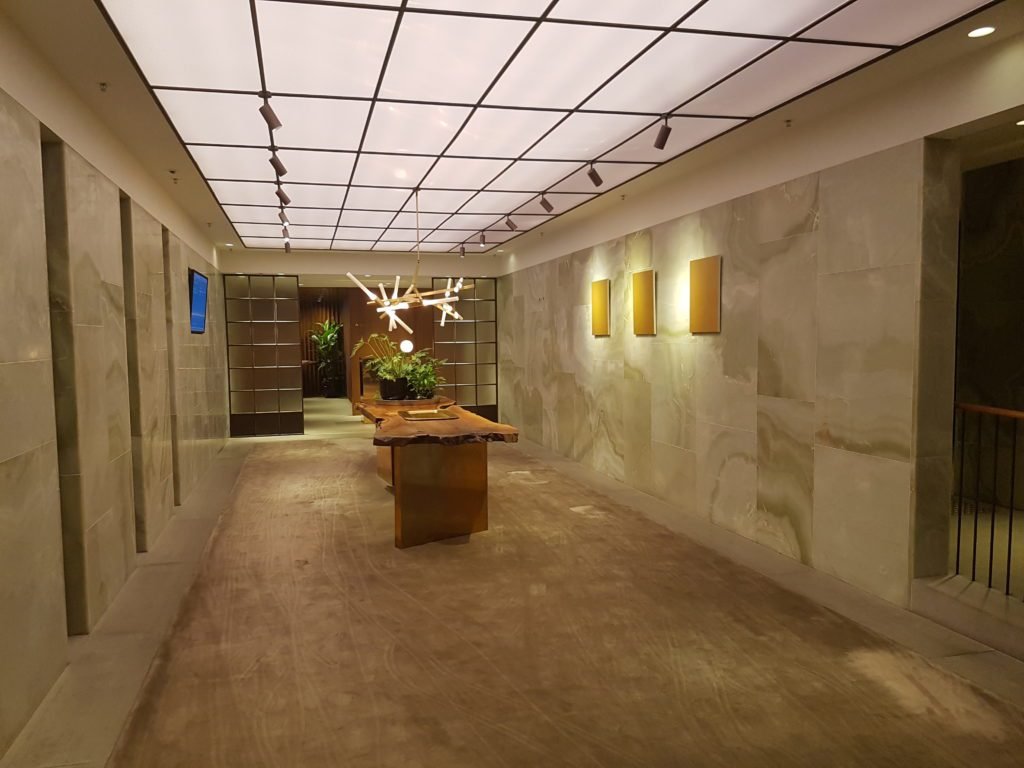 The Pier First Class Lounge to me epitomizes First Class travel like no other. It's a supremely elegant lounge to relax, enjoy fine dining and feel pampered before/in-between your flights. There is something quite homely about it, that you forget you are travelling.
Whilst there are places where the service and touches can be further refined, such as placing more comfortable pillows and blankets in the day rooms. Perhaps a light mattress topper would make for a more comfortable snooze.
Through my time, all the staff were super friendly and professional, despite some language barriers.
A couple of visits to this lounge is seriously not enough, I feel this could be the sort of lounge the entices you to go out of your way to fly Cathay or OneWorld through Hong Kong just to spend some more time here!
Yet this is one of 2 First Class lounges by Cathay in Hong Kong, with The Wing First Class having some strong draw of it's own, but I very much prefer The Pier overall.
If that is not a strong seal of approval, not sure what could be 🙂
Verdict in numbers
Location & Entrance

Seating areas

Service

Amenities (Showers, Wifi, Quite space, Work space, Spas etc)

Food & Drinks

General ambience