The refined SWISS Business Class Zurich to Tokyo
I have flown Swiss business class numerous times in last couple of years, on long legs down to Asia as well as short hops to Zurich.  Swiss was an airline that set the standards in Business class. Lets dive into how they stand now.
Flight Details
Route: Zurich – Tokyo
Flight no: LX160
Aircraft: A340-300
Departure time: 13:00pm
Cabin layout: Staggered 1-2-1 or 2-2-1
Check in
The journey started from London City Airport (which is an brilliant option to fly from in London!), but we spent the night in Zurich. Zurich airport is a breeze,  efficient and well organised. With lots of self-service kiosks to check in and to print out boarding pass.
Usually you can check in and drop bags in less than 10 minutes after getting to the airport!
Swiss Business Class Lounge Options
Swiss has various business class lounges around A, D gates and E gates (I will be reviewing E gate lounge separately as they are better), in this case we didn't have much time so we briefly stopped by the lounge in D, which is more of a transit/arrivals lounge.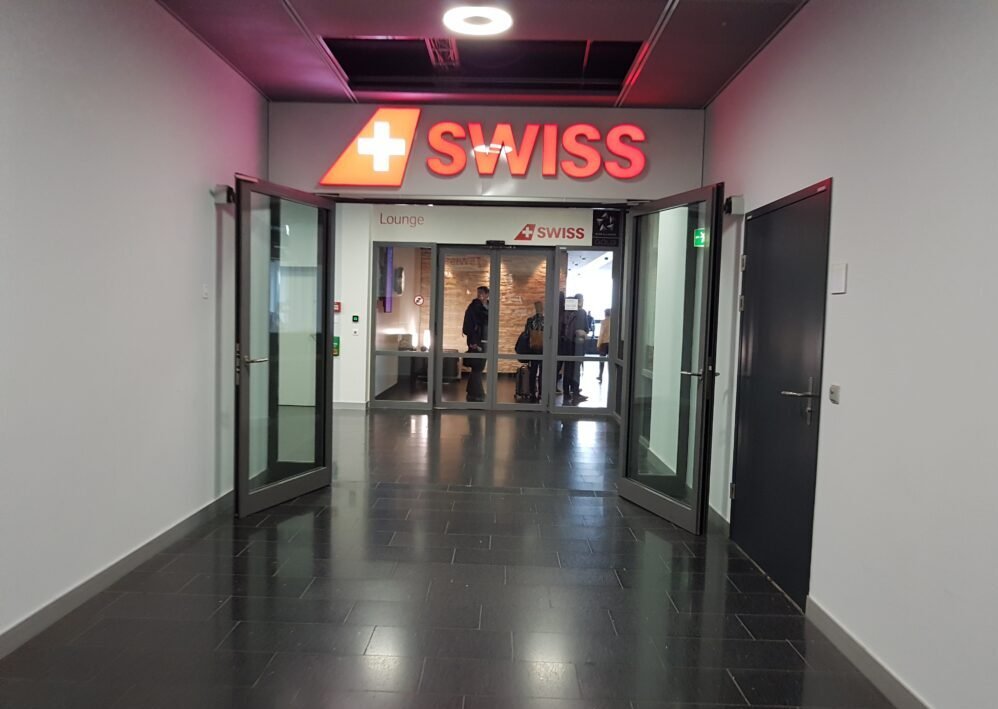 There were a fairly limited selection of food options, we just had a coffee.
Boarding & On-board
This is a product that originally dates from over a decade and half. Now what impresses me each time I board this cabin is how well it is kept and maintained! Which is only a testament to how top of the stack they were back in the Swiss Air days. The wooden veneer deco still feels fresh and timeless.
For solo travellers, I would recommend the so called "throne seat" which are found in alternate rows. These come with large tables on both sides, offering lots more storage surface space and privacy.
However, some of those seats are reserved for Senators and HONS Circle (the top tier members of Miles&More program of frequent fliers, I believe SWISS also allows you to pay for these if you wanted to bag one well in advance). In this case, I was travelling with my partner so we opted for the paired seats.
What is evident is a good deal of thought has gone into designing those seats. There is a chubby for placing your shoes, hangers to hang up your jacket, seat controls that function well and easy to use and control your seat, with a secondary panel for easy access when already in bed mode. There are power ports and adjustable reading lights.
Amenities
In the seats, you will find good sized soft pillows alongside  very adequate blankets. Swiss business amenity kits are not all that exciting, though have all the essentials you need.
On an interesting note, they do switch up how they "package" the amenities. So in this flight we had them inside a handy iPad/tablet case, made out of recycled materials. On a previous flight to China, also during winter, they came inside a nice usable beanie hat that doubled up as a neck warmer. Super useful given Beijing was -5 degrees upon landing!
The business class toilets are also stocked with additional toiletries, the SWISSCODE face gel is pretty good at keeping you hydrated on these 12 hour long flights.
Swiss Business Class Service
We were welcomed on board with a choice of drinks and nuts
SWISS does not offer dine-on-demand per-say, in these flights they centre around 2 main substantial meals.
Cabin service kicked off within 30 minutes off take-off, with further drinks rounds and crew taking meal choices. The starter arriving soon after.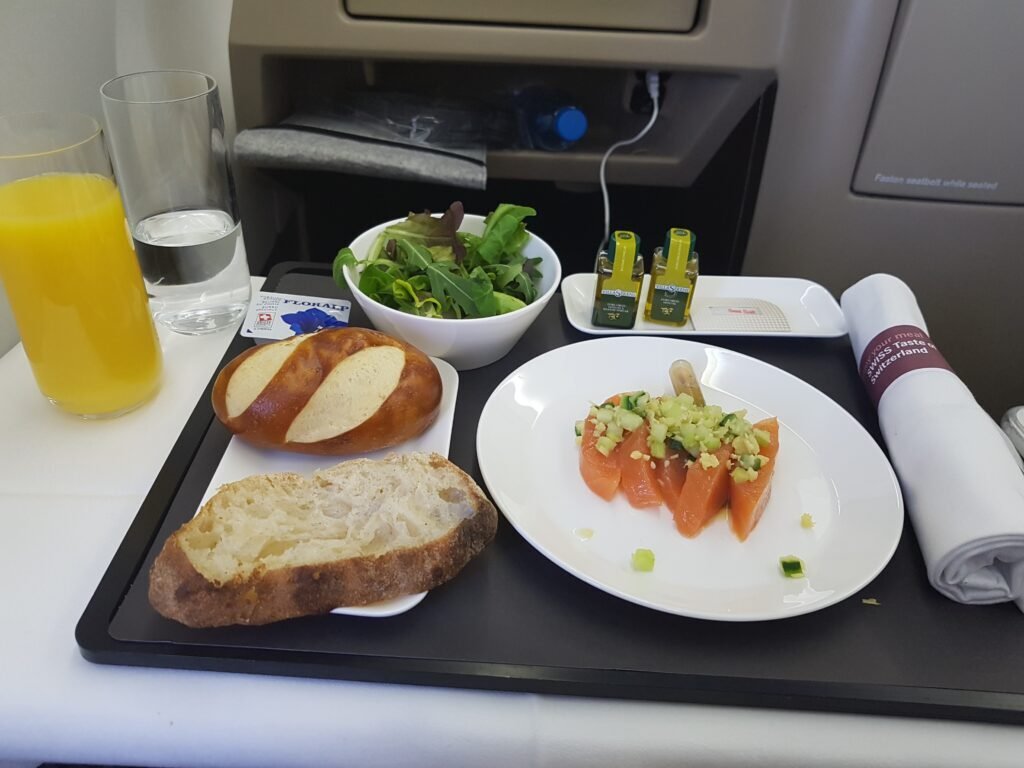 I ordered a beef main, while my partner ordered a chicken meal.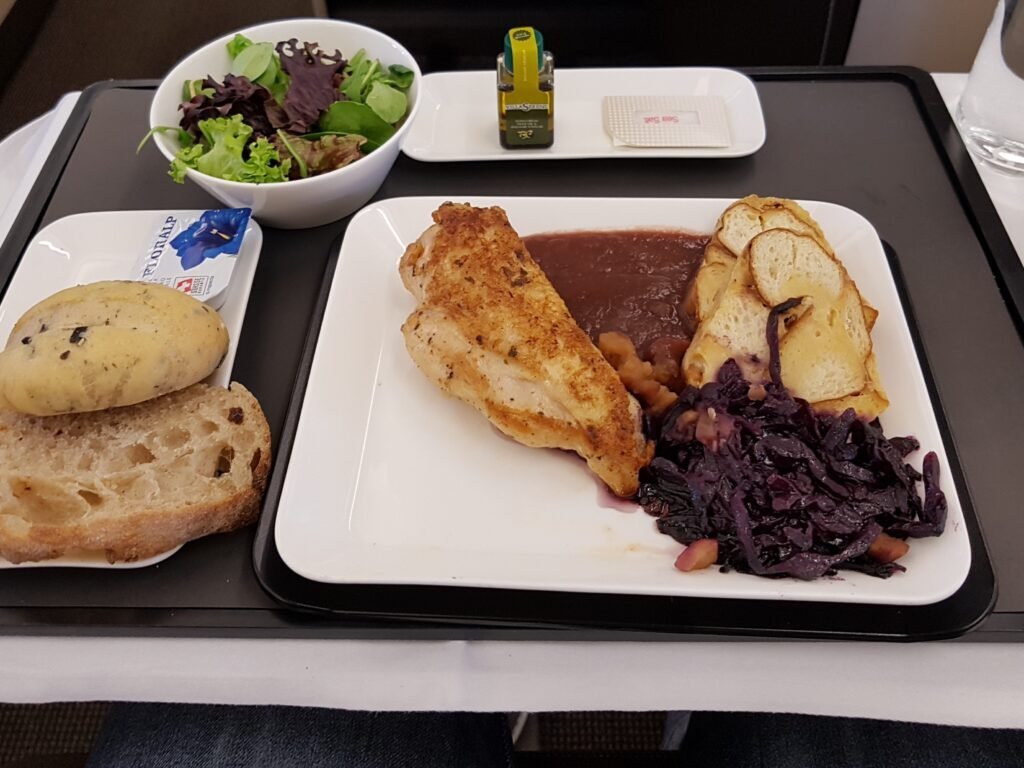 I found the dishes to be very good. The beef was tender and medium rare, as I preferred.
The meal service, as usual, is quite an extended affair, compared to other airlines business class. It certainly feels like you are being looked after well, rather than an obligation that the airline has to fulfil. Each dish was carefully presented and served.
After the first meal service finished, we watched a couple of films. There are a decent selection of films/documentaries. That said, the entertainment system is where the product really shows its age, the screen is no longer up to standard for Business class (SWISS 777 have an updated product in line with current standards)
SWISS Business Class Bed
The seat easily converts into 2 meter long  flat bed. After watching a movie and a documentary, I tried to have a little nap (even though this would be about 5pm in Europe, but we are landing early morning in Tokyo, therefore this is classed as a red-eye )
Due to the timing, I don't think I slept at all. The seat itself felt ok, not super comfortable or spacious on bed mode.
Pre-Landing Service
About 100 minutes before landing, breakfast service began.
Breakfast was again served in several parts, with additional add on's should you choose. I love the Swiss muesli! In other flights I've tried eggs of various sorts, which were equally good.
We landed about 30 minutes early, onto a very snowy Tokyo Narita airport… however, something wasn't right. We seemed to just have stopped in the middle of the runaway rather than taxing into a gate.
It transpired due to the very heavy overnight snowfall, dozens of flights out were cancelled. So there was nowhere for the plane to taxi into! The pilots relayed the delays fairly promptly with an initial 30 minute expected hold on the runway.
At this point the crew set out to ease the situation as far as possible,  handing out extra snacks and water bottles throughout the cabin. They were very apologetic, though after all, it was out of the airlines hands.
About 45 minutes after landing we were finally able to taxi into the terminal.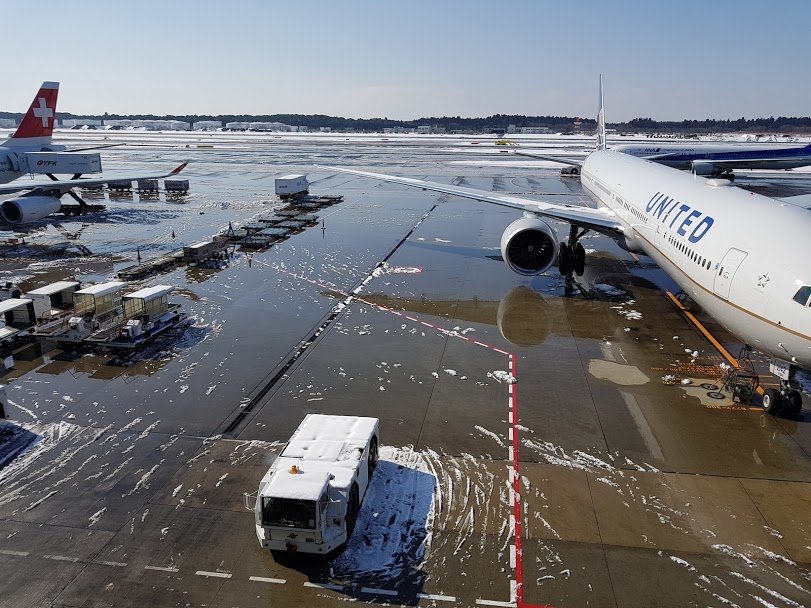 Final thoughts
There is something about the Swiss crew, they are very polite, serving with a smile on their face, proactive to a certain extend but not imposing or over-friendly. Overall I find the service excellent, and a solid choice. I always enjoy flying Swiss short-haul too, and consider them to be amongst the best in Europe.
The mid-flight snack service offers a good range from healthy granola bars/small sandwiches to movenpick ice creams and off course good Swiss chocolates ! I like the cabin ambience and aesthetic.
Flight timing aspect seems to be a tricky issue here that I've often pondered the reasoning behind it. I imagine these particular flights are scheduled so that business travellers land early in morning Tokyo time so they have a full day ahead for work purposes?
I'm not sure how that balances with the necessity to still get some rest with this being a "red-eye" in the sense that the flight would be the best time to also get some sleep. What are you thoughts on this?
If you are keen to fly business class, keep a look out on the latest deals. I also publish any standout deals here too.
Verdict in numbers
Check in & Ground service

Seat

Bed

Staff Service

Food & Quality

Flight timing

Amenities
Summary
I would happily fly Swiss again. Overall its a solid experience. Swiss was originally set to refurbish these A340s back in Summer 2017, which got pushed to early 2018. The reason appears to be problems with new First class cabin certification for the retrofit. Currently its expected to be upgraded by Spring 2019.