Smart Qantas Lounge Hong Kong
This is a snapshot review of Qantas Lounge Hong Kong. I pass through a lot of lounges throughout my travels. Either I don't focus on reviewing them fully, there is little to review or I just won't have the time to otherwise put something out there, so these reviews will mostly be selection of pictures.
On a return flight from Hong Kong with Finnair, I had a choice of Cathay Lounges or this. I figured this was likely to be less busy, which it was. It has a nice relaxed atmosphere, good selection of food and great fully stocked shower rooms!
Location & Access
This lounge is located near gate 5 on level 7. The current opening times are 7.30am to 11pm.
Access it granted to all oneworld® First/Business Class flyers as well as those holding Emerald and Sapphire status and their guests, Qantas Club members and their guests. Due to it's partnership with Emirates, all Emirates Business/First and Platinum and Gold Skywards members and their guests.
Qantas Lounge Hong Kong Space
The lounge feels like a well designed space with the same terminal ceilings in view as from most other Hong Lounges..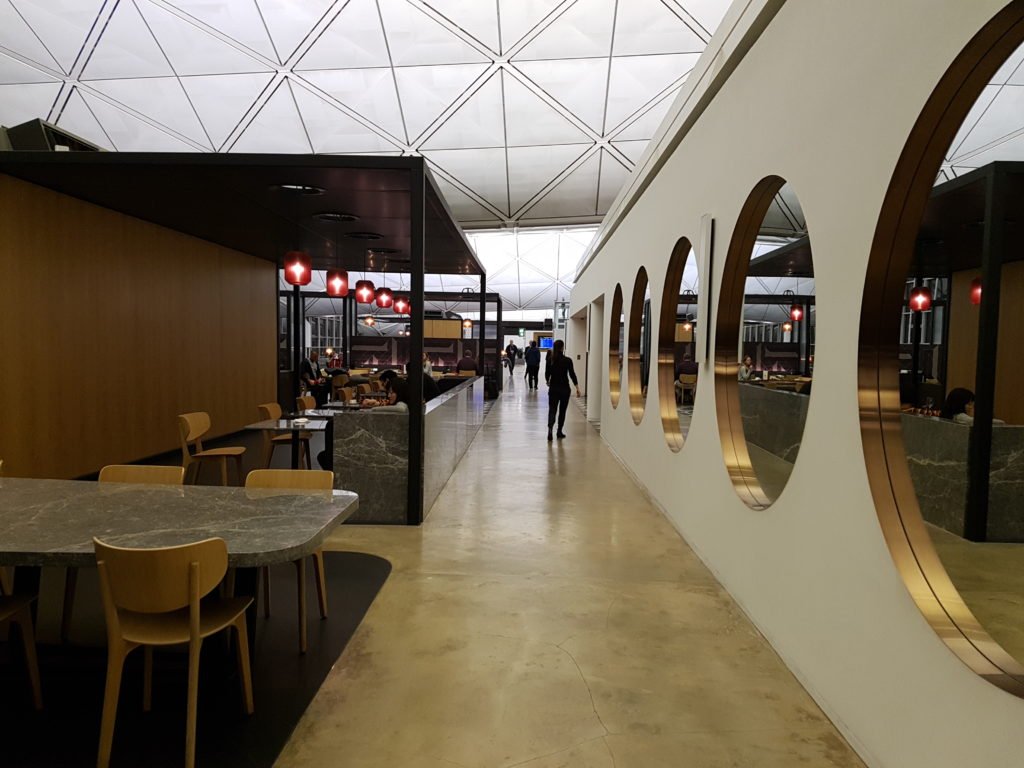 Qantas has naturally added it's own design touches, however with a more subdued colour palate..
No reds to be seen here!
There are a few different seating areas for relaxing or dining. But the footprint of the space is on the smaller side so you will not have an abundance of choice.
Qantas Lounge Hong Kong Buffet Options
There was a reasonable selection of buffet items for dinner from pastas, salads and curries..
The food was good, but I restrained from trying to many things as I wanted to save my appetite for dinner onboard too.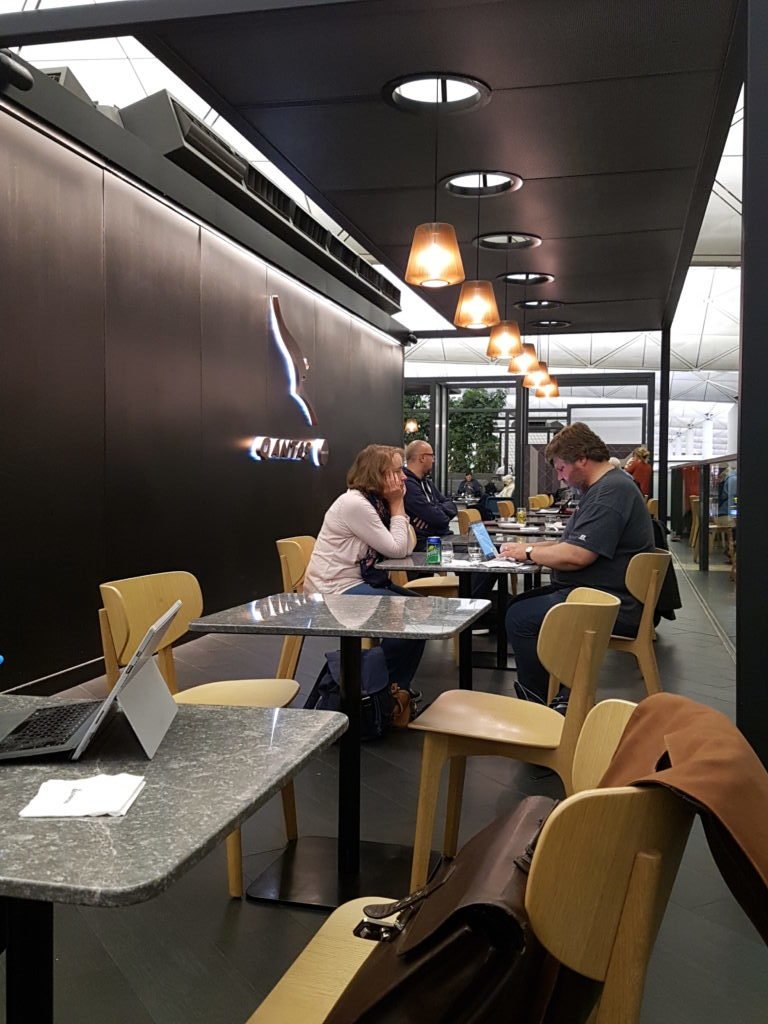 I have heard many good things of BBQ Pork bar, but since I do not eat pork I did not initially check it out. They do however serve other cook-to-order dishes that I did not have a chance to check.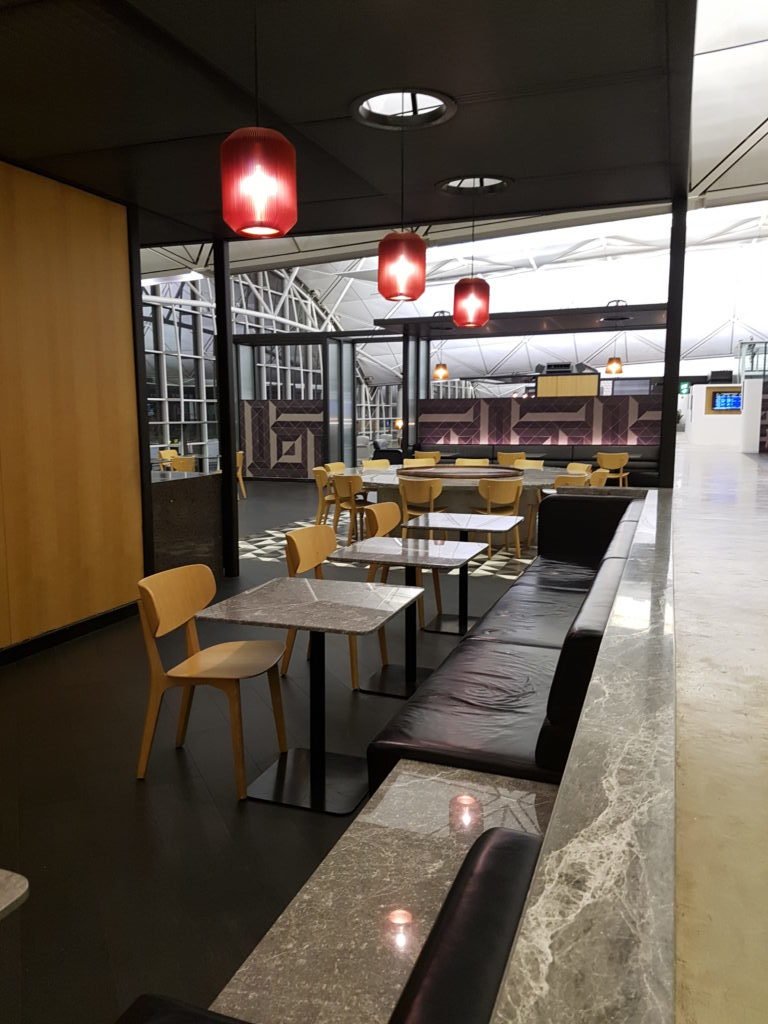 There is also a bar area but it was very busy so I did not want to get people on my pictures. Here you can enjoy a nice cocktail or too, something Qantas always does well!
During daytime this lounge affords excellent views of the airport and passing aircraft due to it's high elevation.
Showers & Washrooms
There are a few shower rooms that you can book, which are first come first serve. I got one straight away on checking..
These are very well appointed shower rooms with elegant touches from the fittings to the fluffy towels and luxury amenities.
I enjoyed by shower and felt very refreshed for a long 12 hour flight back to Europe!
2023 Update
After being closed for a number of years, Qantas has re-opened this lounge in May with a slight refresh.
Overall Thoughts
This was quite a pleasant lounge. I liked the deco and ambience. The staff seemed friendly. I can imagine this space also could get very busy at time which might affect how you experience it. The Qantas Lounge is London is better in many ways.
Another thing  I didn't realise, it closes at 11:30pm and my flight was 1am! So I was only here for about 90 minutes. You should check their opening times before your visit here as they can change.
While this is an airport with many excellent oneworld lounges such as Cathay's Wing, Pier and The Deck, I feel Qantas is a good choice amongst the mix. Will happily visit this lounge again.