Delightful Turkish A330 Business Class to Bangkok
I'd been meaning to try out Turkish Airlines for a while now. Turkish is renowned for its catering and onboard chefs ( yes it was exquisite !). It has been voted "Europe's" best airline many times. Something that does not surprise most given their excellent service and hospitality.
When I was looking for flights to get me to my recent Asia trip, I booked this ticket earlier in the spring. At that point new 787-9s were slated for delivery in the summer with a brand new Business Class.
I was hoping at least one of my flight sectors might be on the new product but alas it wasn't to be. Still, while the current Turkish A330 Business Class hard product may not be the fanciest, there are advantages with these seating types as we will find out.
The Flight
Route: Istanbul – Bangkok
Flight No: TK68
Date: 26.11.2019
Departure time: 01:50am
Arrival time: 15.10pm
Aircraft: A330-300 (Tail TC-JNL)
Seat: 2K (Window)
Check-in
Initial check-in was pretty standard. People in front of me had a lot of luggage with just 2 business check in counters so it took a few minutes.
I had a 23 hour layover to check out Istanbul again. With boarding pass already in hand and bags checked all way though to BKK, just had to go through security again.
Lounge
The focal lounge for this trip was off course the Turkish Lounge at the new Istanbul Airport. In short its a beautiful, elegant and comprehensive lounge that is head and shoulders above any other business class lounge you will find in Europe.
The exception may be Virgin's Clubhouse!
Turkish Business Class Boarding
Boarding time was 00:50 a full hour before departure. Even though I left the lounge at 00:40 by the time I made it to gate B12, it was already 1am and most of passengers were at the gate.
Though the gate area was super crowded, it was well managed by the ground staff here. Within a few minutes Business class guests were invited to board..
It was a very rainy night so the aircraft by our gate was barely visible.  There was a slight delay once we actually got to the jet-bridge, but that cleared swiftly afterwards.
Turkish A330 Business Class cabin
I was greeted at the aircraft door by 2 very well groomed crew members ( You would not think this was 1am in the morning! ) who directed to my seat..
I was aware there were a few business class passengers right behind me, but I managed to take a few snaps of the cabin very quickly..
Just looking at it from this angle immediately strikes you that this is quite a dated product.
There are 28 flat bed business seats in a 2-2-2 configuration. Each seat has 21″ width and upto 78″ of pitch, which really makes it feel roomy, despite the 2-2-2 layout.
The new 787s and A350 will finally provide a 1-2-1 layout, but that in itself doesn't translate to a 33% increase in space, as airlines manage to squeeze more seats by taking up space from the pitch.
Upon taking my seat 2K , I noticed a few subtle differences to the A330-300 I flew on the sector into IST. This aircraft was abit older (2011) and seemed to have older entertainment screens/control options and some minor difference including an additional storage slot by the screen that the previous one did not have.
Not sure how useful this actually is given the pitch means its out of reach when you are seated.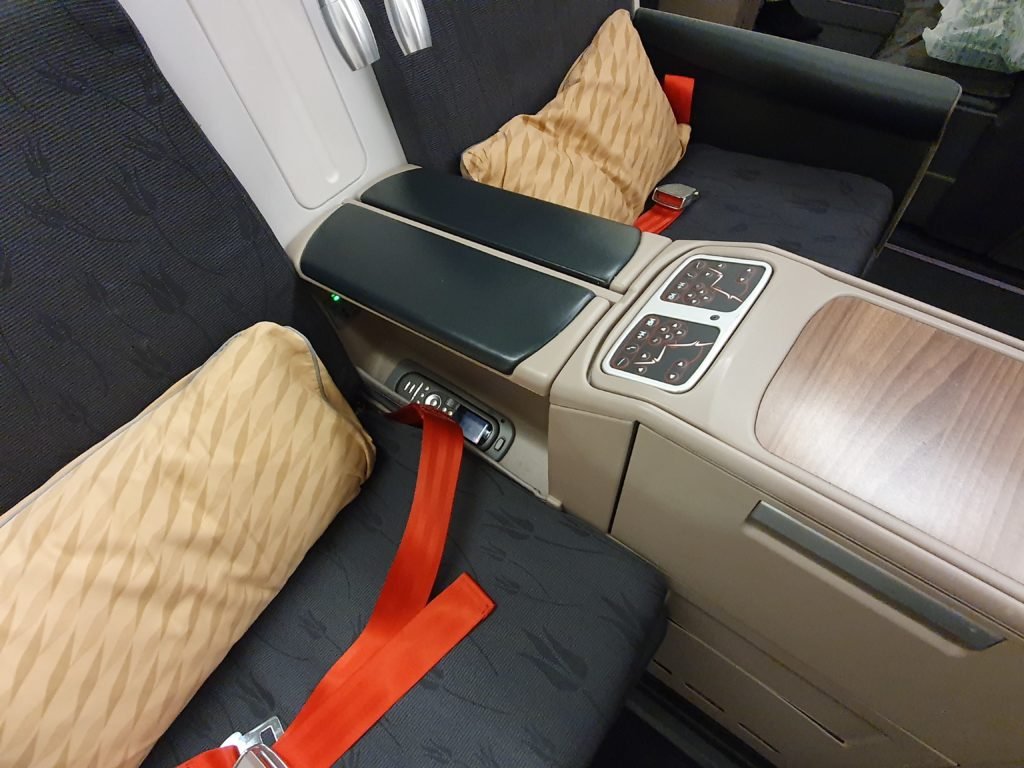 Other than that the actual seat was pretty much the same. Its a comfortable seat, if ever so slightly narrow on the shoulders still.
A shared centre console is useful for drinks/placing small items. Luckily, I had no neighbours, so I could spread out all my stuff.
The IFE controller is located just by the left hand of the seat, which provides additional room for storage of small personal items like glass cases, headphones and even the amenity kit should you wish.
The tray tables slide up and out from the centre console. On the front of the seat, right below the IFE screen, you will find a foot console that doubles up as additional storage.
In the seat today were the some wrapped blankets and a shoe bag with some slippers.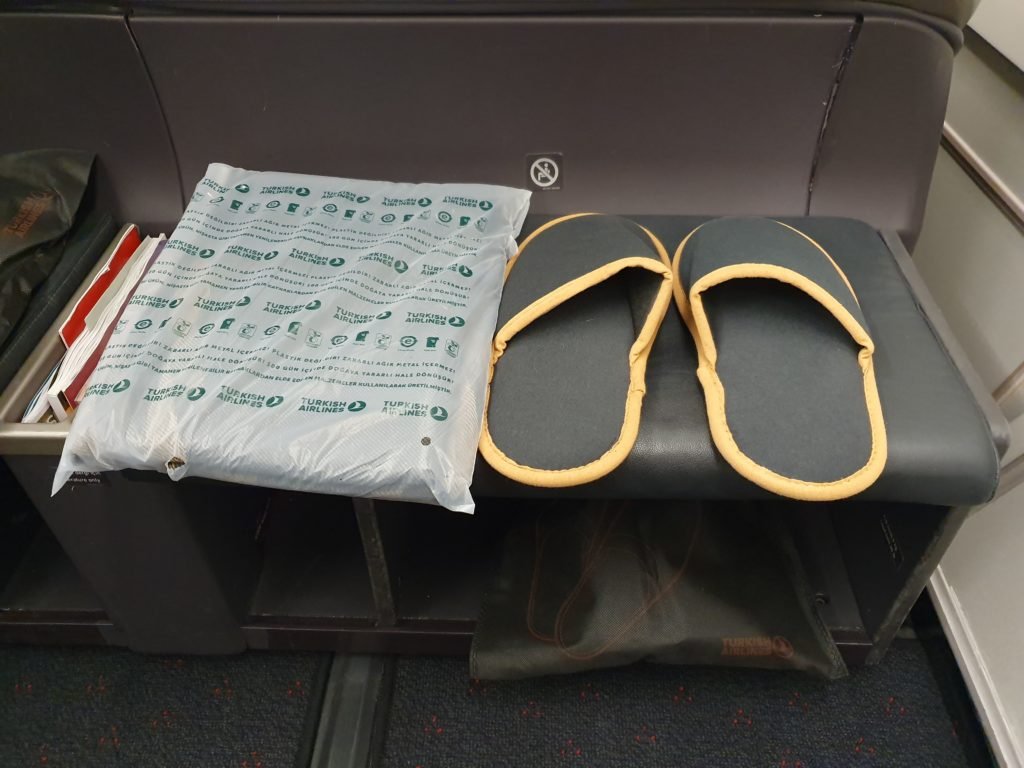 Just after welcome drinks were serviced, the crew distributed the food and drink menus, noise cancelling headphones by Denon, as well as the amenity kit by VERSACE.
I have to say I was super impressed by the real leather Versace amenity kit. I would have expected something of that quality in First Class, not business!
The contents were also very high end…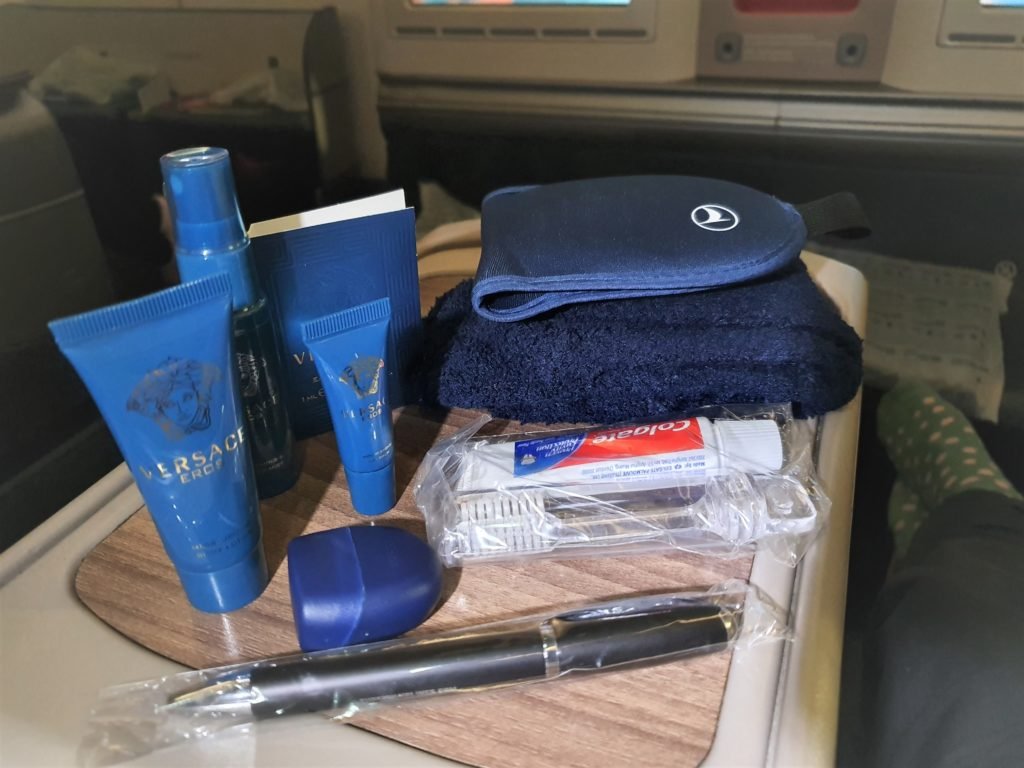 Meanwhile the on-board "chefs" passed through each passenger, taking their dinner and breakfast choices.
Departure
Boarding was complete by 1.33am. We did not leave the gate until past 2am and due to traffic took off even later still.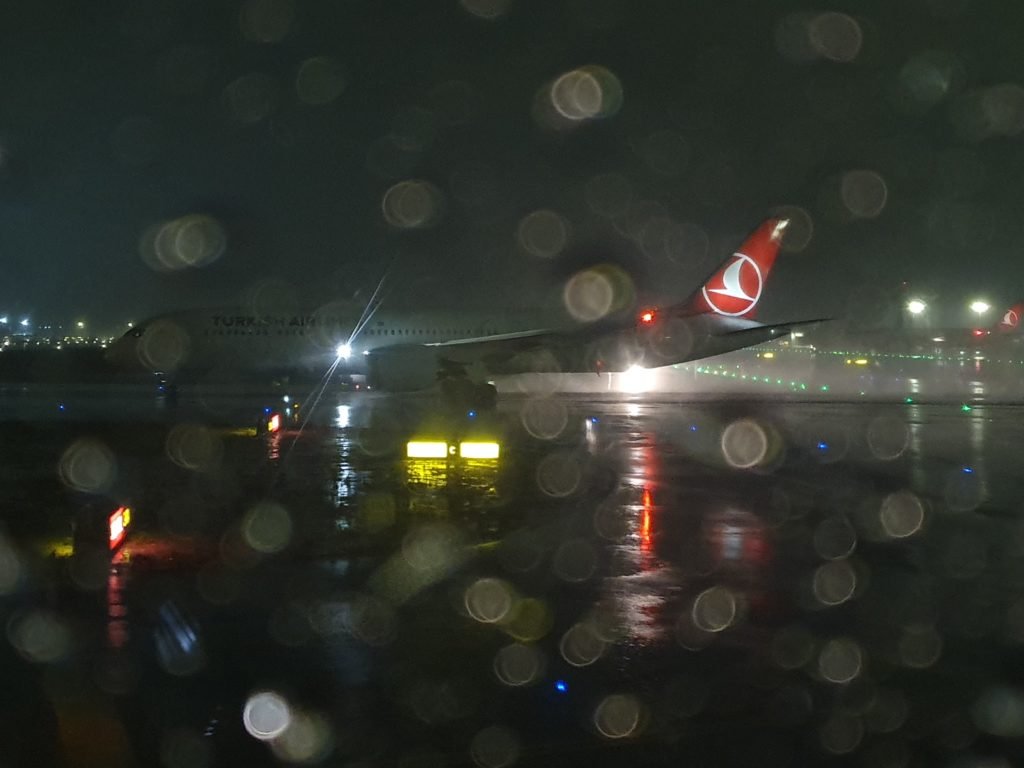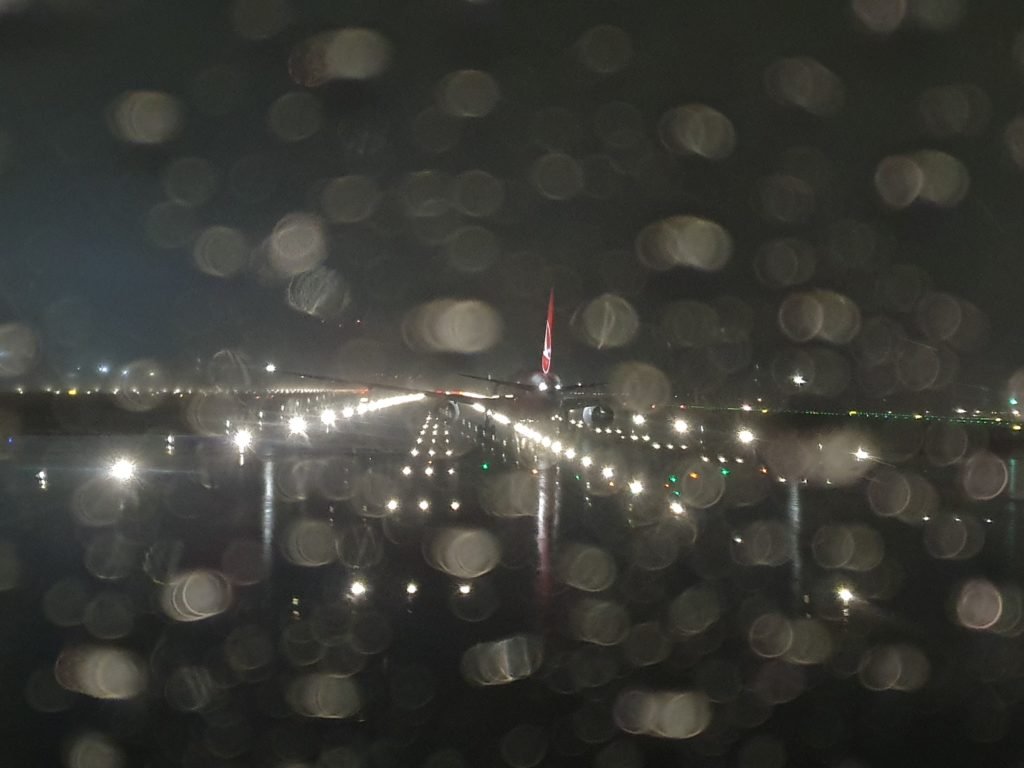 The attentive Turkish Business Class Service
Despite the late take-off on an already late over-night flight, service did not really start until about an hour after take-off.
Hot towels were offered again about 30 minutes after take-off.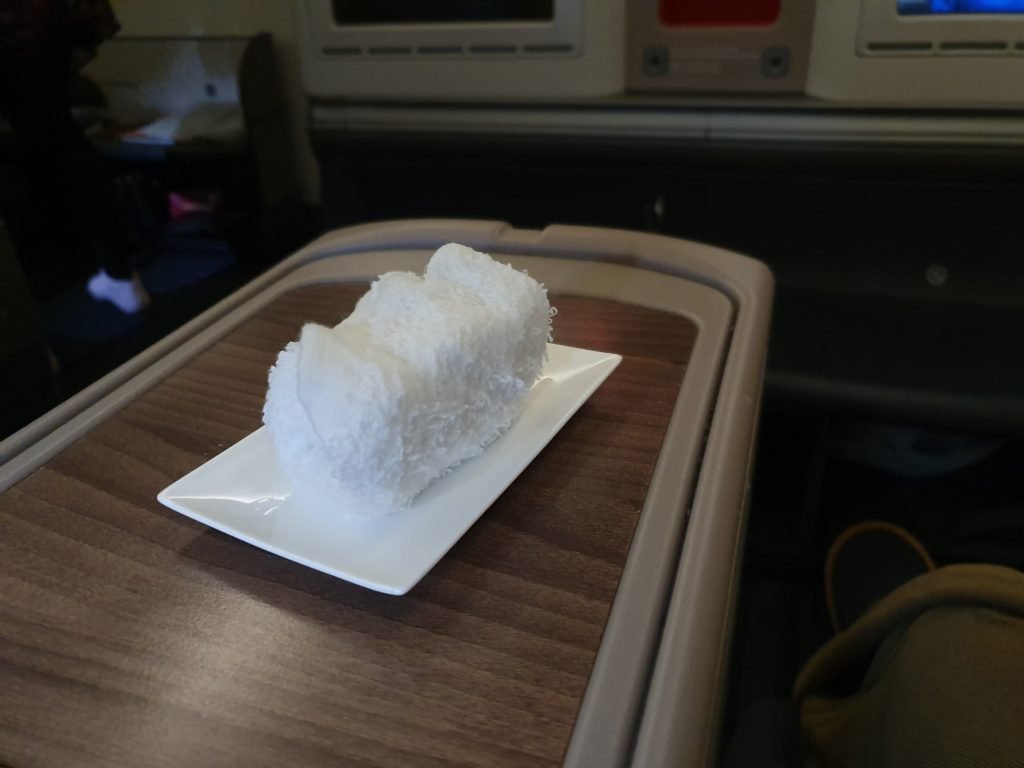 At 3.07am (local time) the first drinks were served with warm nuts and the service gathered pace after that.
The appetiser/amuse bouche was a lovely crisp veg spring roll, a lamp kofta and a sort of cheese roll. They were excellent.
For starters I ordered both the Turkish Meze as well as the Potpouri of Seafood.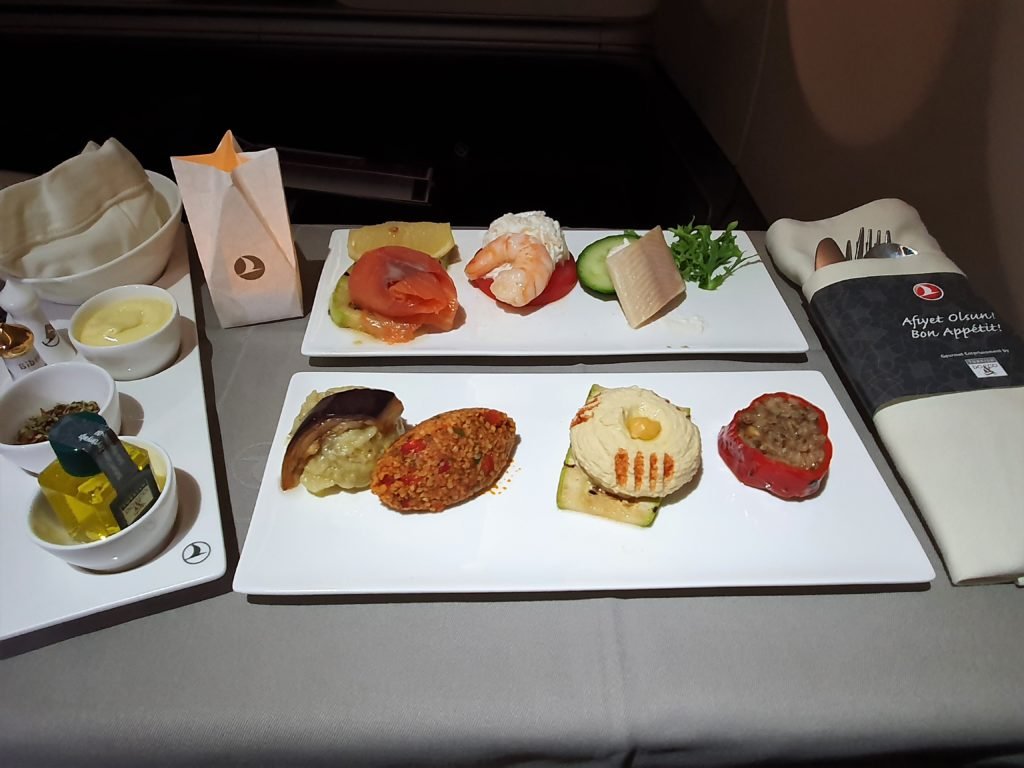 All tasted superb. Kubra was keeping a good eye on my progress and ensured I was happy with the meals and any drinks to go with it.
About 30 minutes later, the main was served, the "Spicy Chicken Brochette".
Now this was not really spicy at all, I found it to be more or less on the same heat level as the starters, which in itself is a good thing for a pre-sleep meal. At this point, I was getting quite full so I only ate about half of it, as I wanted to try the desserts still.
Sure enough, when I had the dessert in front of me, I could barely stomach more than half.
Turkish turn down service
As soon as my meal was done, Kubra seemed eager to make my bed (asking for permission if she could do so). I asked for the bed to be made not long after while I went to the Business Class bathrooms to brush my teeth and change into something more comfortable to sleep (Turkish does not provide PJs)
The business bathrooms was already bit messy. There are 2 bathrooms between over 20 people. They were stocked with some Molton Brown toiletries.
I came back to find my seat turned and beautifully made into a bed with a moderately thick mattress topper, an additional larger sized pillow and a plush velvet duvet on top of the first one.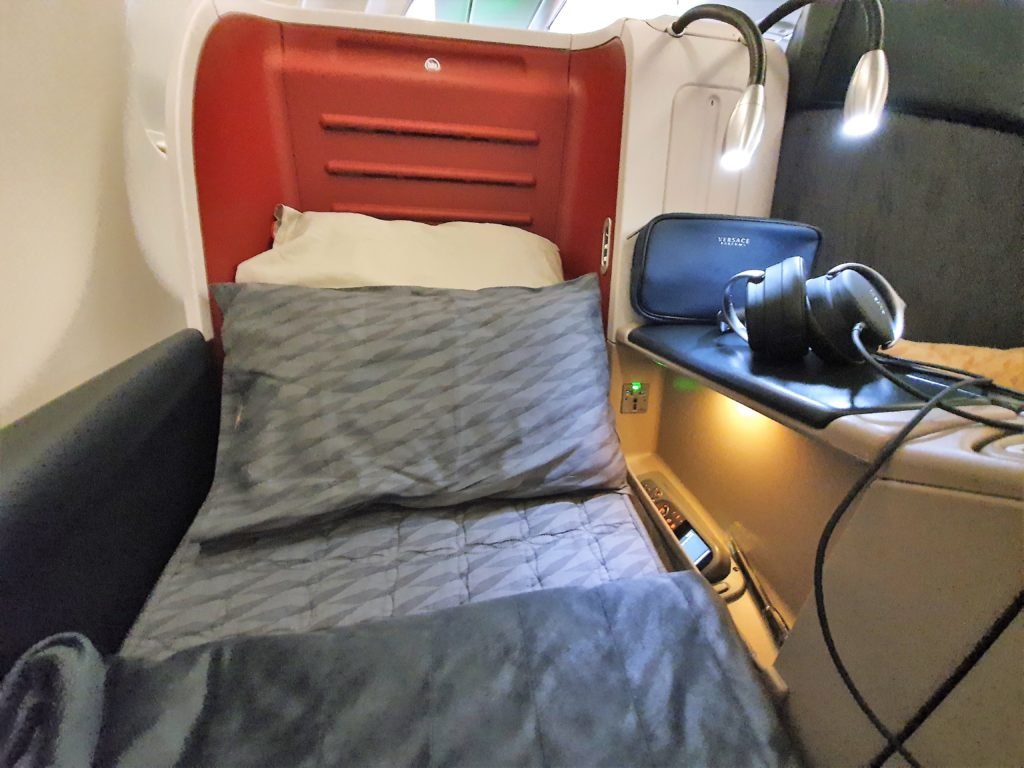 It felt as comfortable as it looked.
With just over 5 hours to go before landing I drifted off to sleep.
3 hours later, I was awake, still feeling tired and groggy. The cabin temperate was abit on the warm side and at that point crew were already serving breakfast to some passengers. Not sure what woke me up but if I wanted breakfast, now was it.
Given the late night flight and delayed service, it does not leave much room for sleeping.
Another thing that became quite apparent about this particular seat, was the left armrest though thin enough, did not move down to be level as alot of business seats so, so took even more valuable room on what already feels like a slightly narrow seat for business class, therefore I found myself sleeping on my side mostly.
Breakfast at your timing?
Turkish have a policy of serving last hot food 2 hours before landing, which I don't really get. I understand the cabin needs to be readied for landing which can take some time, but 2 hours?
Anyway, even though I was not really hungry, I opted to have breakfast.
The starter consisted of some fruit,  excellent strawberry smoothie and cheese, tomatoes and olives.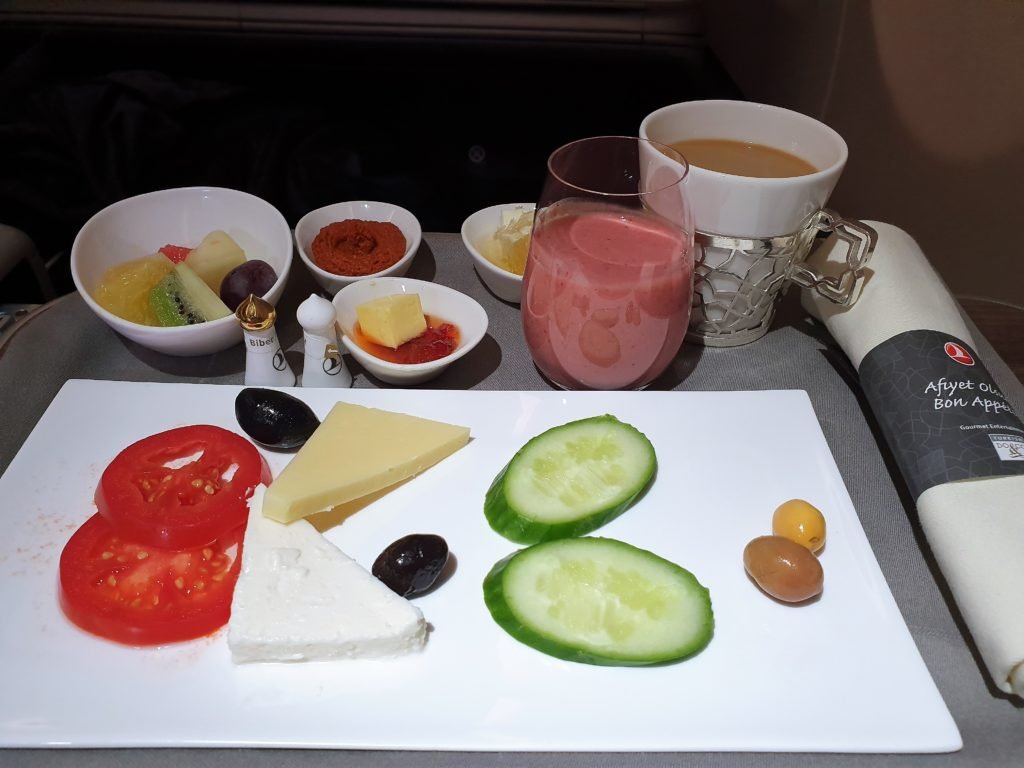 For the main breakfast, I chose the Sote Mantar..
Again, given that I wasnt really hungry at all, I still ate most of it. Testament to the quality of Turkish food.
The crew came back offering more coffee and croissants/Simits and other pastries, which I had to decline.
A whole half hour after breakfast was done, we started our descent into Bangkok with some beautiful clear views..
The crew started collecting the headphones at that point.
Booking Turkish Airlines Business Class
This was a return cash from London to Bangkok for which I paid just over £1500 for. It was a decent price at the time given flights out from London are always more expensive. Standard fares on this route are routinely 2-3k though!
In hindsight, if I was to book it again, I would have done so from a European airport like Amsterdam, Oslo or even somewhere like Budapest. Turkish has business sales from these cities for under £1100 on a regular basis.
You can also book Turkish Business Class if you are a member of their Miles&Smiles programme, where they regularly have discounted deals for their own members.
Another option to book with miles would be United or Aegean miles. Aegean charges 65k points one way to most of South East Asia but to North or South America it is even better value at 55k!
Overall thoughts
Flying Turkish was such a pleasure, even despite the late night and delayed service. My experience was more or less what I was expecting. The crew were super warm and attentive throughout the flight. Nothing seemed to phase them. Much of it befitting Turkish reputation of hospitality.
The crew really make an effort to build up a rapport, which makes for a smooth flowing service. Besides the slow start, for which I'm unaware of any reasons, I cannot fault the service/staff at all. The catering provided by Do&Co is excellent.
Turkish has a tonne of long hauls flight leaving around 1.30am to 2am, so I'm somewhat puzzled that a speedy service start has not been part of that planning.
The hard product has some advantages over many other business class, namely the unrestricted legroom, as you are not angled into a corner hole, which varying degrees of space.  In bed mode, I did find the shoulder width to be pretty restrictive though, it might be fine if you are purely a side sleeper, but a back sleeper or someone who rotates will have an issue with this.
Unfortunately, I am not sure the new Turkish 787 would address this problem, as it also looks very narrow and I have seen reports corroborating that view. Turkish sometimes offer excellent deals, though mostly ex-EU sometimes they can be very reasonable from London too!
I would happily fly Turkish again, but I would really like them to address the service issues especially with late night flights. I have been served breakfast 45 mins before landing on other business flights, so it can be doable especially if combined with some express option.
Verdict in numbers
Check in & Ground Service

Seat & Bed

Food & Drinks

Staff Service

Amenities