Serene Iberia Premium Lounge T4S/T4 Madrid
I have used the Velázquez Iberia Premium Lounge and The Dalí Lounge in Madrid several times, both flying Iberia as well as BA. They offer a contemporary design reflecting Iberia's branding with thoughtfully designed spaces to make your journey easy. I visited at different times of day to really get a good feel of it.
Spread over an expansive 5000 square meters these are Iberia's best VIP lounges for top tier customers and business class fliers as well as extended for Oneworld Shappires/Emarald's. As far as Business lounges go its solid. I will cover the T4s lounge first, as this is where most long haul customers will be flying from.
Location & Access
You are invited to use this lounge as a business class passenger flying Iberia or most other OneWorld airlines. Access is also granted, though perhaps not proactively to OneWorld elite members, Sapphire and above.
After check-in from the main terminal, you have to get the train to 4S and clear security/passport control before you can get to the lounge.
Velázquez Premium Lounge is open from 6am till 1am! While the Dali lounge in T4 is open shorter hours at 6am-11pm.
The location almost feels like this is part of the duty free shop or something!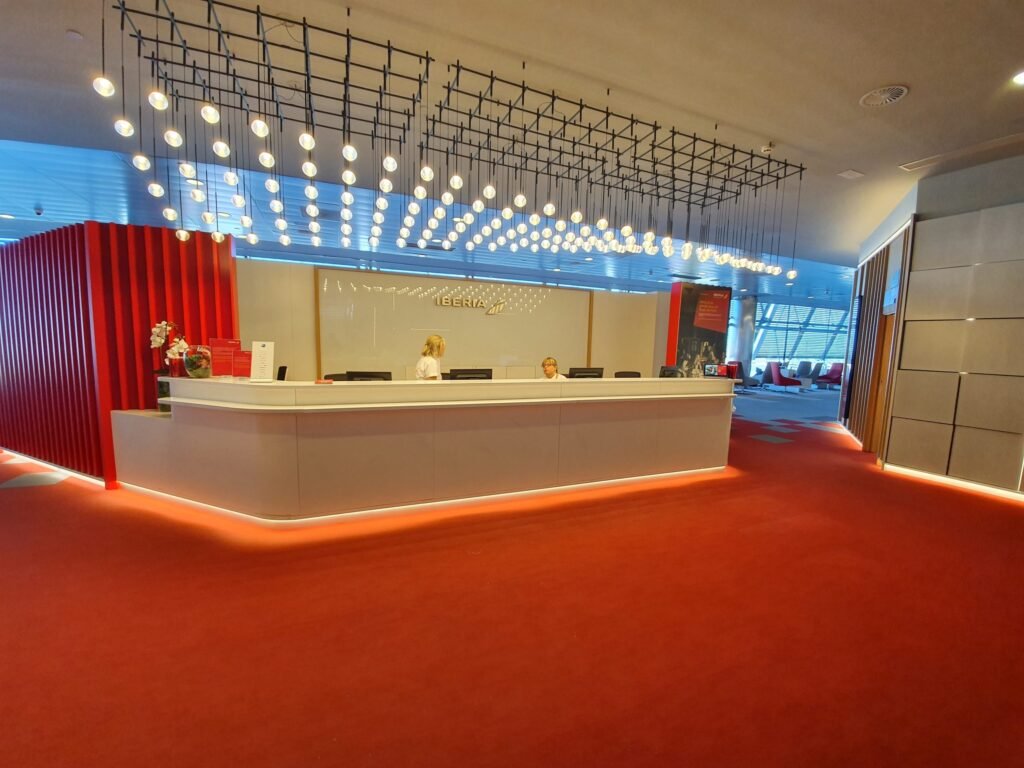 Once you've found your way you will be in a rather stylish entrance/reception area with Iberia red carpets and wall panelling accented by the greys
I like the ambient lighting underneath all the wall panelling, sort of gives you off the floating wall vibes!
Seating areas
The lounge itself is expanding with a long corridor running through with window views. When the Madrid sun gets too much, they have screens to give you some shade!
The lounge has comfortable swivel chairs in the same Iberia grey/red colours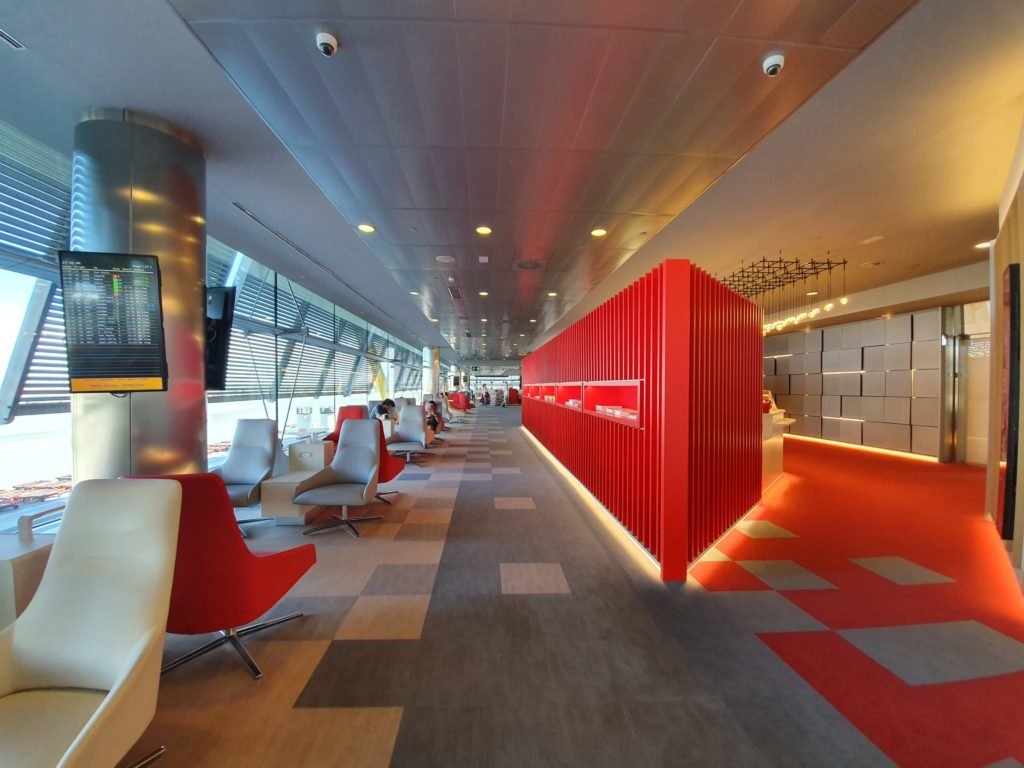 I like the seating being well spaced out so you will never feel to claustrophobic should the lounge get full with all seats taken!
Its essentially one large long open plan room with sweeping views over no less than 3 sides of the taxiways and gates.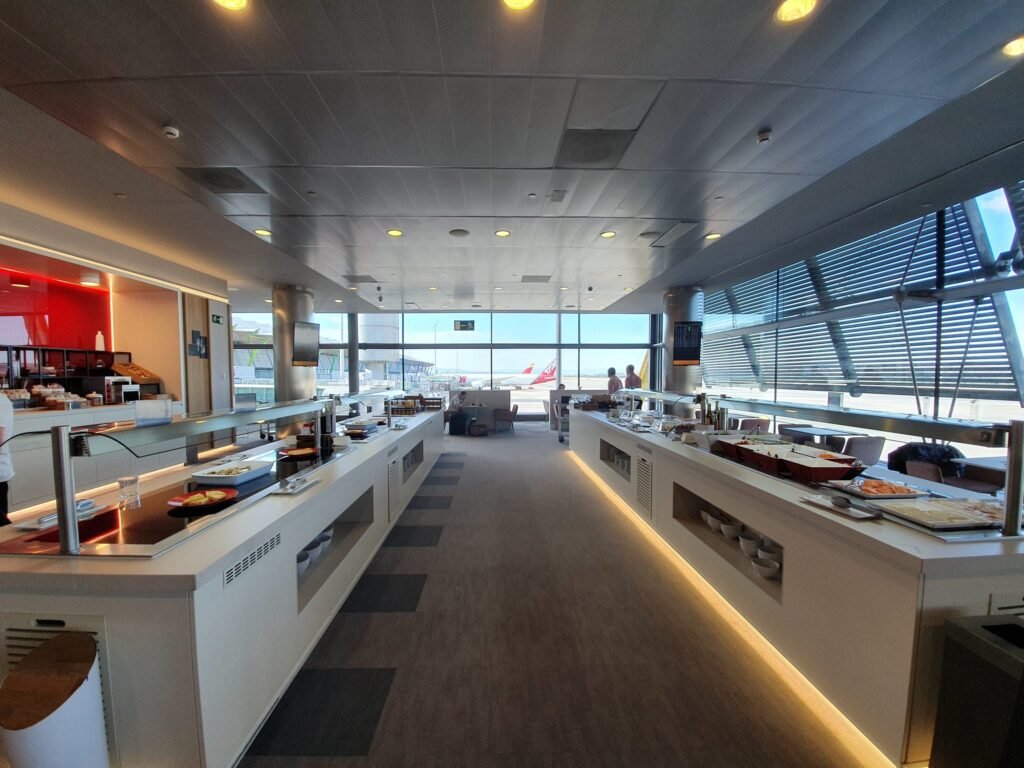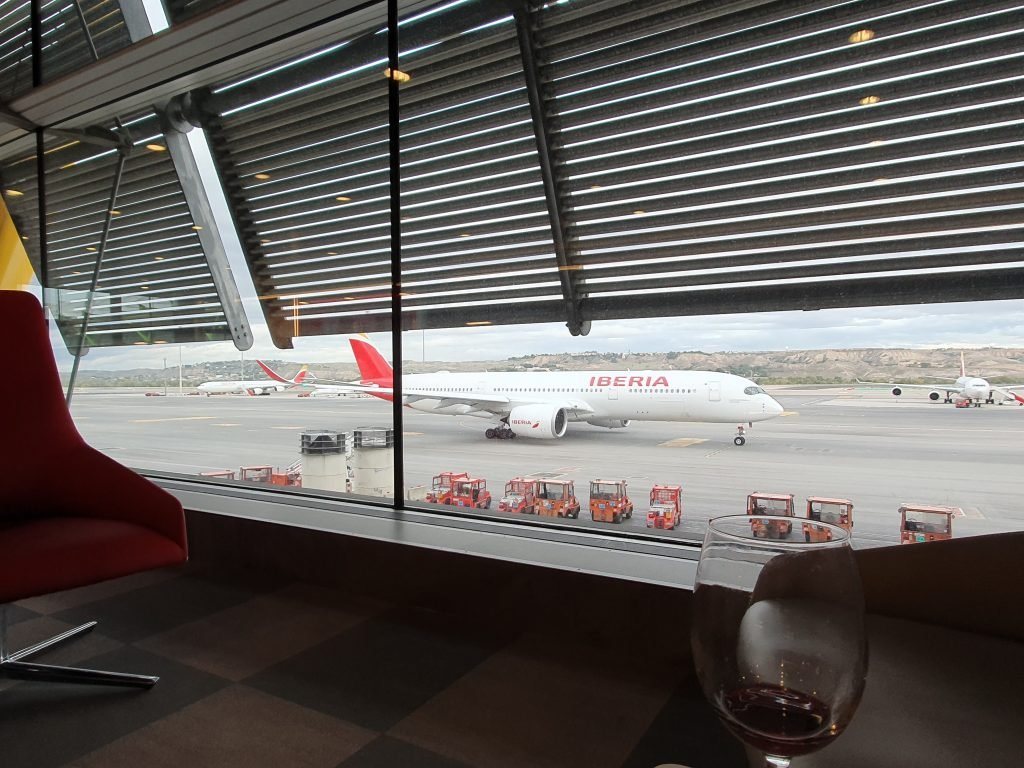 All the seating has access to a small table nearby with power/charging points. Seating options are comfortable, though there is a lack of footrest stools, which would be even more ace. In 4 visits, I've never seen this lounge get crowded at all.
Showers
There are 6 showers available. You have to book shower rooms via the reception, but I've always been able to get one straight away.
They provide fresh towels/floor mats as well miniature shower gels and shampoos.
The spaciousness is sure handy. Though perhaps they need better extractor system as it gets very humid inside when you are getting ready afterwards.
Iberia Premium Lounge Nap Rooms
Not that I needed to use them at all during my visits, these are welcome additions to any lounge!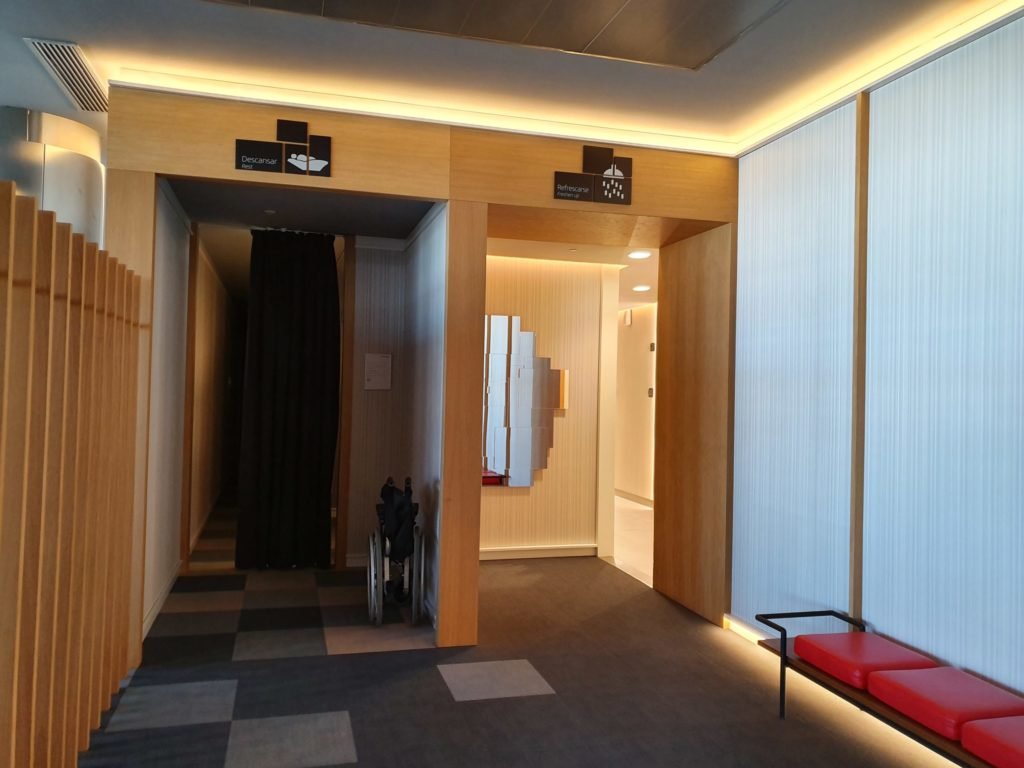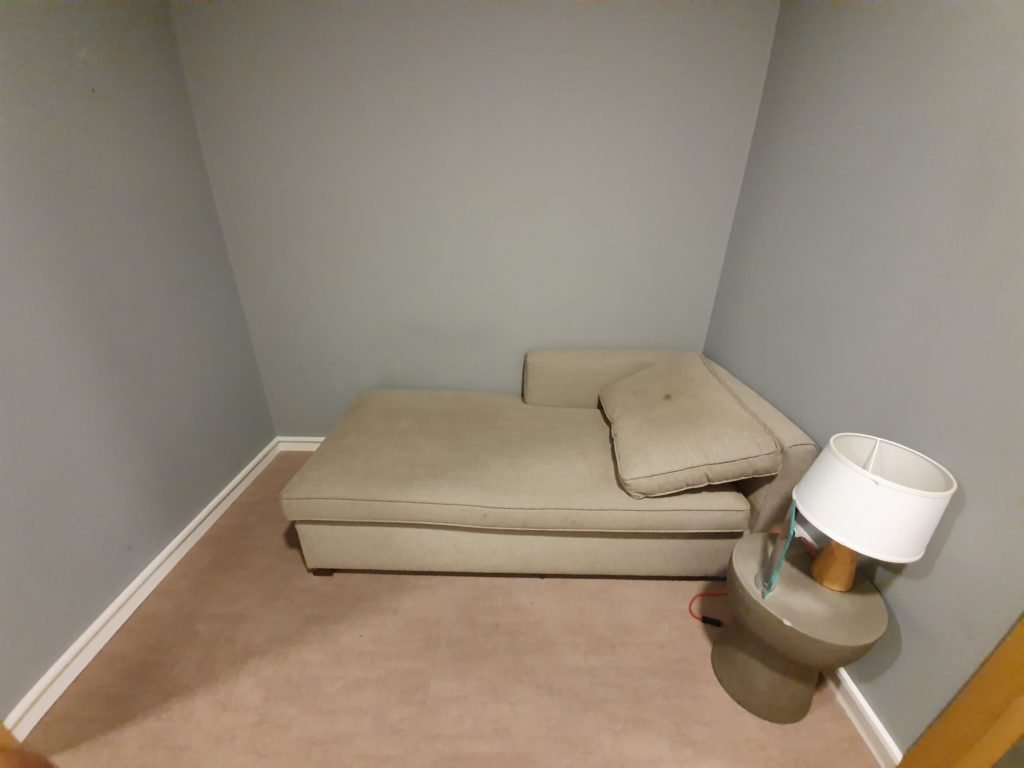 They were quite deep and comfortable but as evident on the picture, the sofa beds are short! So if you are anything over 5 "10 your legs will stick out..
Iberia Premium Lounge Bar
No decent lounge will be complete without a decent bar and Iberia does not disappoint here..
What a awesome view! The bar is fully stocked with quite a lot of choices of wines, beers, spirits and whiskeys. This is also all self service, which perhaps has its upside too. Though I prefer someone making my drink for me.
Iberia Premium Lounge Food
So this is where the time you visit makes quite abit of difference.
There are self service buffet food stations at both ends of the lounge.
During the day (or at least out of the main meal times?) the food choices are mostly cold bites consisting of sandwiches, cheeses/quiches/salads etc and off course all kinds of beverages are available at all times.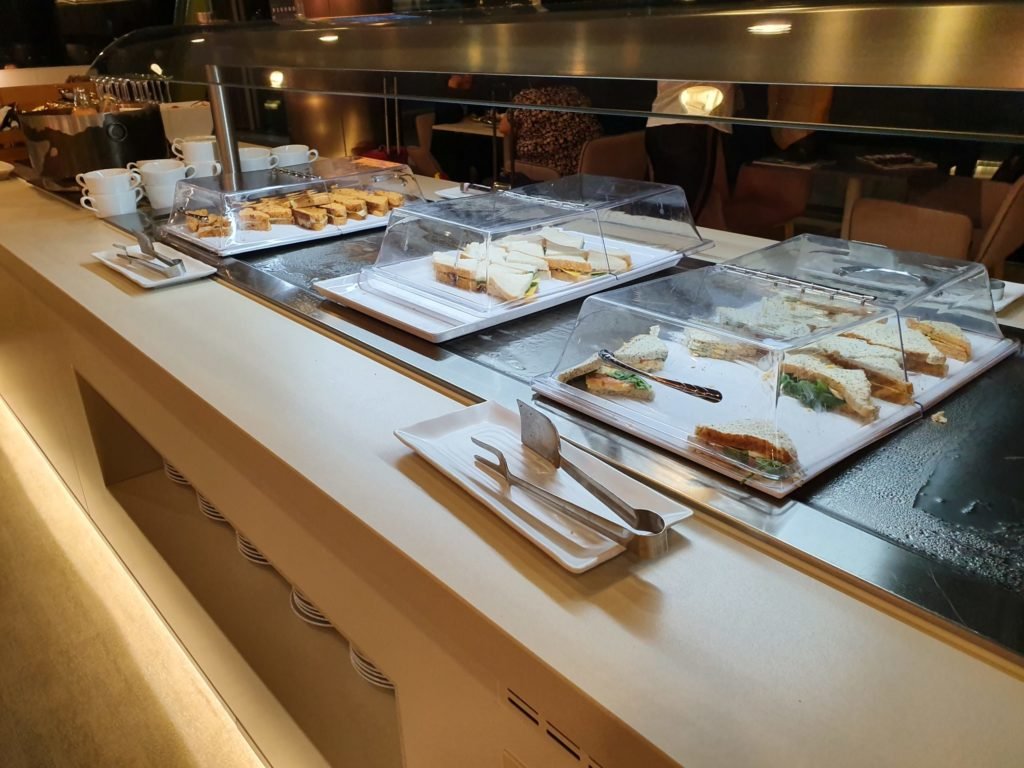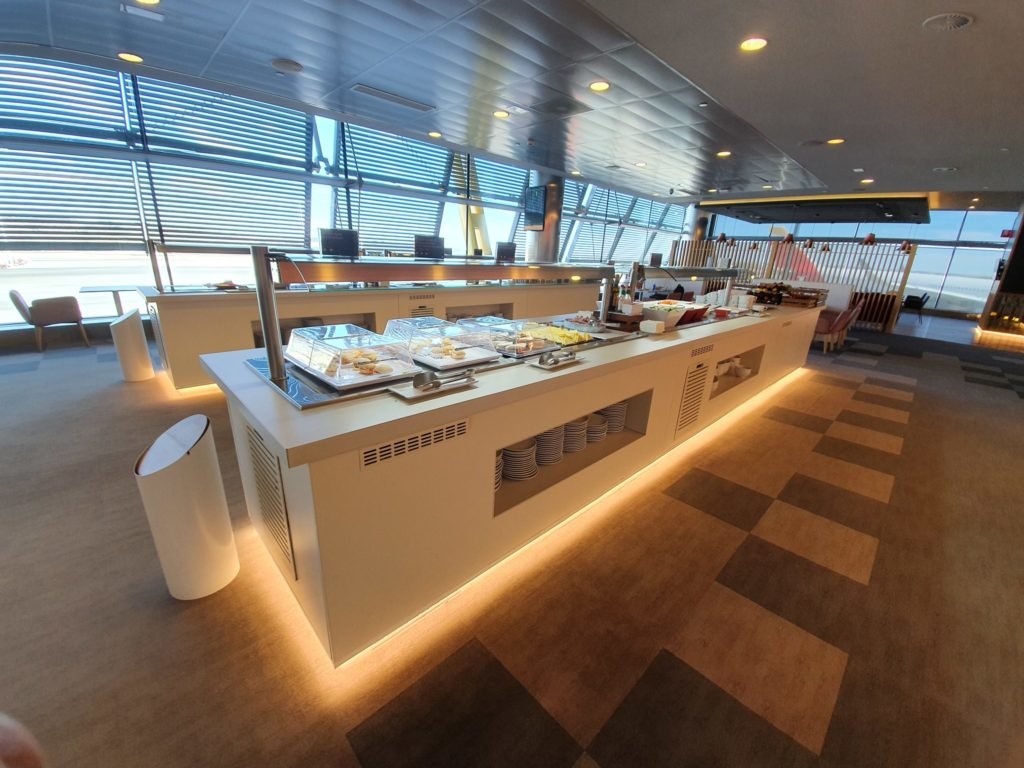 During dinner hours so after 9pm local time, they have more substantial hot food choices…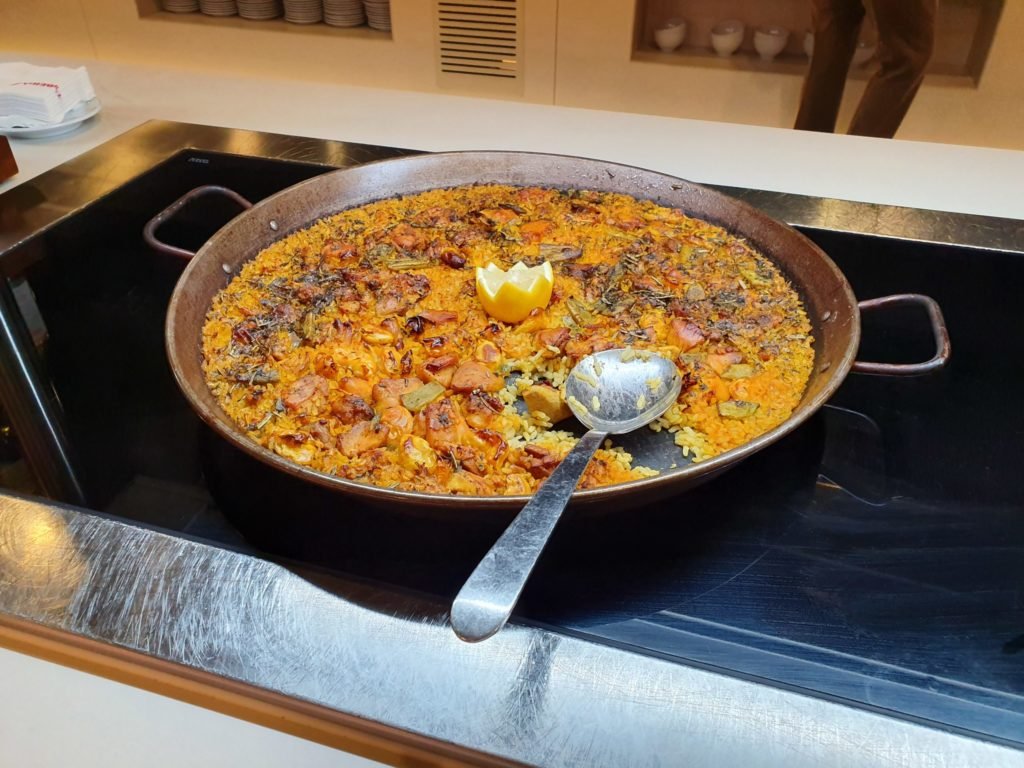 This paella was simply amazing!!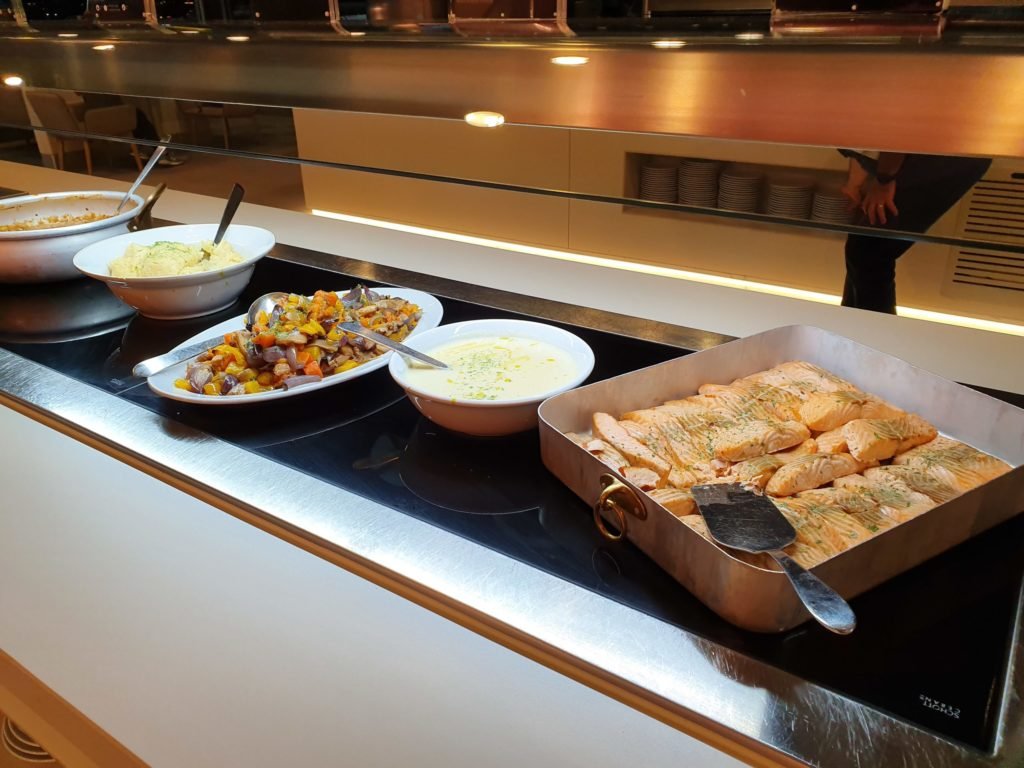 As was the veal! It was so delicious I'm hungry just thinking about it now!
They also have a good selections of sushi. While the catering was great, I did feel they started to feel abit samey samey, as they did not vary too much from month to month in a the quick succession in which I used them.
T4 Dali/Premium Lounge
This lounge has more or less the same access, for all other passengers. Its right after security.
The space and design is mostly similar, except..
That vast ceiling space and design! It doesn't just feel bigger, it actually is in lateral square footage too..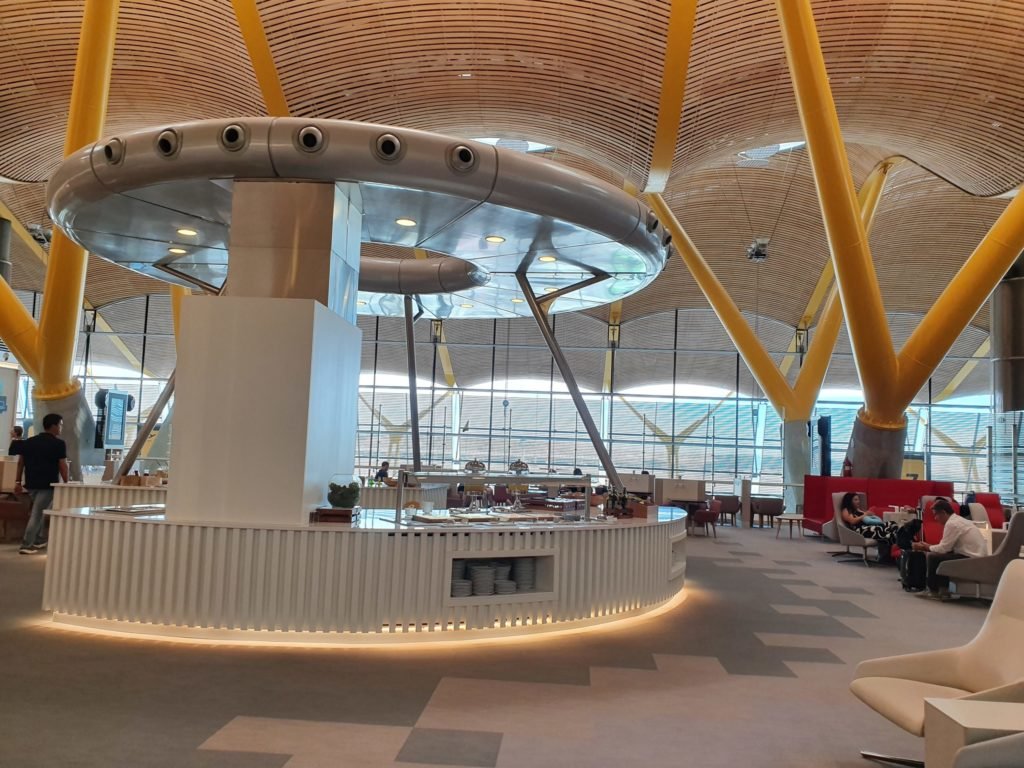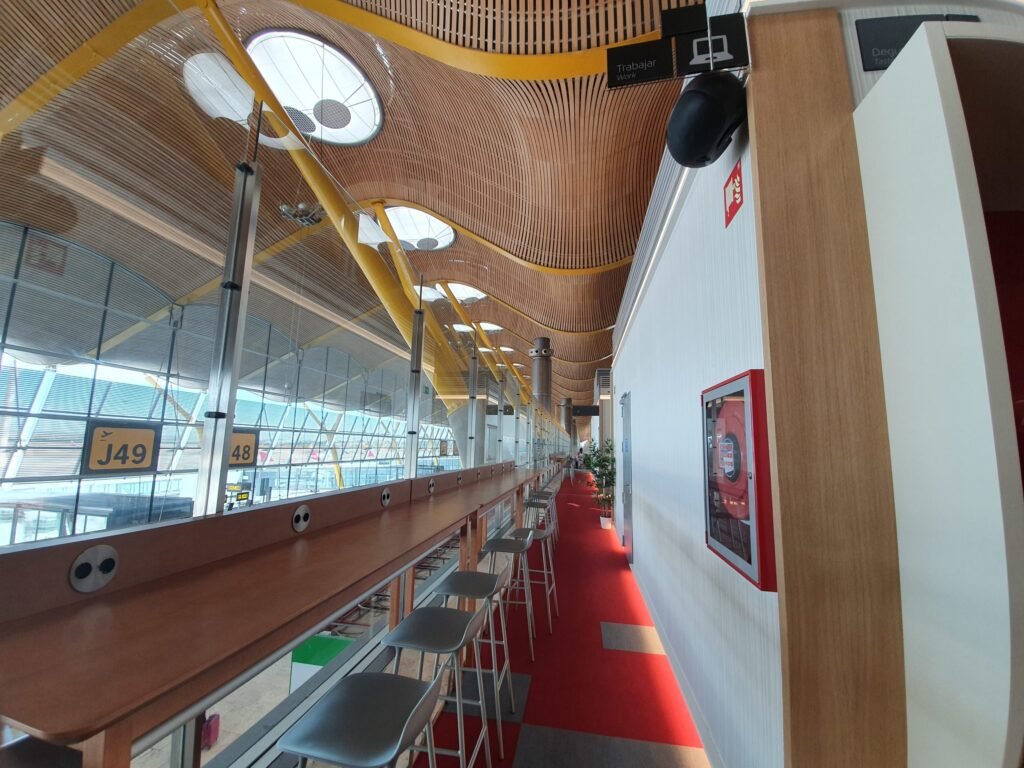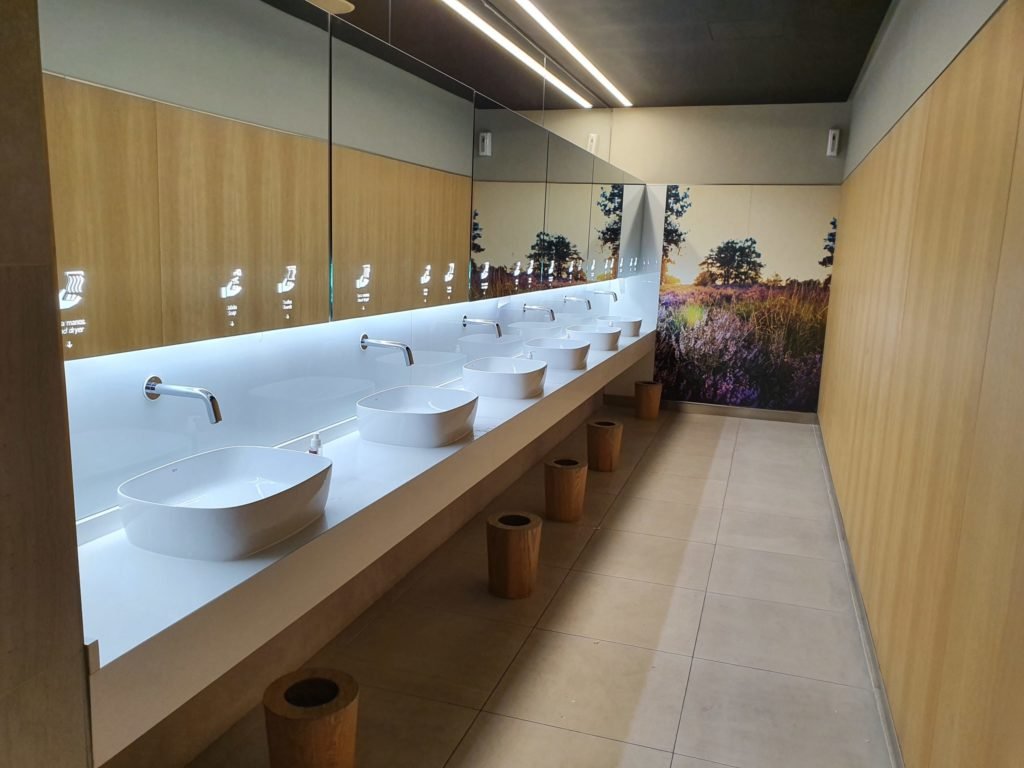 Overall thoughts
These a very solid, functional and pleasant lounges to spend time before a flight. Both have a good ambience, fairly quite and relaxing. They are a world apart from the chaotically busy BA business lounges in London.
4S has the best views while the main one, feels almost simultaneously part of the wider terminal due to sharing the same vast open ceiling. If you are passing through Madrid and have access, I'd definitely recommend going to either of them!
To read more about Iberia's Business Class offering, you can read my review for a long flight into Santiago Chile which also includes a snapshot of the return flight from Lima.