The Flight That Goes Back In Time! ANA First Class Tokyo To Los Angeles
This trip report looks at my ANA First Class Tokyo to Los Angeles flight. Being a Japanese airline, ANA has already had stellar reputation, which I was keen to check out for myself. But the most exciting thing about this flight by far was that it actually goes back in time! Too cool for school right?!
My 3+ month trip that pretty much covered 4 continents all over the world was meant to end in Bangkok, from where I had a return Turkish Airlines Business class flight back to London.
I needed to change my dates. Instead of paying date change fees,  I found an ANA award itinerary via Tokyo to LAX. The first sector in Business and long Tokyo – LAX flight in First Class!  This would be my first ever First Class redemption. I had my fingers and legs cross that ANA would deploy their latest First product!
Yes I essentially threw away my return Turkish Business Class ticket just to mix it up a bit. Why come back to London via Turkey, when you can just go completely the other way round via LAX and a few other stops in-between? Was it worth it?
Flight Particulars
Route: Tokyo Hanada – Los Angeles
Flight No: NH206
Date: 07.02.2020
Departure Time: 00:05
Aircraft: 777-300ER (Tail JA790A)
Seats: 2k & 2G
Redemption Programme: Lifemiles 87K
Check-In
The first flight was departing Bangkok at 10am and I was rather late with my Uber stuck in traffic. I managed to make it just 1 hour before departure. Check in at Bangkok was routine, if rushed. The agents were very polite and efficient. I had both boarding passes in hand within minutes.
Security however was not so quick however.
The check-in experience will most certainly be more attentive and premium in Tokyo airports.
ANA Suite Lounge In Haneda
ANA have several lounges in Tokyo Haneda airport. The ANA Suite Lounge is specifically for First Class guests, which above all else has incredible food!
Boarding ANA First Class Tokyo To Los Angeles
With several priority lanes, boarding was super organised and efficient, despite looking like a busy flight.
I had a glimpse of our aircraft only during boarding.
First Class also board through their own jet bridge!
I was met at the aircraft door by both First Class attendants as well as the head purser, and then escorted to my suite. I was practically giddy with excitement walking to my seat !
ANA First Square Suite
Two other First passengers were just settling in as I was taken to my Seat.
The whole cabin looked immaculate. The frame was not even 5 years old. So relatively new aircraft itself.
There are 8 First Class suites, followed behind us by 68 Business Class, 24 Premium Economy and just 112 Economy seats in this aircraft, making it very premium heavy configuration.
In the suite, the crew had already placed an amenity kit in a leather case, slippers, "large" pyjamas and a cardigan.
After being seated, another First Class crew arrived with hot towels and introduced herself. She checked if I was familiar with the seat and how I would like to be addressed! She was extremely polite and softly spoken.
Within a minute, a welcome champagne was served.
Krug is available during the flight, as is common with other airlines, the most premium champagnes are not served on the ground.
Each Suite, boxy by design, yet very spacious. They come with many features, that they have a Guide for you! They high panels create a substantial amount of privacy, even without fully closing doors.
The pitch was large enough, that I could only just barely reach the foot stall in the front ( again, this is actually adjustable, so you can slide it forward during the flight).
Right underneath, you have enough space to store a full size carry on, which you can off course also store overhead, unless you have several!
Storage options were plentiful with a specific place for your headphones
There is a vanity mirror with space for your gadgets/passport etc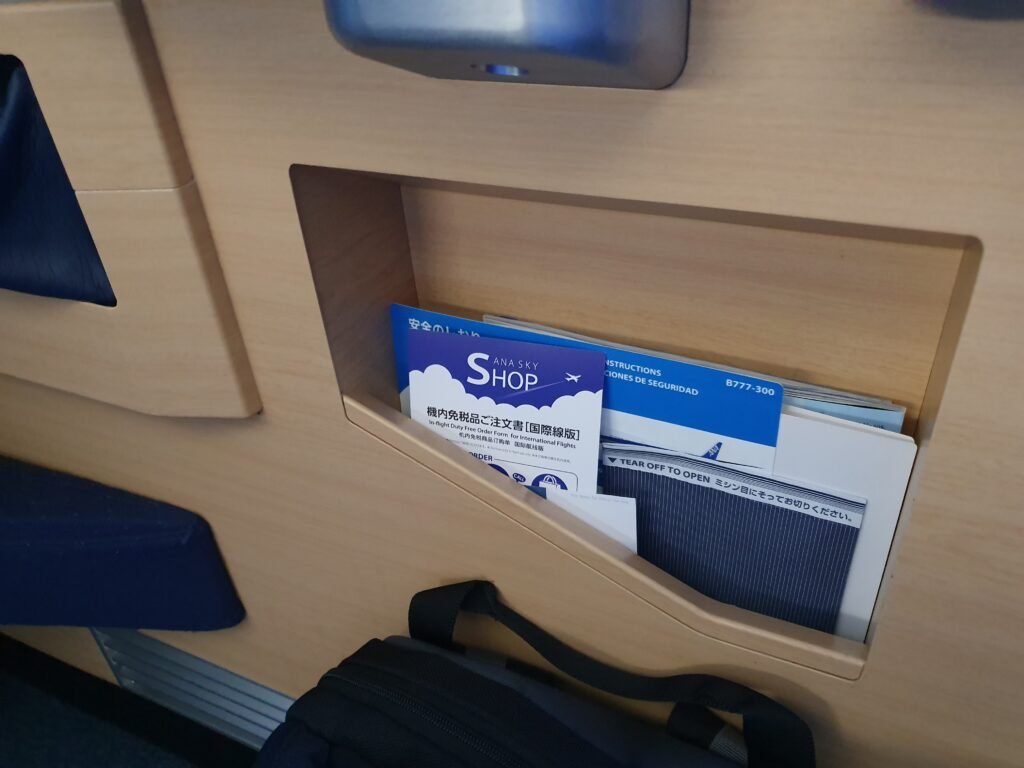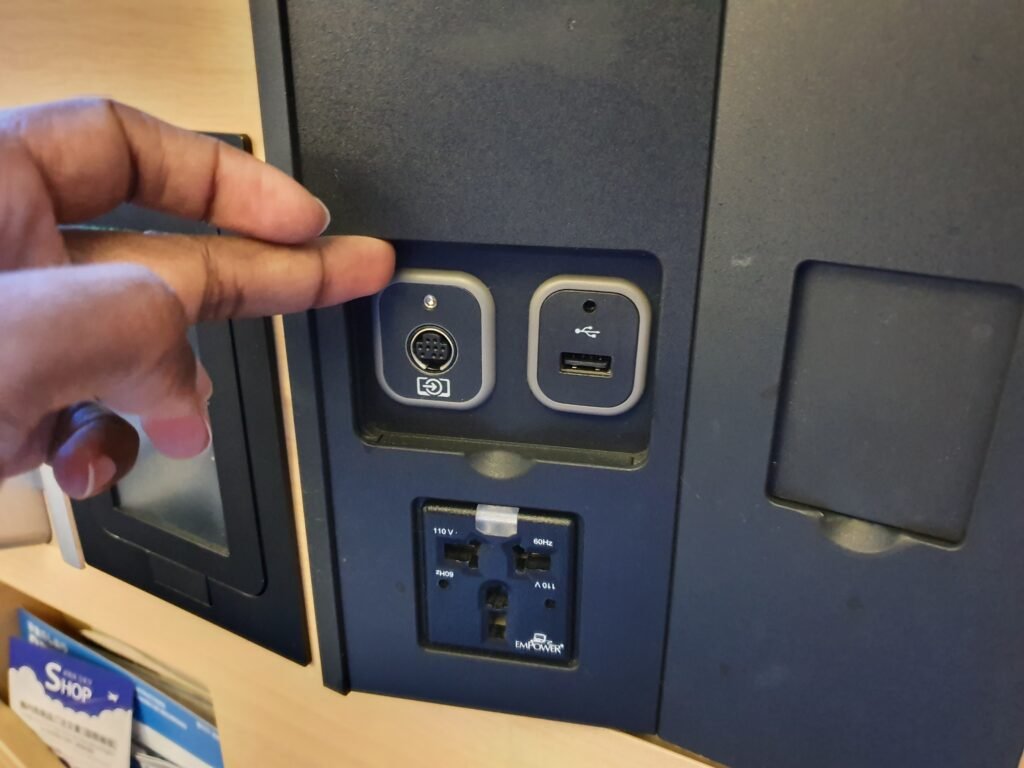 Power ports and light switches to control everything from monitor lighting panels to footrest area are tucked away behind sliding shutters.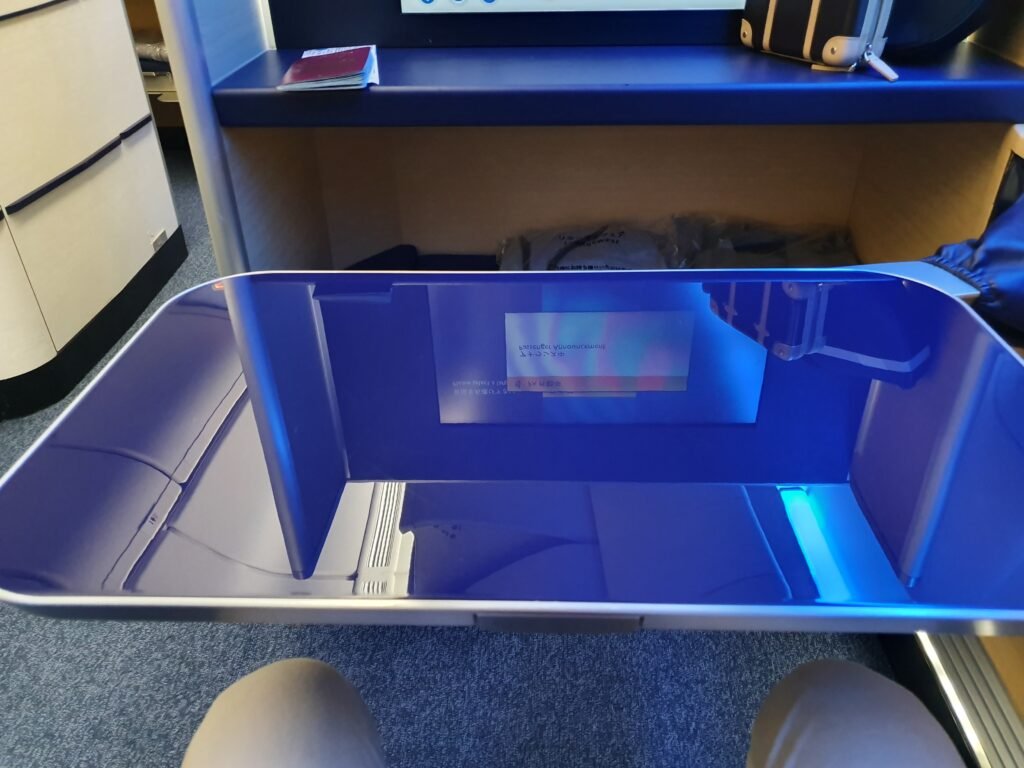 Alongside the cocktail table that slides out 90 degrees, you have a full size dining table too.
The seat control panel has a more simple operation option, it can be detached and used in your hand as desired.
ANA First Class Amenities
Further amenity items were distributed out, so passengers can choose what they prefer.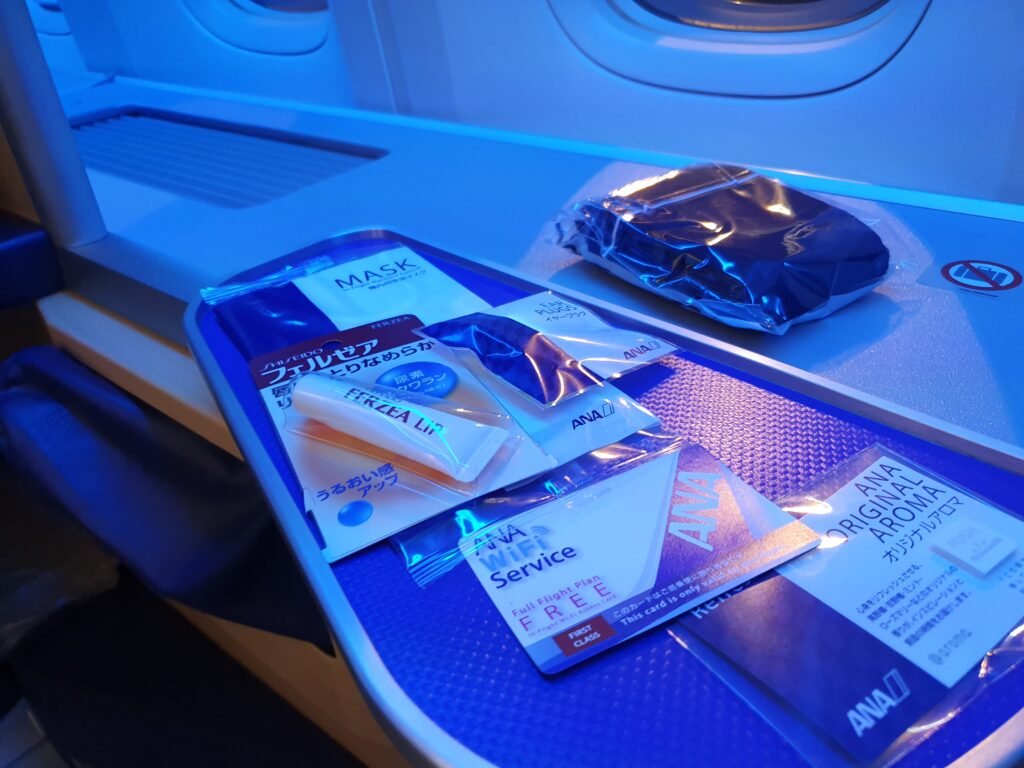 And the contents of the amenity kit included some nice products by local Japanese brand The Ginza..
First Class passengers also enjoy a decent WiFi connection during the entire flight.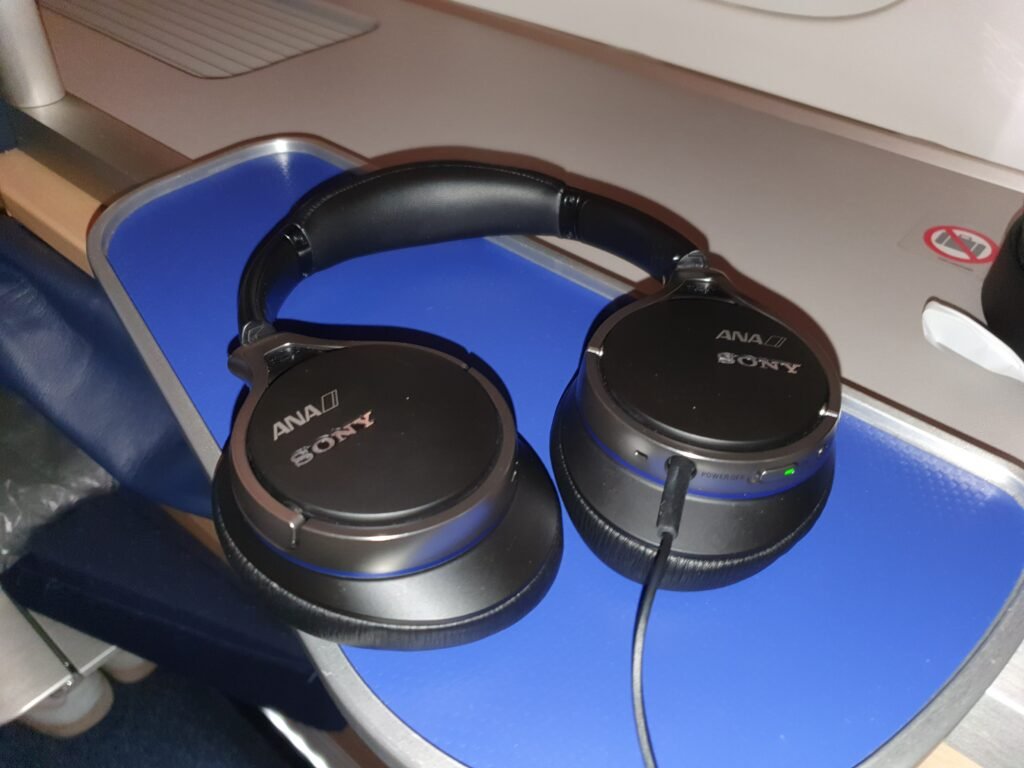 The noise cancelling headphones were also of decent quality.
ANA First Class Late Night Service
This being a near midnight flight I was curious if ANA will still provide a full dinner service or something in between…
10 minutes or so after take-off the First Crew sprang into action, handing out menus and taking drinks orders..
The Food & Beverage Menu for the flight was as follows:
It seems they do not have a dedicated menu around dinner, but rather a mix of choices that can still form a substantial meal.
Indeed, I liked the specific dishes highlighted to accompany sake, if you so choose.
It was a very relaxed and open book attitude to the service. You can order whatever you want, whenever you want.
A couple of passengers went went straight to bed after take-off.
Meanwhile, my was ready for the amuse bouche..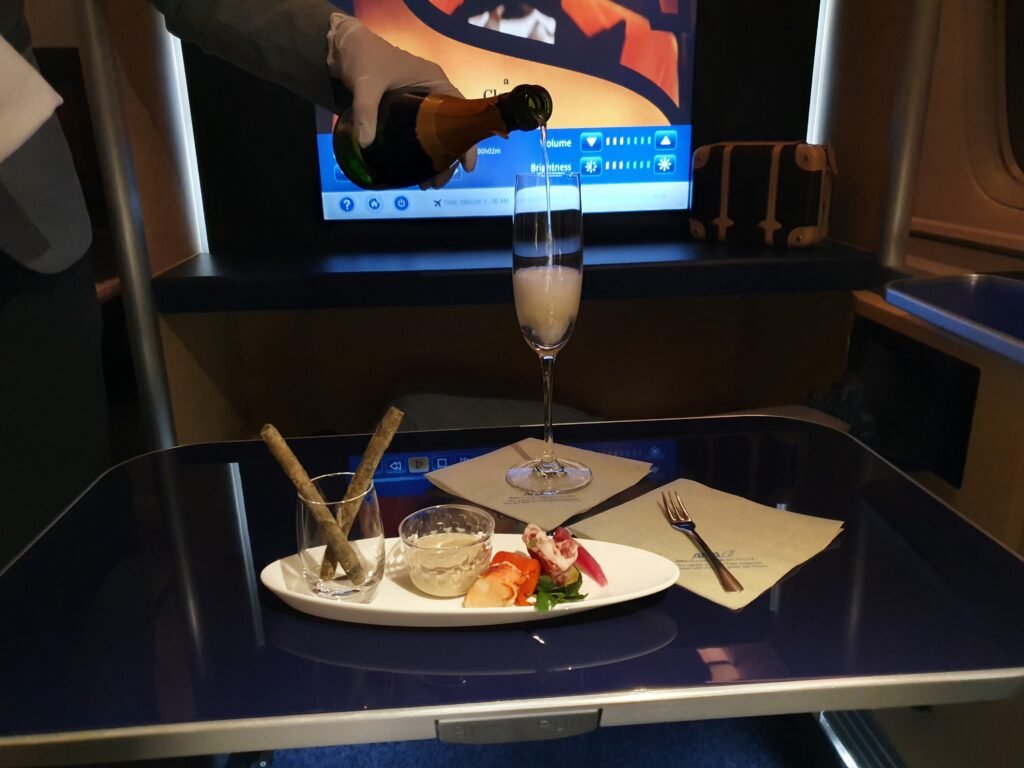 Here we have a classic ANA signature stick served with lobster pincho, uncured beef ham & olive and ricotta dipping sauce… yes it was every bit as exquisite as it looks!
Still fairly full from my lounge dishes, I was only prepared to try out a couple of light snacks about 40 minutes after takeoff. After a moment of indecision, I ordered the corn soup..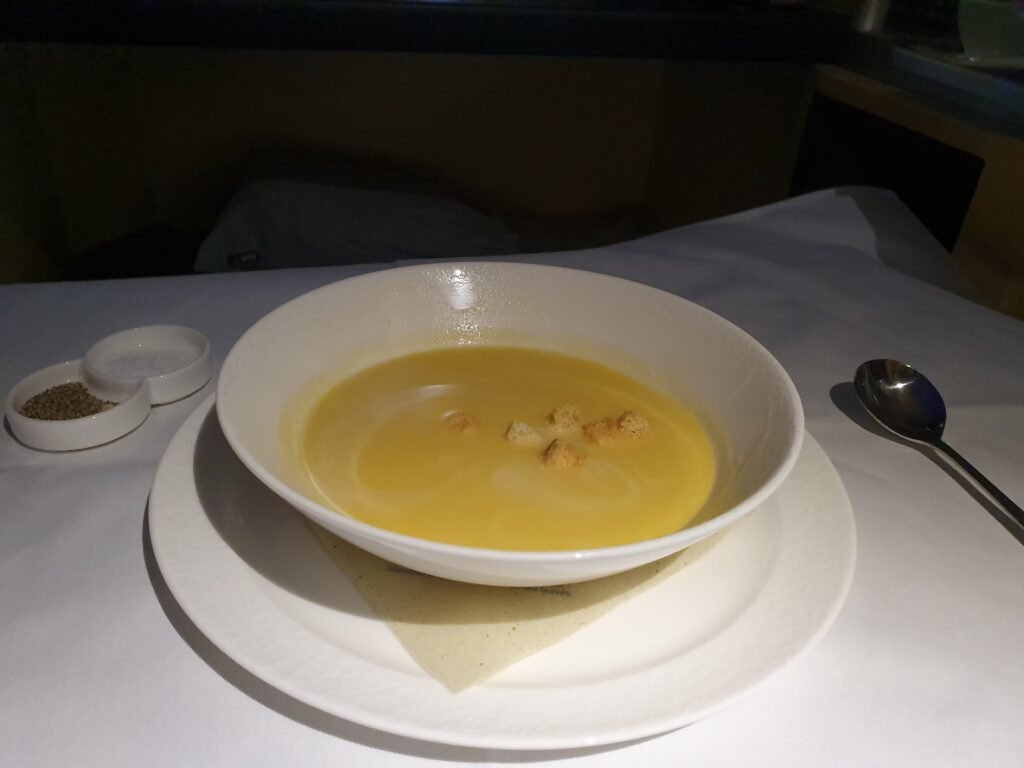 This was perhaps sweater than I would have liked it to be.
Then I ordered the light Awadori chicken with steamed rice..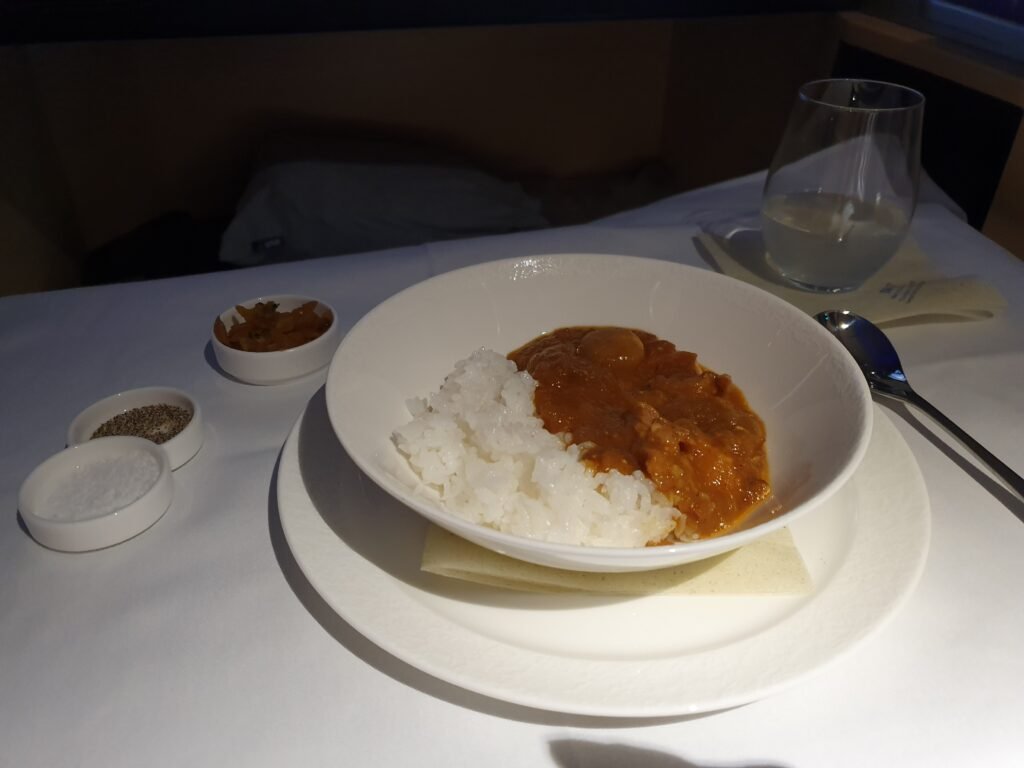 It was super tasty!
The sticky rice & mushroom stuffed cabbage also sounded very appealing, alas, I could not eat anymore.
Finishing off, I ordered some mint tea..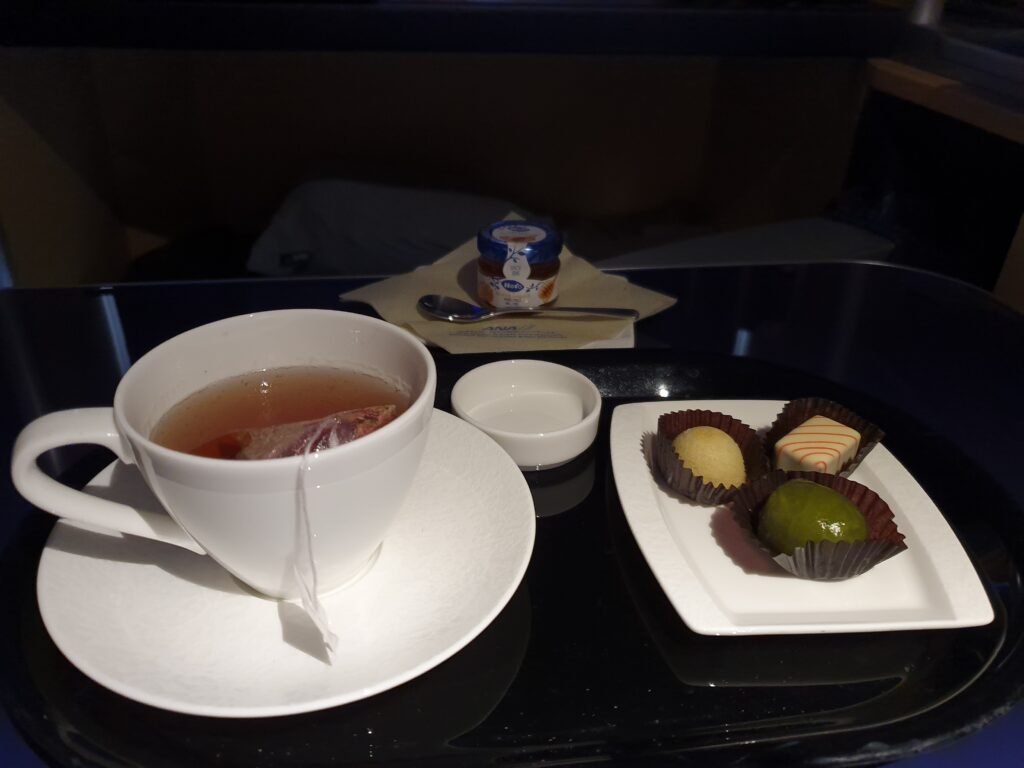 ANA First Class Entertainment
For your entertainment needs, you have a 23″ touch panel screen on this aircraft, which is a generally good quality. However, note the newer 777's with updated First product feature something heaps and bounds better with a 43″ 4K screen there.
I found the remote to be very dated, that it reminded me of many flights in the late 2000's/early 2010s! Nonetheless, they were fully functional and intuitive to use.
The programming options seemed reasonably extensive, with plenty of Western movies as well as local choices. I decided to watch Kingsman: The Golden Circle, which I hadn't seen before.
Other than that, it being a night flight, I did not have much time to go through the extent of choices available.
ANA First Class Restrooms
There are 2 First class lavatories just behind the cockpit.
Each one are nicely kitted out, and looked to be of standard size for  777's.
The flowers and placement hand towels in a basket was a nice touch. As is the additional Ginza products
Additional amenities included dental kits and wipes.
ANA First Class Bed
Since, Suite 2G adjacent to me was also free, I asked the crew if they could make that bed for me while I was finishing my tea.
When I decided to put my PJs on, the crew escorted me to the bathroom again, which I found a little bit strange 🙂 But perhaps they were just checking if I needed.
About 90 minutes after take-off, I was ready to get some sleep..
As you can see it was a very roomy bed that you could be comfortable in whatever position you sleep on.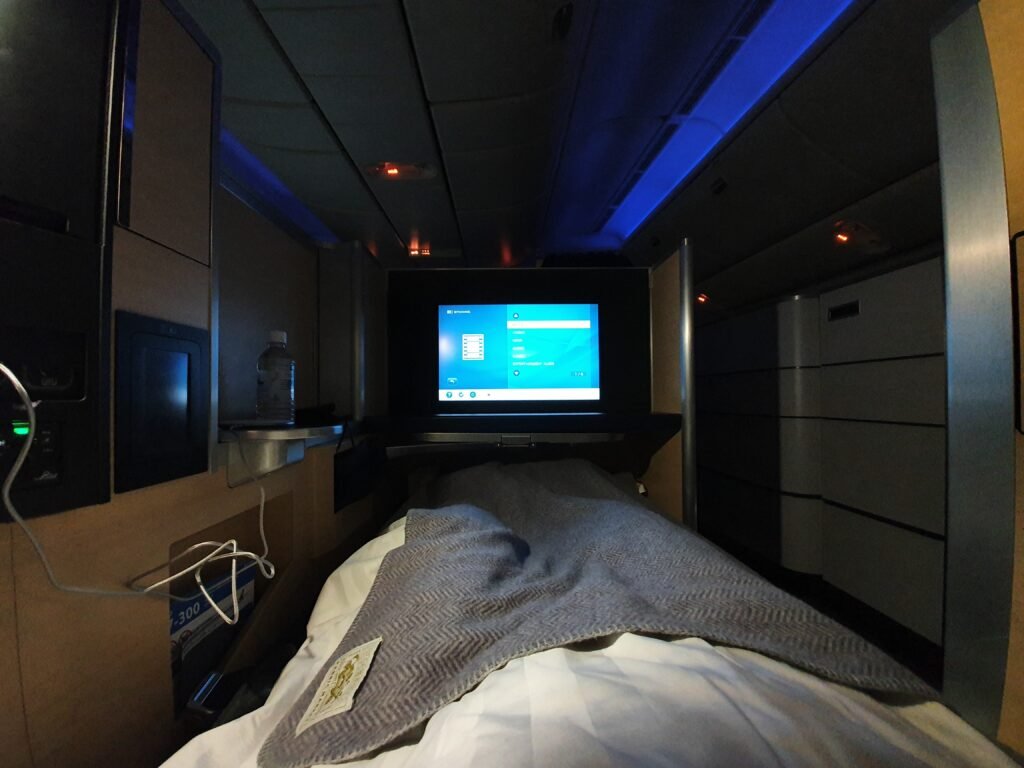 As I tucked into to the soft luxurious bedding, it was difficult not to be cosy and relaxed in it.
With 7 hours to Los Angeles, I drifted asleep.
After about 5 hours of sound sleep, I awoke while we were still over the Pacific. I could have easily slept more, but with late afternoon landing, it was better to adjust to local time sooner.
Breakfast / Pre-landing
I really liked being able to get out of bed and hop onto my seat next to it. Small things but the separation honestly makes everything feel so much better.
The crew were quick to notice I was up and asked me if I was ready for some food again.
This was a weird time for a meal, in one aspect, it was breakfast time for Asia but we are landing late afternoon so lunch/dinner time in LA 🙂
I started some fruits and yogurt..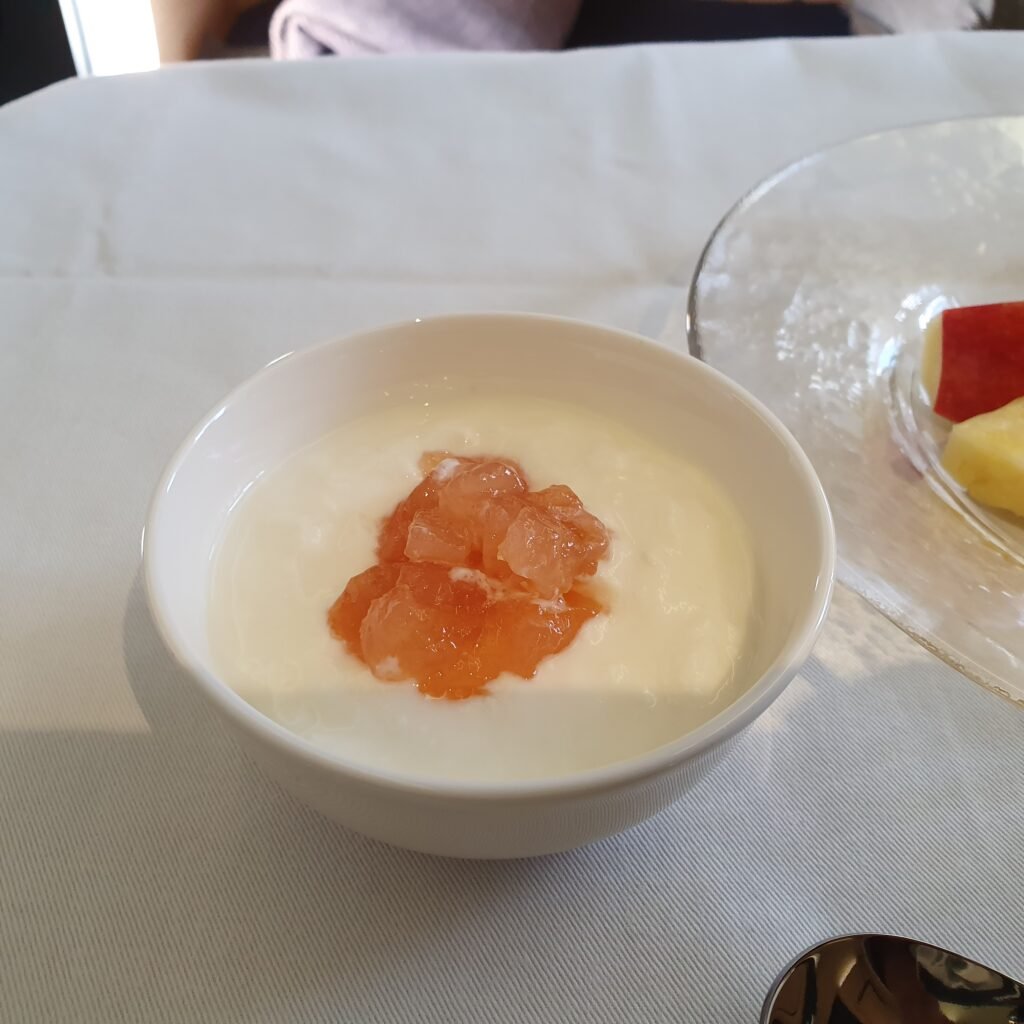 Then to save myself from doing much choosing, I went for the set Japanese meal..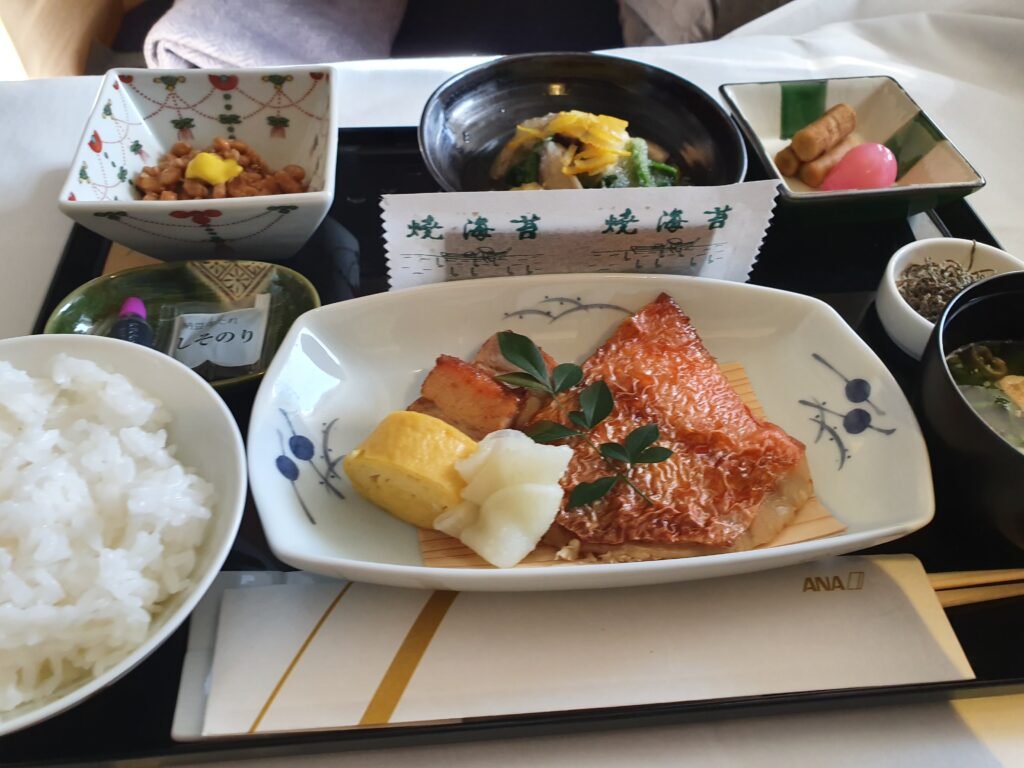 This was every bit as delicious as I could have wanted.
With about 45 mins to go before landing, I just simply enjoyed looking out my window and the flight map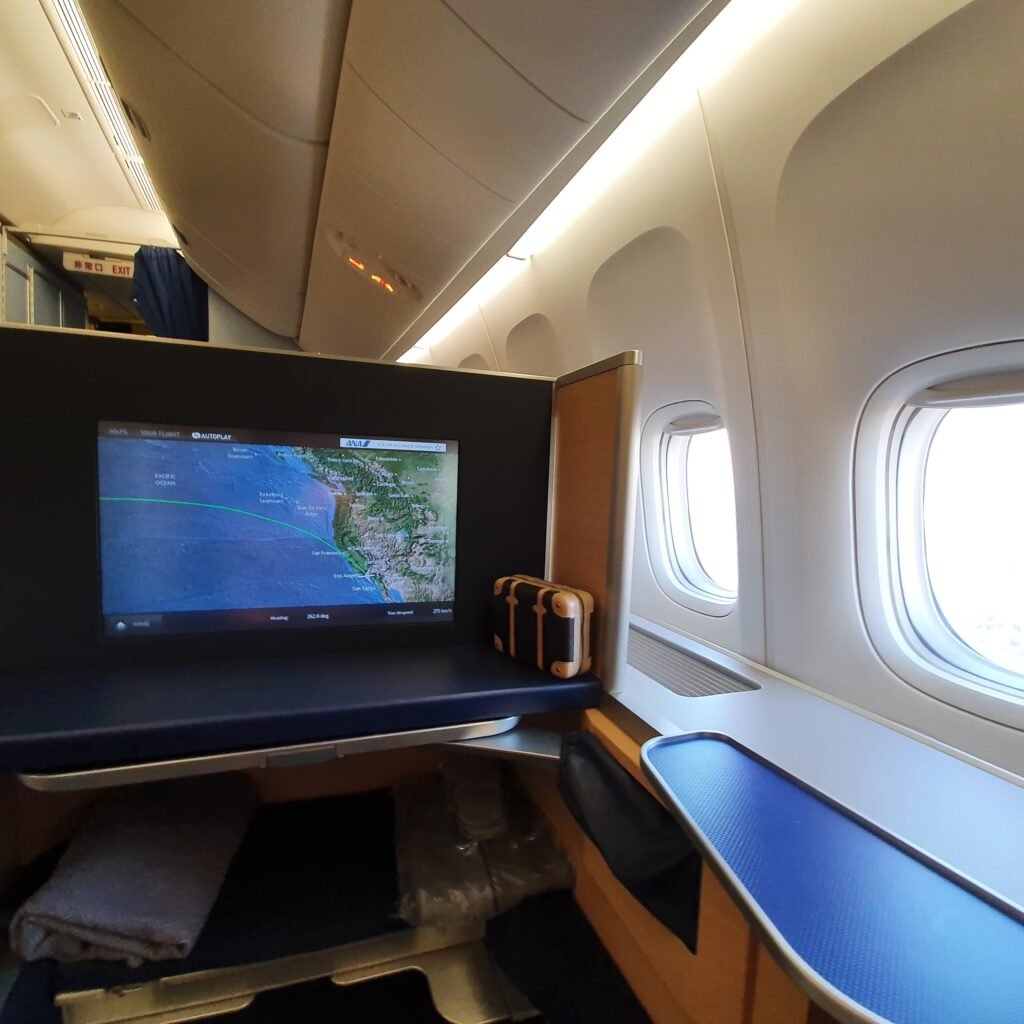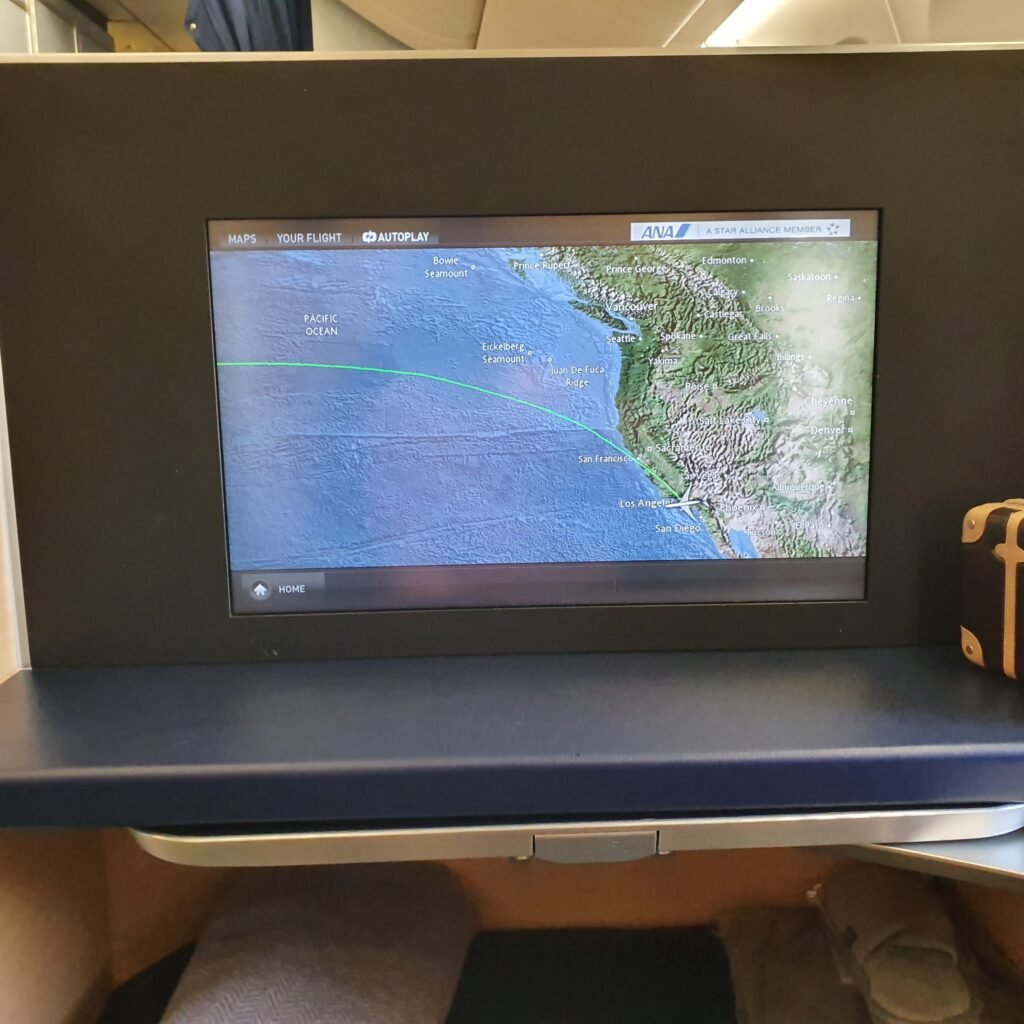 Soon enough the sprawling city came into view below us..
And the most cool thing about this flight? We took off at 00:10 7th of February and landed at 4.45pm 6th February ! The flight crossed the international date line! There is something geeky within me that just lights up with things like this 🙂
Overall Thoughts
Once again another flight that came to an end way too soon. One the one hand, I did not feel like this experience was as lavish or pampering as other First Class flights. Part of that was off course due to late night departure putting sleep at more of a focus. I knew this beforehand and I still booked it for for my desire to cross the international date line!
I decided against having a full meal after departure anyway. On a day flight or with earlier night departure I would hope to see a more extensive food menu perhaps? That being said, you can pre-order your meals. If you look at the First class options, they are indeed very impressive. However, they are not available for late night departures, which is also a reason for lack of caviar.
Food aside, the drinks and beverage options were aplenty. Indeed the hard and soft amenities from the PJs to the bed were all excellent and hallmarks for a good First product. The only thing I genuinely did not like about the hard product was the boxy design, almost all the windows are obstructed, you have to lean forward slightly to get a view out of the window. This will not be a problem for the new First seats or ones on the A380.
I'm still undecided on where ANA sits for me. Definitely want to fly them more, especially on the new First Class seats.
Verdict in numbers
Check in (Outstation)

Ground Experience

Seat Design & Features

Bed & Bedding

Amenities

Food & Beverage

Staff & Service