American Flagship Lounge JFK Review
American Airlines Flagship lounges are it's best Business Class lounges offered in it's major hubs across the USA.
I passed through American Flagship Lounge JFK Terminal 8 as part of my return Cathay First Class flight to Kong Kong. This will not be a full on review, since I had Flagship Dining invitation, I cannot cover the food/beverage element here.
Access
You are welcome if you are flying Business Class with American or any other OneWorld carriers. OneWorld Sapphire or above status holders also have access to this lounge, regardless of what class they are flying within OneWorld.
After check-in and premium security, the lounge is located on the floor above.
You can either get the lifts up there or there are some stairs up too.
American Flagship Lounge JFK Spaces
Once inside you are greeted by a nicely presented corridor with freshly laid flowers and a row of Orchids on a console table…
Into the main space which has a circular seating zone with nice chairs layed out in two layers of the circle..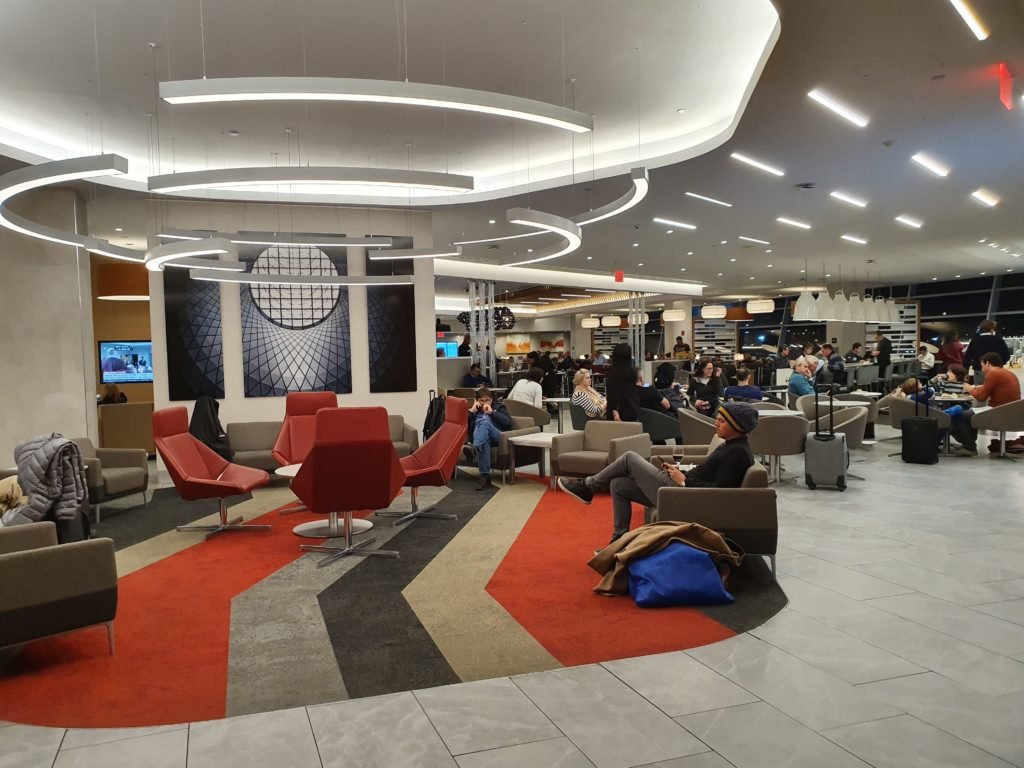 I liked the focal artwork and lighting of this space… the rest of the seating areas feel more like an expansive sea of seats..
Further down, there are some booth type seating that are much more private if you want to work or eat without anyone looking over your shoulders or constantly going right past you..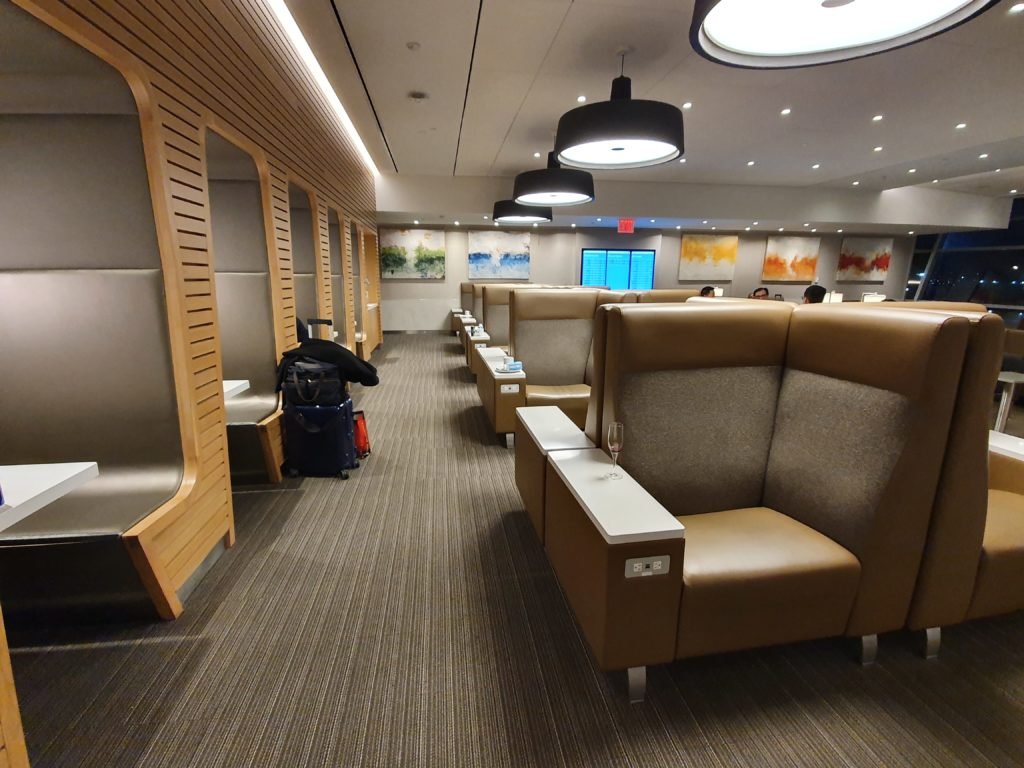 The singular chairs lined up beside also look very functional and comfy with a convenient side console with power sockets..
You will also find some magazine/literature shelves should you find yourself wanting some reading material.. I like the wall panelling here which certainly adds to a different atmosphere in this side of the room
The lounge appears quite well equipped with a functional layout out in general. There are a good range of seating choices, which look comfortable and most offer power sockets/charging stations. Some seating areas also offering views out.
I briefly sat down in the lounge area and had a quick drink just to get a feel of the atmosphere.
It was rather busy during the early evening period, I did not take many pics initially. When I later came back from the Flagship Dining room, I was able to take more pictures.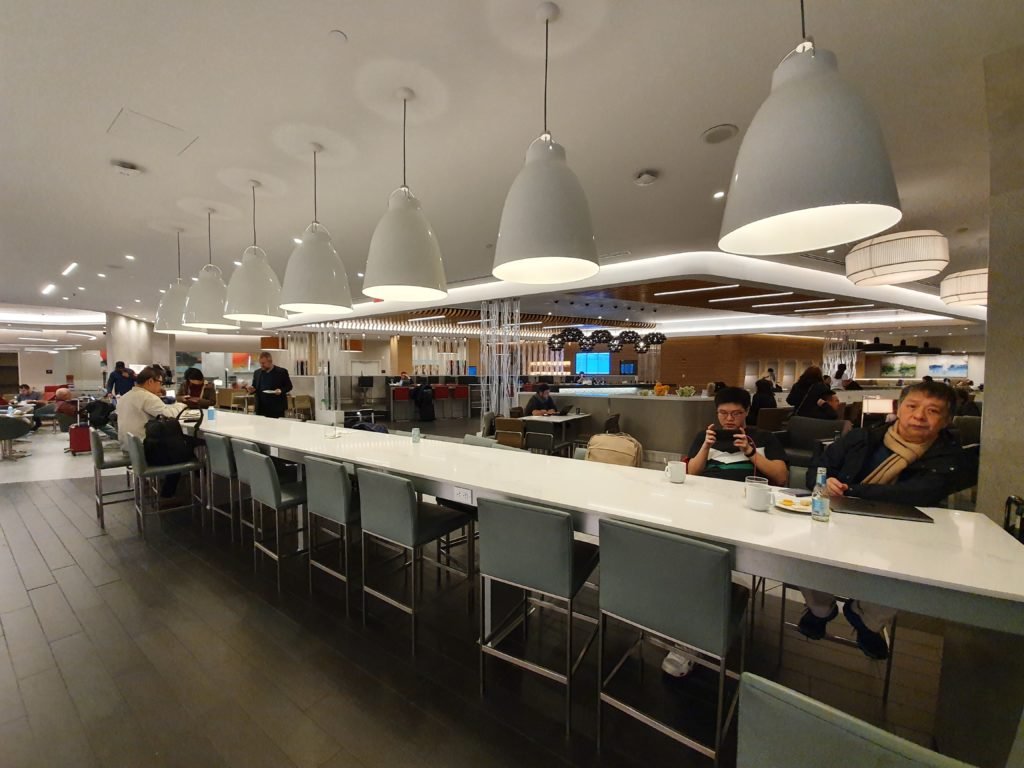 During the day you will have good views out of the apron, but by the time I took these pictures the lounge and airport itself was much more quite..
Alongside the main buffet food station, you will find various snacks and refreshment stations spread through the spaces too..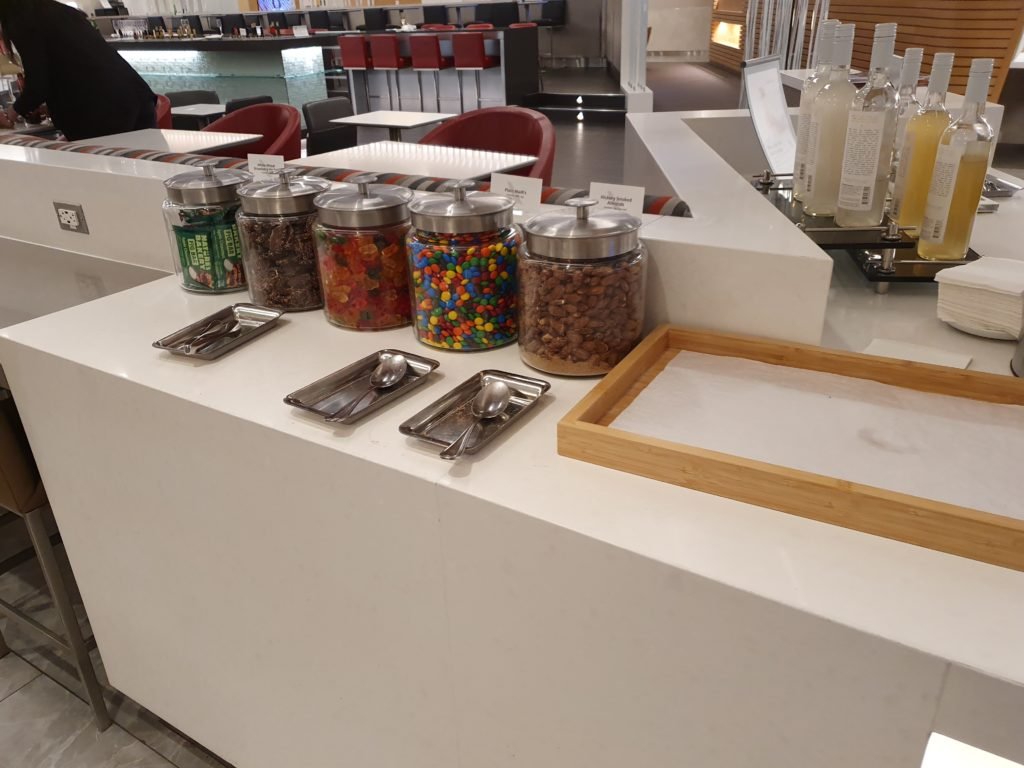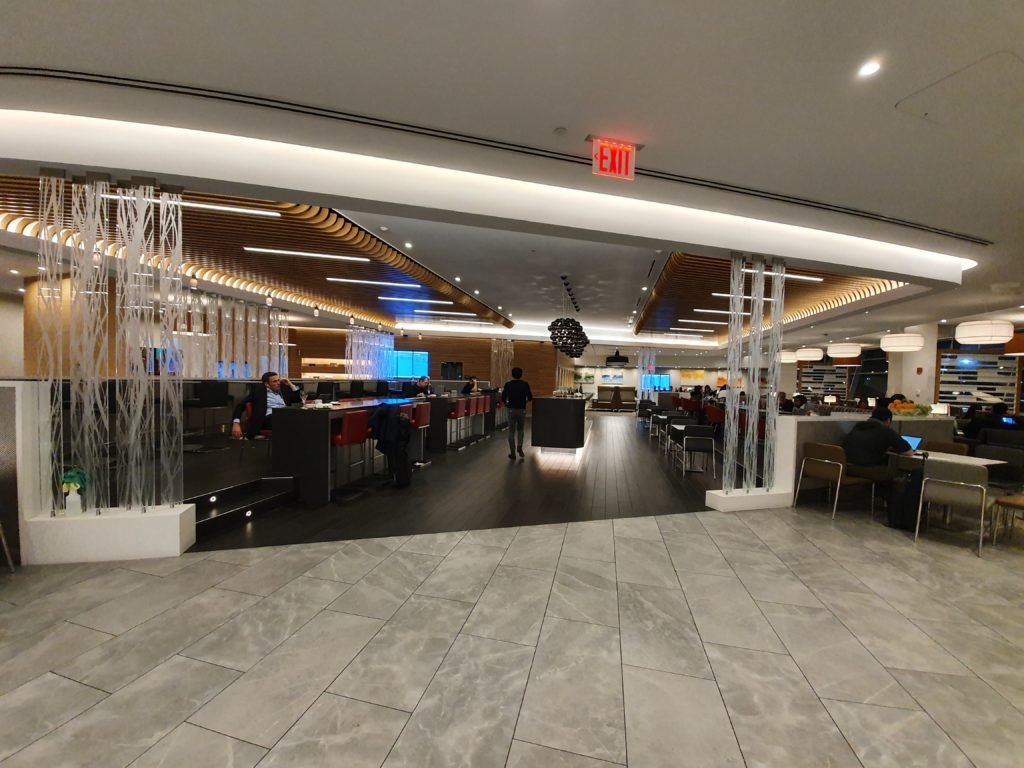 Quite Room
After my dinner at Flagship First Dining, I decided to have a little nap here in the dedicated nap room.
I managed to rest a little bit, but it was so and so as far as a "quite room" goes.
It's a real shame they don't have actual flat sofas to sleep in, but rather just loungers which are not especially very comfortable. Again, it was very busy in there, so I did not want to take picture of anyone in there, there was no way to avoid it.
Showers at American Flagship Lounge
After my nap, I had a shower. Luckily there was no wait.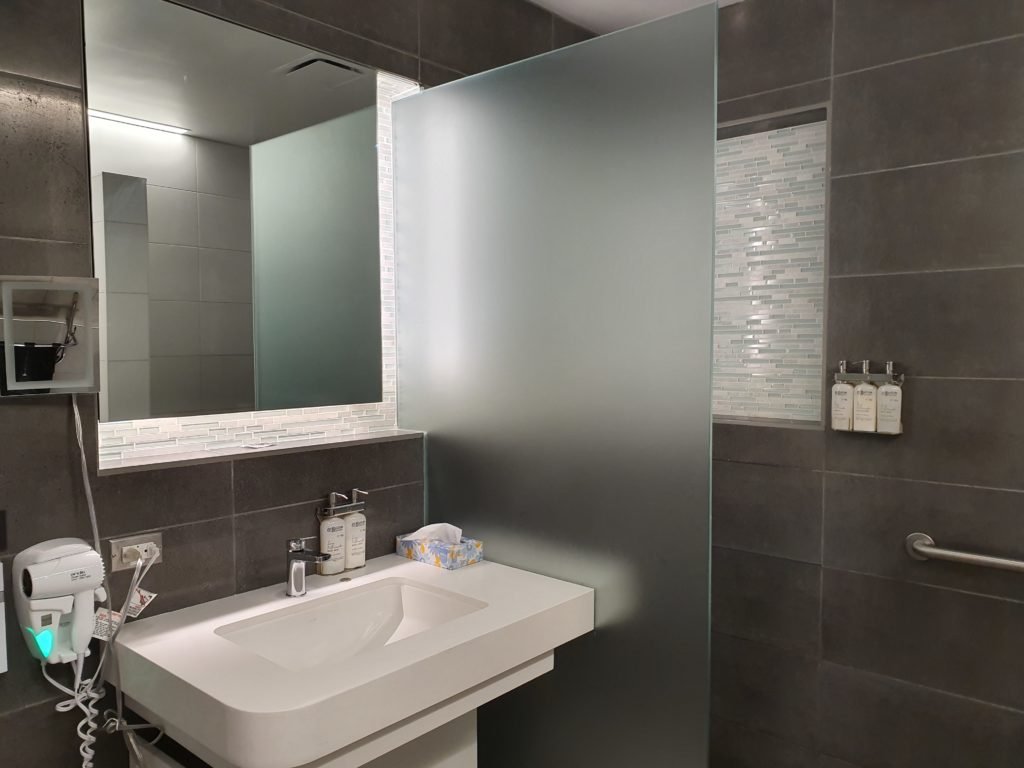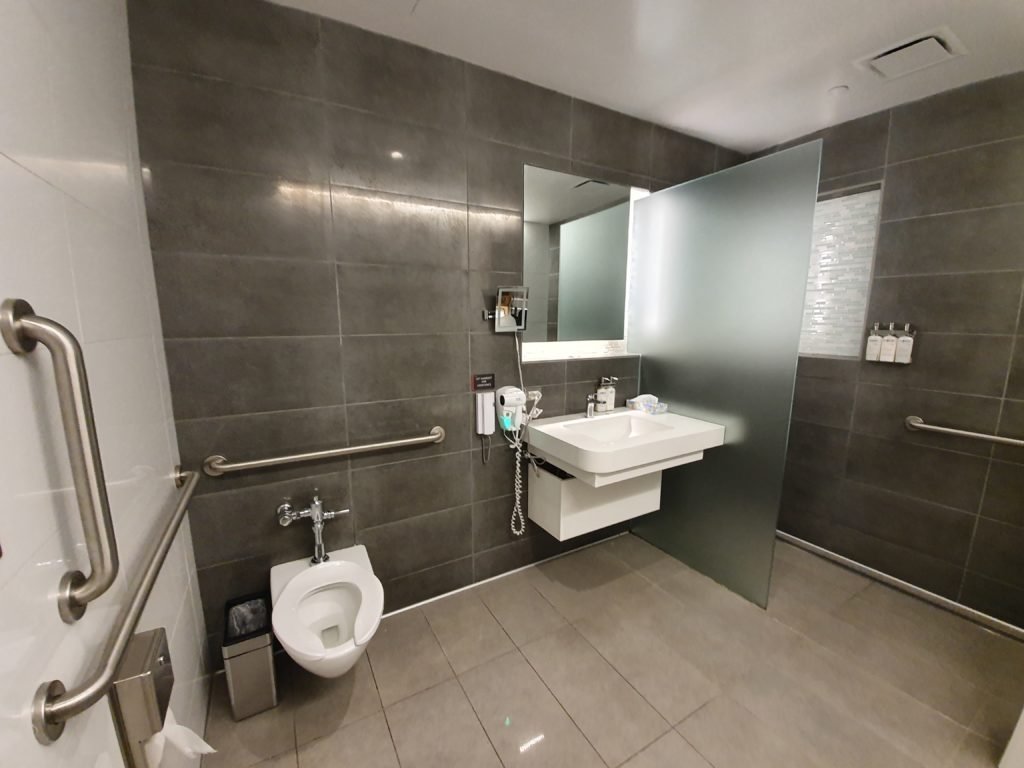 They looked a tad bit clinical. Functionally it served the purpose well.
Overall thoughts
For a Flagship lounge in one of American's most important hub, this doesn't scream much luxury or exclusivity, but that is also understandable as it is generous enough to allow access to oneworld sapphire frequent flyers. All the essential facilities are there, but it just felt like it was lacking any warmth inside.
In all honestly did not feel much better than a BA galleries lounge. It is just as crowded but perhaps with slightly better furniture now, being newer and all that. You can find out about all other Flagship lounges here.
Its a shame I cannot comment on the food, the selection and choices itself did look reasonable for a Business Class lounge.