50 Percent Off Avios Reward Flights: BA
British Airways is pulling all the stops to bring in extra revenue, and has launched the best yet reward sale offer. The recent share rights issue seems to have been a success, generating a couple of billions. This was not really great news for all shareholders being diluted but it's a risk with all investments. For those able to and need to fly, now maybe as best time as any to use up some miles.
The Offer
In the last few days British Airways has launched this 50% redemption sale, which looks fantastically generous. Not only is the discount the highest ever offered, but also, it applies to booking made in First & Business Class too!
There are some fantastic ways to benefit from this if you must travel in this period. The sale is worldwide, but for European short haul flights, the discount is capped at 25%.
Some of the headline rates:
85K for First Class return to Los Angeles (62.5k Business)
68K for First Class return to Bermuda (50k Business)
32.5K for Business Class return to Istanbul/Athens
These are all off-peak prices, but the taxes and surcharges are added on top.
The Terms
The sale only applies to bookings made by 13th October for travel until June 2021.
There has been reports this can even be combined with British Airways 2-4-1 vouchers! Which many people have as a reward from a BA branded AMEX card.
Upgrade An Existing Booking
If you already have an existing booking with BA, you can upgrade your booking with Avios as usual, and the 50% off will apply to you too.
This may be particularly good value for those already booked on a cheap World Traveller Plus fare.
Should You Bite?
If I had an essential need to travel I most certainly would take up this offer. There are 2 big caveats you need to be aware of though.
First, British Airways will still charge the hefty taxes + surcharges as usual. Though you can certainly get insane value if you are mixing this with a 2-4-1 or a Gold Upgrade voucher.
Secondly, BA is currently running a very reduced substandard service in the premium end. Do you want to fly First Class with the First Class lounges and all the usual bells of whistles?
If I was to book, I would do so for May/June, in the hope that the service may return to normal by then. But alas, I already have too many open tickets that I need to use up at the moment.
New First Class
Recently British Airways has taken delivery of new 777s featuring an updated First Class product. The product isn't entirely new, its essentially the same seat on the 787 which I reviewed, but with an added door.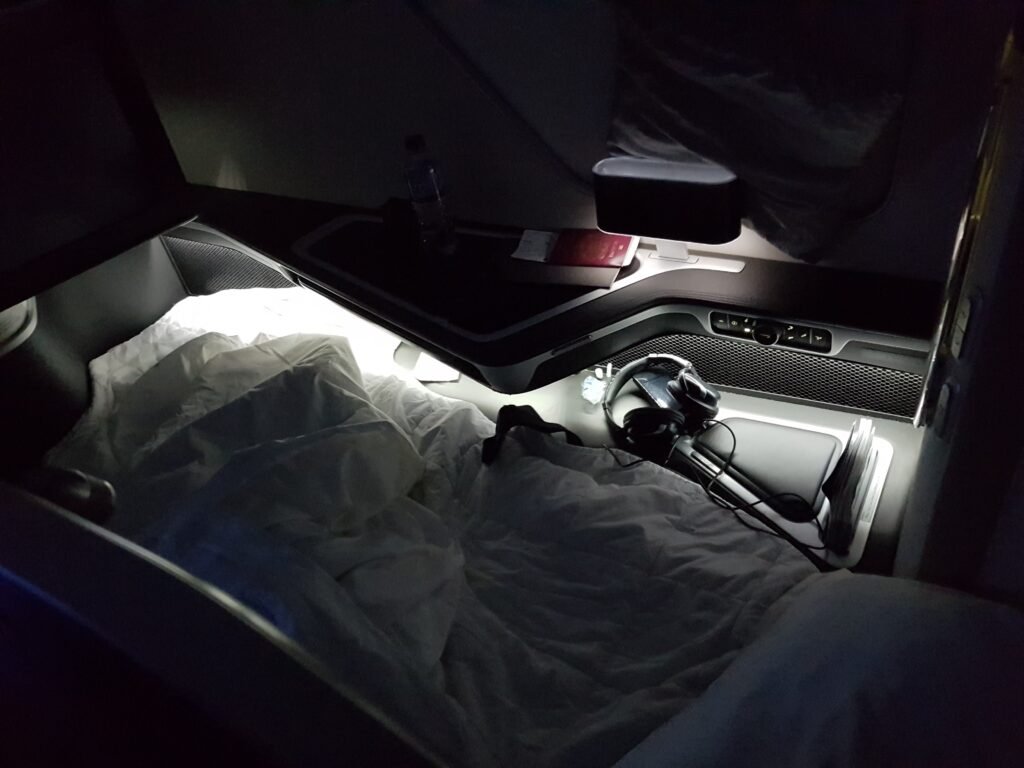 That bed is mighty comfy though!
If you luck out, this would certainly be a great treat, just on the basis of the hard product alone!